How to Supercharge Your Skincare Routine With Skin Cycling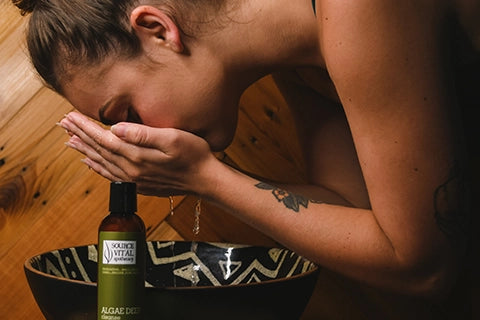 Skin cycling is a skincare routine that was introduced to a lot of people via social media. The term describes the way skincare products are applied and how your routine is allowed "rest days" between treatments of exfoliation and repair.
While skin cycling is an entirely new term that developed on TikTok and Instagram, the concept is not new! Originally coined by board-certified dermatologist Whitney Bowe, MD, based in New York City, the idea has been around for several years. Dermatologists nationwide have been suggesting intermittent or alternating use of skincare products for a reason.
As previously mentioned, skin cycling involves "rest days" during a weekly regimen when using certain skincare products. The goal is to help the skin heal and repair before starting a new application of a certain product, such as an exfoliant. Skin cycling can lead to less skin irritation and inflammation, but ultimately, it is not the only way to care for your skin.
Here are some benefits of skin cycling:
May Help Repair Skin Barrier
Keeping your skin barrier healthy is essential, not just cosmetic. According to the Indian Journal of Medical Research, the skin barrier provides a strong defense against infections, allergens, and harsh chemicals. When this barrier is compromised, this can cause several skin conditions, such as eczema, acne, or atopic dermatitis. If you want to keep a healthy skin barrier, try not to over-exfoliate and limit the use of strong retinoids. At Source Vital, we do not use retinoids, instead we approach skincare with a mix of phytochemicals and Nature's defense. Some products including our Luminous Infusion contain natural Vitamin A,  which offers some benefits of a retinoid without the harsh after effects. This means that it is safe for use every day. 
Provides Protection From Seasonal Skin Problems
Skin cycling is an excellent tool when the weather causes skin issues. Changes in the weather, for example, can lead to dry skin and the worsening of certain skin conditions.   Dry air in cold weather or even just a windy day, are examples of this. A proper skin cycling regimen could help your skin when battling the elements, and it may even prevent dry skin in the first place. Try our Max Moisture Cream paired with our Blue Tansy Toning Essence for very dry skin in dry or windy situations.
The Basics of Skin Cycling
Now let's dive into the step-by-step process of skin cycling. Here's an example of what you could do each night:
1st Night: Cleansing & Exfoliation
Begin your routine with a facial cleanser like Algae Deep Cleanse or Lavender Cleanser. After cleansing, exfoliate your skin using an exfoliant or scrub formulated for your skin type. Move in gentle circles, concentrating on areas of concern. When you exfoliate, you remove dead skin cells from the surface layer allowing for better penetration of products. Finish your process with our Customized Facial Cocktail that offers toning, nourishment, addresses certain concerns, and hydrates your skin all in one step. The best part is? It's customized just for you.
2nd Night: Skin Renewal
Begin your routine with Algae Deep Cleanse, a deep pore cleanser that will help extend the life of your previous night's exfoliation. Follow this with our Pure Toning Essence. On a soft cloth, apply 10-15 drops of Pure Toning Essence. Using gentle motions, wipe your skin in an upward motion. Follow this with our nourishing SV23 that is made with 23 different ingredients to help stimulate your skin's natural luminosity and leave your skin looking ageless!
3rd and 4th Nights: Recovery
These nights are used for your skin to heal and repair itself, meaning you don't want to exfoliate on these nights. Holding off on exfoliating aids in your natural skin turnover and cellular regeneration. Instead of using deeper cleansing products, focus on hydration and moisture. For these nights a good routine could look like this: Geranium Cleanser, Blue Tansy Toning Essence (or Rose if that's more your thing), Soothing Cream, and Luminous Infusion. 
Importance of Using the Right Products For Your Skin
The key here is that if you want to help balance your skins natural barrier, using the right products for your skin type is very important. If you have questions, give us a call for a 1:1 consultation or email us. We are more than happy to help you with your skin's needs. For more help building your routine, check out our 4 part skin kit that helps you choose the best products for your skin type.
Daytime vs. Nighttime Routines
You may be wondering what to do in your AM routine?!?! Well, simply put, your skin regenerates at night, so cleansing and hydrating in the morning will work. Simply Cleanse & Facial Cocktail followed by a sunscreen. 
Customizing Your Skin Cycling Routine
When developing your skin cycling plan, find products that suit your skin type and concerns. Remember, no two skin types are created the same, that is why our Customized Facial Cocktail, Customized Facial Mask, and our wide variety of Cleansers are a great place to choose what is right for you! 
Products and Ingredients to Consider
Try to stay as natural as possible when looking for the best products and ingredients for your skin cycling routine. If you want to exfoliate, look for products with natural ingredients like volcanic sand, seaweeds, bentonite clay, and red algae. You could also make your own DIY exfoliating facial scrub/ mask using our Customized Facial Mask. It is a mask and scrub in one!
If you're searching for a natural retinol for the second night of your skin cycling process, consider our Aroma Peel, a natural alternative to glycolic peels. This natural formula is made with naturally exfoliating essential oils to help keep your skin fresh and clear. You can also use our Luminous Infusion for more sensitive skin types, infused with Vitamin A. This product is a great alternative to unnatural retinoids.
Tips for Successful Skin Cycling
Remember that consistency is more important than frequency to get the best results from your skin cycling routine. Consistent use tends to be the most effective, even if you don't use skincare products daily. It ultimately depends on how your skin responds to the ingredients being applied.
For adding new products or ingredients into your routine, only introduce one at a time. You should then observe how you react to each product. Consider using a skincare journal or tracker to keep track of your products and regimen. This is even more important for those suffering from skin conditions. A journal can help you better understand the effectiveness of the various products you may be using. If something is causing discomfort, a skincare journal may help you pinpoint the cause.
Final Thoughts
A skin cycling routine can lead to fewer product side effects, a healthier skin barrier, and fewer problems from seasonal skin issues. If you're ready to start this process, experiment with different products and routines to determine what works best for you and your skin type.
We encourage you to speak with a dermatologist or skincare professional for questions or concerns. These professionals may also provide valuable tips and suggestions regarding skin cycling.
---