Super Cyber Sale - Your Black Friday/Cyber Monday Shopping Guide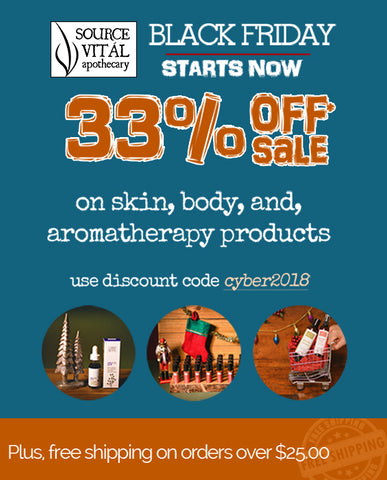 Save 33% Off All Your Favorite Products
It's the most wonderful time of the year to stock up on all of your favorite natural products for the skin, body and spirit while also crossing off names on your holiday shopping list. 
To start shopping now click here and make sure to use discount code: cyber2018 during checkout. Read on below for our top Black Friday/Cyber Monday picks.
Skin Care Must-Haves
#1 Skin Care Basic and Complete Sets
These comprehensive skin care sets are specially curated by our in-house skin care experts to offer solutions specific to skin type.
They come with full-size products and step-by-step instructions to make caring for your skin easy and effective.
The Basic sets typically include five products for cleansing, toning, protecting, moisturizing and exfoliating the skin. The Complete kits include everything but the kitchen sink that you will need for your skin. There are 10-11 full-size products that may include items such as facial masks, eye creams, face mist or a deep pore cleanser.
These sets don't go on sale that often and 33% off is a steal.
Want to customize your own skin care set? You can also Make Your Own Skin Care Kit with four or 8 full-size products. This lets you decide what works best for your daily and weekly skin care rituals.
#2 SV23
Trust us, you will kick yourself for not adding this holy grail of face serums to you cart during the Cyber Sale!
Brilliantly formulated with 23 of our most active and effective botanical and essential oils. SV23 calms the look and feel of inflammation, hydrates for all skin types, protects from daily environmental damage and restores a look of youth to the skin. 
It smells lovely, absorbs quickly and offers a velvety-soft feel to the skin. Plus, it enhances the benefits of your other skin care products. 
Formulated with nothing but the best oils, no filler, no water, it is a high-end skin luxury that is a perfect addition to your Black Friday haul.
#3 Daily Skin Care Necessities
You know those skin care work horses you use day-in, day-out? Now is the time to stock up. Or try out something new!
Our skin changes as we age, with the season, and with lifestyle factors such as stress, diet and lack of sleep. So it only makes sense for us to tweak our skin care routine to match these other changes. 
Holiday Collection 
#1 New This Year: Holiday Body Washes
We added a festive addition to our collection of all-natural body washes made with 90% organic ingredients and scented with pure essential oils. 
Choose from Winter Wonder and Cinnamon & Spice. Each capture the whimsy and nostalgia of the holiday season. A great holiday gift or use to spruce up your bathroom with some seasonal flare. 
#2 Stocking Stuffers
Whether it's stocking stuffers, Secret Santa gifts or a lovely hostess gift, we've got your gift-giving needs covered. 
 Essential Oil Roll-Ons
Our new collection of essential oil rollerballs lend a personal touch to gift-giving. Choose from 56 unique formulas based on your giftees favorite scents, zodiac sign and lifestyle needs. Colorful and convenient, these is literally one for everyone.
Certified Organic Lip Balm
Keep lips soft and smooth during the colder months with USDA Certified Organic Lip Balms. 
Conventional lip products use cheap, petroleum-based ingredients that can actually prevent the lips from getting essential moisture.
Made with organic, high quality oils and botanical extracts, our trio of lip balms wrap the lips in luxurious hydration. 
Aromatherapy Inhalers
Sometimes you need a little aromatherapy TLC on-the-go. Portable inhalers provide the aromatherapy benefits of essential oils without any trouble. 
The Respiratory Inhaler is especially great during this time of year. 
Travel Sizes
We offer travel sizes for the majority of our products. These are perfect stocking stuffers for those in your life who are always on the go. Group together a few for a great hostess gift or party favor to treat guests at your holiday functions.
Bath & Body Bliss
#1 Bath Salts + Complete Bath & Body Oils Set
This is the ultimate relaxation set. Truly everything you need for an amazing aromatherapy bath minus the candle and glass of wine. 
Complete with our five Bath & Body oils and Dead Sea Salts, use to relax, renew, ease aches and pains and take some much-needed me time.
#2 Deozein Natural Deodorant Spray
It's our number one seller for a reason - it really works!
Made with natural mineral salts, algae extract and pure essential oils, Deozein keeps you smelling fresh and clean without clogging pores or inhibiting the body's natural functions.
Thoughtful gift for someone trying to transition into a more natural lifestyle or stock up for yourself. You know you'll use it.
Customized Products
The best products for you are the ones made to fit your skin and lifestyle. Check out our selection of customized products for the mind, body and spirit during the cyber sale or make a personalized gift for someone special. 
Our customized options include: Customized Facial Cocktails, Make Your Own Facial Mask and Make Your Own Bath Salts. Get the biggest bang for you buck during the Cyber Sale with our new jumbo 4-month supply of the Facial Cocktail serum.
Once you go custom you won't go back! 
Happy Shopping. The Cyber Sale ends Monday, November 26 at 11:59 p.m. 
*Sale discount not available on equipment (diffusers), accessories, holiday gift kits (already discounted), starter kits (already discount) or gift certificates. Discount only available for retail purchases and does not include wholesale or professional sales. 
---