Source Vitál Apothecary + Houston Beauty Market Celebrates National CBD Day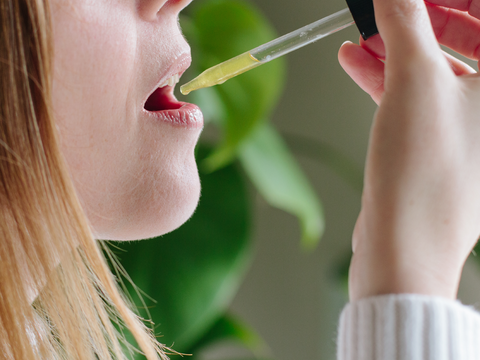 On August 8th, CBD enthusiasts across the nation will come together to celebrate National CBD Day, a day dedicated to recognizing the potential benefits of CBD (cannabidiol). Derived from the hemp plant, CBD has gained immense popularity in recent years for its alleged therapeutic properties and its role in promoting overall wellness.
Join Source Vitál Apothecary, and the Houston Beauty Market as we delve into the significance of National CBD Day, explore the numerous benefits of this natural compound, and introduce you to a few of our favorite CBD brands. Let's get started!
Understanding CBD
CBD, short for cannabidiol, is a naturally occurring compound found in the hemp plant. Hemp is a variety of cannabis that contains minimal amounts of THC (tetrahydrocannabinol), the psychoactive compound responsible for the intoxicating effects commonly associated with marijuana. CBD has gained considerable attention in recent years due to its potential therapeutic properties and its unique interaction with the body's endocannabinoid system. The endocannabinoid system (ECS) is a complex network of receptors located throughout the body. It plays a crucial role in regulating various physiological processes, including pain perception, mood, appetite, immune function, and sleep.
One of the most significant advantages of CBD is its non-psychoactive nature. As mentioned earlier, THC is responsible for the "high" associated with marijuana use. In contrast, CBD does not produce any intoxicating effects, regardless of the dosage consumed. This makes CBD a safe and attractive option for individuals who want to explore the potential benefits of cannabis without experiencing alterations in their mental state or cognitive abilities. 
Is CBD Legal?
The legal status of CBD varies depending on the region and the source from which it is derived. In the United States, the Agriculture Improvement Act of 2018, commonly known as the 2018 Farm Bill, removed hemp and its derivatives, including CBD, from the list of controlled substances. However, the legality of CBD products may still differ at the state level, so consumers should be aware of their local regulations.
With the increasing interest in CBD and its potential benefits, a wide range of CBD-infused products has become available in the market. These products include CBD oils, tinctures, edibles, capsules, topicals, and even pet treats. It is crucial for consumers to choose high-quality products from reputable brands to ensure safety and efficacy.
What are the Benefits of CBD?
Potential Pain Relief
One of the most well-known benefits of CBD is its potential to alleviate pain. Studies suggest that CBD interacts with the endocannabinoid system, a complex network of receptors responsible for regulating various bodily functions, including pain perception and immune responses. As a result, CBD may offer a natural alternative for individuals dealing with chronic pain conditions.
Anxiety and Stress Reduction
CBD has been widely studied for its potential to promote relaxation and reduce anxiety and stress. It may influence serotonin receptors in the brain, which are involved in mood regulation. Many users report experiencing a sense of calm and improved well-being after incorporating CBD into their daily routine.
Sleep Improvement
For those struggling with sleep disorders or insomnia, CBD may offer a glimmer of hope. By addressing factors that hinder restful sleep, such as anxiety or chronic pain, CBD could potentially help individuals achieve a more restorative night's sleep.
Skin Health
CBD's antioxidant properties have led to its use in skincare products. Many people use CBD-infused creams, balms, and serums to address skin concerns like acne, eczema, and psoriasis. As CBD continues to gain recognition in the skincare industry, it offers a natural and potentially effective option for those seeking to enhance their skin health and address common skin concerns without resorting to harsh chemicals or invasive treatments.
Our Favorite CBD Brands
The Good Patch by La Mend
La Mend is a Los Angeles-based company offering a range of safe and potent phytocannabinoid products. Their industrial hemp comes from high-quality, organic, non-GMO plants. The extraction methods are carefully controlled, and each batch undergoes third-party testing for purity and quality.
Their signature product, The Good Patch, consists of state-of-the-art transdermal patches designed to discreetly provide long-lasting relief for common ailments. These patches are made with top-notch organic hemp and combined with plant extracts tailored to specific needs. La Mend takes pride in ensuring all its products are organic, latex-free, paraben-free, THC-free, and free from harmful chemicals like sulfates, synthetic fragrances, and artificial dyes and colors. CBD Hemp-Infused Patches are available to address trouble sleeping, anxiety, hot flashes, and pain relief.
Green Lotus Hemp
Green Lotus™ Hemp is a premium brand of hemp oil products, established in 2016 by Texas natives. This veteran-owned company is driven by a diverse team passionate about making the healing power of hemp accessible to everyone.
Their commitment to quality is evident through their use of organic hemp sourced from Colorado, ensuring the highest standards of purity. Each product is lab-tested and CGMP formulated, guaranteeing excellence from the farm to the bottle.
By carefully cultivating and extracting hemp from their own Colorado farms, Green Lotus ensures the utmost purity. They collaborate with industry-established third-party labs to thoroughly test their hemp oil, maintaining transparency and reliability.
Lucent Botanicals
Lucent Botanicals, a Bay Area-based wellness company, is committed to empowering individuals to take charge of their physical, mental, and emotional well-being through honest and effective products. Their signature offering, Lucent Botanical CBD Mints, provides a host of benefits to users. These CBD mints ensure that you remain in control of your experience, as CBD is non-psychoactive compared to THC.
By activating your body's natural healing systems, these mints offer a highly targeted effect with precise doses, allowing you to calibrate the strength of the desired effect. Thanks to their fast-acting nature, you can feel the effects within minutes after consumption, making it easier to determine your ideal dosage and experience the effects faster. Lucent sources only the best ingredients, including natural, organic herbs, and terpenes, providing a clean and subtly delicious taste without any "weed-like" aftertaste. These portable and discreet mints can be taken anywhere, ensuring convenience and a discreet experience.
Make & Mary
Make & Mary™, established in 2016 and based in Portland, Oregon, draws its inspiration from folk medicine and heritage craft making. Their belief in the power of self-care and creativity led them to explore the world of cannabis through art and design. Creating with their hands and sharing the outcomes is at the core of their mission, promoting a proactive approach to wellness in all aspects of life.
Being highly inspired is a significant aspect of Make & Mary's philosophy, transcending mere infused creativity. It embodies living a life filled with abundance in heart and soul, embracing love, laughter, and freedom. Their brand is a blend of creativity, wildness, humility, sensuality, kindness, magic, and beauty. Utilizing the finest ingredients, including full spectrum CBD, cannabis aromatherapy, and herbal adaptogens, their lifestyle products are organic, wild-crafted, vegan, non-GMO, and cruelty-free.
Plant People
Plant People is driven by a mission to heal and forge connections between people and the planet by harnessing the power of plants. Their products are crafted from organically-grown, full-spectrum hemp extracts, enriched with a range of cannabinoids such as CBD, CBN, and CBG, among others. These extracts are carefully blended with activating herbal ingredients that help restore balance to both mental and physical systems, providing support for managing everyday stress, mood, and recovery.
The inception of Plant People emerged from a shared life experience between co-founders Gabe Kennedy and Hudson Gaines-Ross. Both had undergone conventional surgeries for traumatic spinal injuries, and like many, they were prescribed traditional pharmaceuticals that left them feeling disconnected, irritable, and unwell. In pursuit of healing, they turned away from conventional Western medicine and discovered the transformative power of plant-based remedies, combining cannabis with a blend of Eastern and Western herbs. Fueled by their personal experiences and inspired by nature's brilliance, Gabe and Hudson established Plant People to share the profound healing potential found in plants with their communities.
Curious to know more about each brand's offerings? Stop by Source Vitál Apothecary + Beauty Market at 1291 N. Post Oak, Suite 125, Houston, TX 77055 during business hours.
---