Skincare Isn't Just for Women (Psst! It never was…)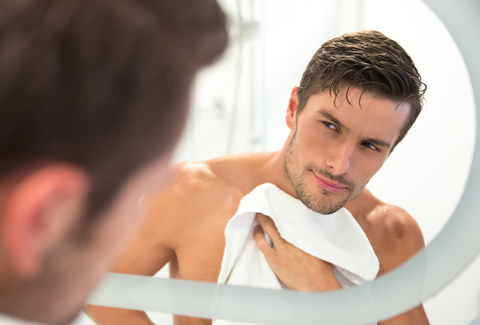 Our world today is filled with obvious gender norms, and beauty and skincare are two words that are seemingly more relevant to women than men. The reality is, men need to take care of their skin just as much as women do! We want to help all embrace healthy skincare practices – no matter the gender, skin type, climate or lifestyle.
Moisturize
One universal piece of advice for all skin types is to moisturize. Along with providing a protective shield against environmental damage like pollution, dirt and grime, the anti-aging benefits of moisturizing cannot be overstated. Daily moisturization plumps the skin with the essential moisture that helps it to look and feel its best. Proper hydration also provides more nourishment to the skin, allowing you and your skin to feel radiant and look more youthful.
For the men who are looking for a bit of simple hydration that doesn't aggravate acne or oily skin, we recommend our Moisture Cream. It's a lightweight, natural face cream, packed with aloe vera, patchouli essential oil and nourishing hemp seed oil, that soaks effortlessly into skin, leaving behind absolutely no greasy feel – just a bright, smooth looking complexion. There is no need for a separate night cream, unless you want one; Moisture Cream is great for use day and night.
Skin Type
"Men, just like women, deal with issues like aging, pigmentation, sensitivity, and acne," said Dr. Claudia Aguirre. Dr. Aguirre explains that men have naturally higher testosterone levels, and that comes with a natural increase in oil secretion over the body, especially the face. 

Exfoliation is important for oily skin. Men tend to have thicker skin that can tolerate more frequent exfoliation. Exfoliation helps keep pores clean, and prevents buildups of oil and dirt that can cause inflammation and breakouts. For men with oily skin in need of exfoliation, try our Algae Deep Scrub – a powerful duo of deep pore cleanser and gentle exfoliation. For men who don't want to spend too long in front of the mirror, this is two steps in one. Not to mention, it's a great prep before shaving.
Shaving
There's no doubt that shaving is a common maintenance practice among many men. With naturally rougher skin and plenty of facial hair follicles, taking care of skin while shaving is essential. 
For men who shave frequently, use our Orangemint Natural Shaving Cream. This is not your grandfather's shave cream! Cooling and energizing, Orangemint Shaving Cream reduces the appearance of blemishes and the discomfort of ingrown hairs. The light lather gives a close, conditioning shave and helps tame tough beards.
Top it off with After Shave Soother to further protect the skin from razor burn and dryness. Made with all natural aloe vera, cucumber, witch hazel, and our special blend of essential oils and seaweed extracts that condition the skin without feeling greasy. Use it even on days when you don't shave to help fight the look of aging skin.
Beard Oil
When it comes to grooming, men usually like to keep it pretty simple but for those with beards they need a bit more maintenance. Keep beards in check with a few drops of our Stress Relief or Vigor Bath & Body Oil. Don't be afraid of the name, this product is made with 100% pure essential oils and nutrient-rich vegetal oils that soften and tame coarse hair. Stress Relief has a slightly green scent that's great for men and Vigor is perfect to wake you up in the morning.
When you aren't using it as a beard oil go ahead and add 20-40 drops to a bath. Just like taking care of your skin, baths are for men too!
Eye Care
Years add up on us all. Dark circles, sagging, wrinkles, and puffiness can make you appear older, even if you've just got a few decades under your belt. Men, rejuvenate your face to help improve the appearance of the under eye area.
To combat the effects of aging and stress, apply our Cucumber Eye Cream. This cream is lightweight and made with 100% botanical ingredients. It will leave your skin looking toned and brightened as it improves the appearance of fine lines, wrinkles, puffiness, and dark circles. Give your tired eyes a refreshed look. 
See men, skincare is for you, too! With so many multitasking products on the market, there is no need to spend too much time on your skin. Just a few minutes twice a day is all you need to maintain a healthy complexion.  

Check out our full collection of men's skincare products online at Source Vitál Apothecary and don't forget to pamper dad a little this Father's Day.
---