9 Vacation Essentials to Make Travel Easier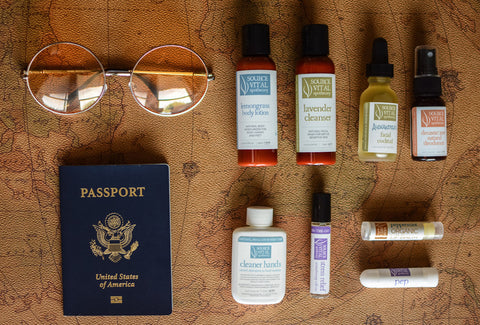 Traveling is a beautiful thing, but when packing for our travels, it can be tricky to pick and choose those precious items that earn a spot in our suitcases. 

Even when you are on the go, it's important not to neglect caring for your skin and body! The trick is to choose multi-use products that can also be easily packed. Here are our top travel accessories to keep your skin nourished, hydrated, and healthy while on your big trip.
With travel comes all kinds of dirt, germs, and grime, making it critical to properly cleanse our skin. This gentle cleanser is a treat for the skin and the senses, made with Aloe Vera Extract, Lavender Essential Oil, and Safflower Oil - ingredients chosen specifically for sensitive skin.

Traveling to different climates or spending a lot of time in airplanes can cause our skin to get of whack. This soothing cleanser is perfect to bring back a state of calm  and refresh skin while on the road. Another great benefit of this creamy cleanser is you don't need water! Simply massage it into the skin and gently wipe away with a tissue, cotton ball or wash clothe.


Once you have your personal facial cocktail, it's hard to do without … so no reason not to pack it in the suitcase. It's size is ideal for travel and as it's a natural toner, nourishing serum, and hydrator; it's multifunctional. No need to pack 3 or 4 extra bottles! Travel with your personal facial cocktail and ensure your skin is taken care of.
Let's face it, when we're on the road there's not always an opportunity to jump in the shower. Not to mention, our bodies are biologically reacting to environmental and time changes, which can lead to some strange smells.
Keep yourself feeling fresh and clean with our TSA-approved travel size Deozein Natural Deodorant Spray. Made with pure essential oils, natural mineral salts and seaweed extract it naturally works to prevent bacteria-causing odor from developing. It is perfect for men or women and is also available in a convenient roll-on form!
Stay clean from the dirt and grime of travel, while this natural body wash leaves your skin feeling soft and supple. This SLS/SLES free body wash is made with natural ingredients and is great for the whole family. We love lavender for travel for its soothing qualities.
While on the road, it's easy for our skin to dry out. Prioritize hydrating and nourishing your skin with this non-greasy lemongrass body lotion. Also available in a handy travel size, this lotion has powerful essential oils that help protect the skin from a variety of irritations.
Don't forget to keep your lips moisturized during travels. Pamper your smackers with our certified organic lip balm, made with natural botanical extracts. Allow your lips to experience luxury and hydration with any one of our trio of flavors – citrus, peppermint, or vanilla. Perfect for trips to the beach or skiing in colder climates.
With the stresses that naturally come with travel, we need to bring something along that will help calm stress and tension. Portable and easy to use, take a few deep breaths of this inhaler in the car, hotel, outdoors, or wherever your travels take you. Allow the light herbal fragrance, made with natural key ingredients of Lavender, Clary Sage, Jasmine, and Peppermint essential oils, to rejuvenate your body and mind, no matter your port of call.
Great for on-the-go, throw our aromatherapy roll-on in your bag before your trip. Roll on these aromatic oils directly where you need them. This blend of pure essential oils helps to stimulate your mind and removes that foggy thinking associated with jet lag and travel. Apply to the head, back of neck, or big toes and allow it to boost your focus and creativity.
This product is a must have for anyone with a little wanderlust. Our natural alternative to hand sanitizer keeps your hands clean and conditioned wherever you go! Made with pure Orange essential oil, this cleanser quickly removes the feeling of dirty, sticky hands without the harsh ingredients found in other hand sanitizers. The orange aroma is revitalizing and leaves hands feeling clean and nourished. Perfect for those times when your travels take you somewhere a little more rustic.
Another great way to take your skin care routine with you is to try one of our starter kits. They are priced just right and include about 3-4 weeks worth of product. Plus you get to take your full skin type-specific regimen with you!
Now, all you gotta do is book your ticket and enjoy taking some time away from reality. Happy travels!
---