Show Mom You Love Her "Bunches" This Mother's Day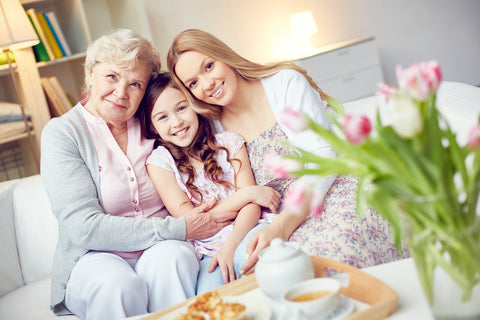 At Source Vitál, we're constantly seeking out new and innovative ways to celebrate the "mothers and others" in our lives, and this year is no different. 
We drew inspiration this year from the beautiful bouquets of blooms that we love to give and receive as well as the symbolism and language that these flowers possess. The symbolism of the meaning of flowers has evolved over thousands of years and allows us to express our feelings in a meaningful way.
If you're looking to gift a beautifully thoughtful gift (that will last much longer than a bouquet) or to supplement your gift of blooms, we've got you covered. Below, you'll find a selection of glorious beauty goodies for all the special women on your list: mom, wife, grandma, aunt, fur mama, mother of your child, and any other maternal figures in your life. 
If Her Favorite Flower is a…
Rose
Roses have long been a symbol of love and passion, and are one of the most popular flowers in the world. The Ancient Romans associated roses with Aphrodite, the goddess of love. 
Not all roses are created equal, as varying colors can represent different things. Red roses display passion and deep emotion, pink roses symbolize joy and gratitude, and yellow roses mean friendship and caring.
For the woman who loves roses, give a bouquet that surely won't wilt with our Roses For Mom gift set. The alluring scent of rose is found in this three-piece set which includes our Rose Patchouli Body Wash, Camellia Rose Body Lotion, and a petite Makana Rosewater Candle. 
If she's a skincare aficionado, consider our Rose Toning Essence paired with our Rose Quartz Roll and Gua Sha duo. 
Daisy
The name "daisy" actually comes from an Old English term "day's eye" because these flowers typically close up in the evening and open in the morning. Daisies represent innocence, purity, new beginnings, and motherhood. 
For those experiencing the new beginning of motherhood for the first time, pamper them with our
Immacule Natural Elixir
,
combined with our decadent
Nourishing Body Cream.
Both of these products are essential for her growing body to minimize the appearance of stretch marks, as well as smooth skin texture and add hydration. 
Sunflower
Sunflowers are named as such after their tendency to turn towards the sun. The sunflower is a highly utilized flower, and its byproducts are found in foods, and wellness products, and are admired for their vibrancy and beauty. These distinct blooms represent loyalty, creativity, and longevity.
For the "mothers and others" who let their creative side shine, pair our Sunflower Carrier Oil with our Essential Oil Starter Kit and let her turn a little DIY into some serious TLC. Combine one of our most popular essential oils, featured in this kit with our sunflower carrier oil for topical use. Perfect for the budding aromatherapist or those more familiar with the benefits of essential oils.
For the women that are just as loyal to you as they are to their skincare routine, spoil them with our Mom, Sorry For The Wrinkles kit. Our 2-piece gift set features our most luxurious facial serum and a beautiful rose quartz facial roller to help increase skin's longevity and youthfulness. When used together, this combo will help to smooth away the look of puffiness, and improve the look of fine lines and wrinkles, while relieving the feeling of tension in the face.
Tulip
Although tulips are associated heavily with The Netherlands, tulips actually originated from Persia and Turkey. They received their name in the 16th century after the Turkish word for "gauze" and their turban-like appearance. Today, tulips symbolize energy, cheer, and even royalty.
Treat her like royalty this Mother's day with our Spa From Home Custom Kit. This kit allows you to personalize a pampering ritual including, a 4 stage "at home" spa experience which includes a facial mask, a serum, a body treatment, as well as a great bath. Plus, you'll choose the candle scent you want to help her set the mood.
For the woman who needs a boost of energy and vitality, give her our Citrus Essential Oil Blend and our Opal Bliss Essential Oil Diffuser. Citrus essential oils help to refresh the senses and can help brighten the feeling of a room- an instant energy booster!
Carnation
There are many different tales of how the carnation received its name, but the most popular theory is that the name comes from the word "coronation" as the flower was used in Greek ceremonies. Pink carnations are the official flower of Mother's Day in the United States- no wonder these blossoms are widely popular. Carnations have a variety of symbolism based on color. White carnations symbolize good luck, purple represents impulsiveness, and pink represents deep gratitude. 
Is your "mother or other" spontaneous and love adventure? Help make sure she's ready to go at a moment's notice by gifting her our Custom Facial Cocktail. You're helping her combine 3-4 skincare steps into one, with a personal touch that allows you to customize a cocktail that contains a toner, light hydration, care, and a serum. Perfect for the woman who needs to pack her bags at a moment's notice. 
Celebrate your gratitude for her with our Chakra 4 (Heart) Essential Oil and our Good Vibes Carrier Oil. The 4th or Heart Chakra is positioned at the center of the chest and governs feelings of love, joy, compassion, and inner peace. The heart chakra strongly influences our ability to give and receive love in a healthy way. For an extra pampering gift, include our Make Your Own Chakra Bath Salts with our heart chakra essential oil blend. 
For more Mother's Day gift ideas click here to browse our curated collection dedicated to showing your "mothers and others"  how much you love and appreciate them.
To all the amazing women out there, thank you for continuing to inspire us at Source Vitál. Happy Mother's Day! 
---