Rethinking Home Fragrancing: Experience the Flexibility of Our Aromatherapy MultiSprays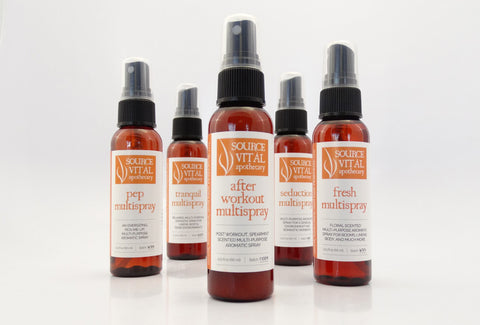 February is always a great time to remember the things you love. For us that means appreciating the lovely aromas that nature provides for us via flowers, herbs, trees and other plants.
The pure, undiluted, essential oils from these plants and their many benefits for the body, mind and soul are the inspiration for our line of amazing MultiSprays.
Forget those heavily-fragranced home sprays you find in grocery stores and home décor shops. Our amazing MultiSprays, like the name suggests, go way beyond smelling good. They offer a nearly endless list of uses for the home and office and are safe enough to use on you and your pets.
Plus, they're made without any of the irritating synthetic fragrances found in conventional sprays. With five exclusive scents, here's a few of the reasons we think you'll fall in love with our MultiSprays.
Freshen the Room, Yourself or Your Pet
One of our original sprays, it's flowery aroma is multi-facted in it's uses. For the room, spray it in the air as a freshener, use it as a pillow sprays or simply spray yourself.
Hate that stinky sweat smells your pets have after going outside? Try a few sprays of your favorite MultiSpray aroma. These are a safe and easy way to extend a trip to the groomers by a few days.
Fresh has become one of our customer favorites. It's the smell that has become synonymous with Source Vitál Apothecary. Fresh, slightly floral and delicately delicious.
Caution: Avoid spraying near your pet's eyes, ears or mouth.    
Catch some Zzzzs
Our beloved Tranquil essential oil blend lends all its blissfully calming benefits to this special spray.
Having a stressful day, can't turn off that mental chatter? Spray throughout your bedroom, mist your pillow or even your PJs to envelope you in a cloud of pure tranquility that lets you escape all that tension.
These sprays are safe to use on clothing and other materials, but it's always a good idea to spot test before using!
Safe to use in baby's rooms too!
Get Active
After Workout is our newest scent. Blended to help give you a natural boost after exercise, this minty-fresh spray is quickly becoming a favorite.
Carry this multispray in your gym bag to quickly spray down sweaty, smelling clothes and shoes. Or use as a body spray to keep you smelling great after a hike, yoga, any activity. We also have clients who use it in between classes at their yoga studios.
Caution: Avoid spraying directly on rubber or wood surfaces.
Set the Mood
With Valentine's just a few days away, Seduction is the perfect way to open your heart to receive love from your sweetie.
Formulated with exotic, precious essential oils like Sandawood, Seduction instantly warms up any environment. This is a favorite to spray down guest towels and linens. 
Liven Up
Feeling that afternoon slump? Use Pep to naturally energize your mind and finish the day the strong. We love this for work environments. Instead of grabbing another cup of coffee, lightly mist the area around your desk.
Do you have a creative use for these MultiSprays? Let us know in the comments section!
---