Taking Your Skin Care to the Next Level - Personalizing Your Own Routine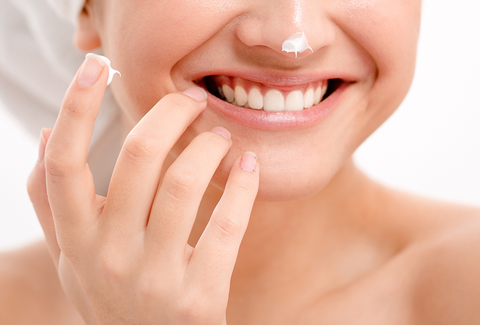 We all need a good routine. From diet and exercise to the time you turn in each night, healthy habits keep you fit and feeling good. Same goes for skin care. You need your daily essentials to keep your skin in ship shape.
Let's say you have dry skin with a few new lines you'd like to see disappear, and you'd also like to make sure all products you use are cruelty free. Great! Now, where to begin.

WHAT YOU NEED
We have covered the basics of identifying your unique skin type, the issues you want to conquer and the products that will set you in the right direction. With this information, you can now plan out the daily skin care regimen that will get your complexion glowing.
The best method for success is to establish a protocol for the first-thing in the morning and one for right before you go to bed. We will also add in a plan for those special weekly or monthly treatments.
THE DIFFERENCE BETWEEN DAY AND NIGHT SKIN CARE
Typically, your morning program aims to get the skin going for the day and protecting it from environmental factors.
Think of it like having your morning coffee. For men, this often involves shaving and grooming while women focus on prepping the skin and promoting calm.
Night protocols are about renewal. Replenishing lost moisture, correcting problems and stimulating the body's natural efforts to rejuvenate.
RISE AND SHINE ROUTINE
Cleanse
In the morning you don't have makeup or the grime of the day to remove. The goal here is to feed the skin and give it the fuel to deliver throughout the day. You don't need anything too aggressive.
A seaweed-based cleanser, packed with vitamins and minerals, is a good choice. This will take away any oil that's accumulated overnight and stimulate the skin, giving it a healthy, rosy appearance.
Tone
If you have oily skin this helps to keep those pores clean. Formulas for dry, sensitive skin types lightly hydrate and condition the skin.
Toners also keep the skin slightly damp, which allows for better penetration of your other products.
Expert Tip: Steer clear of formulas that sting the skin or leave it feeling too tight. It should feel refreshing!
Facial Serum (optional, but well worth it)
Ah, the good stuff! In the morning use a serum that encourages a balanced, clear complexion. You want your skin to look healthy and hydrated during the day. Most serums contain powerful antioxidants that fight free radical damage and environmental factors that can break down skin cells and lead to premature aging.
Avoid serums with retinoids and other ingredients that can cause sensitivity in the sun. You may have several different serums that you want to use together. There is no rule that says you can only use one. Mix-n-match to fit your skin care needs.
If you have oily skin or live in hot humid climates a good serum may be all you need during the day. Save the heavy creams for night or layer. Play around and figure out what's best for your skin and lifestyle.
Hydrate with a Moisturizer
The day is long and locking in moisture is important to keeping your complexion looking its best. And, similar to serums, your day creams or lotions help to protect the skin from the stresses of the day.
With formulas made to take away the shine of oily skin, simply hydrate or even out the skin tone, there is something that works for all skin types. You can use the same moisturizer during the day or at night but a good rule of thumb is to save the heavier, luxurious creams for night.
Eye Care
The eyes can make you look years younger – or older – than you really are. Lightweight gel formulas are perfect for the daytime. They soak in quickly and often have ingredients that depuff, brighten and hide signs of overwork. Target the area under your eyes where dark circle and bags may be most prominent.
If you are battling deeper wrinkles and crow's feet, a rich, creamy eye cream is a good idea. Concentrate it on the outer corners of the eye area near the orbital bone.
Protect with a Sunscreen
Sunscreen is very important. No matter your skin type or complexion, the sun is one of the largest factors in premature aging, not to mention the risk of skin cancer.
Some daytime moisturizers contain SPF. If not try a lightweight, fluid formula that will sit on top of other creams and serums without feeling too heavy.
Remember if you will be out in the sun for prolonged periods of time it is important to reapply often.
RELAX AND RENEW NIGHTTIME ROUTINE
Remove Makeup (if applicable)
It is crucial to remove all traces of makeup at night. If left on, makeup can clog pores, cause breakouts and lead to a grimy-looking complexion.
There is also a psychological reason. A clean, fresh face just feels good!
Micellar Cleansing Water quickly and effectively wipes away makeup without leaving behind any greasy residue or stripping the skin of essential moisture. And on those nights when you need a quick solution, Micellar Water is your go-to. Just swipe with a cotton ball and you are ready to slip off into dreamland.
Micellar Water is also a great option for men who want a quick and easy wash.
Cleanse and Purify
If gentle is the goal for your morning cleanse, complete should be the mantra at night. You want to use a cleanser that effectively removes any last bits of makeup and all the dirt, grime and oil that has accumulated during the day.
Oily skin will want something that purifies without over drying the skin. Dry, sensitive and mature skin types may benefit from a creamy cleanser that will melt away impurities without sacrificing any moisture.
Expert tip: Massage cleansers into the skin. Avoid scrubbing too vigorously and pulling at the skin. If you feel like you need a little help, try using a natural facial sponge or an Ayate washcloth. Just be aware to keep you sponge clean and replace often.
Tone
The same reasons to use toner in the morning apply to your evening routine. If you want to change it up a bit, try a face essence, which has properties similar to a toner and serum.
Correction Products & Face Oil Serums (optional, but still well worth it)
This is your chance to pinpoint those problem areas. Think anti-aging (loss of firmness, sallow-looking skin, lines and wrinkles), anti-acne, dark spot treatments, etc.
You want to apply these formulas closest to the skin to ensure contact with the area of concern and complete absorption. A good rule to follow, products for acne and breakouts should go on first, directly over inflamed skin.
When using active formulas, take special care not to overdo it! It's a good idea to alternate the use of harsher products, like retinols, to every other day.
The serums you use at night should also target your unique skin problems. Also, consider adding in extra nourishment and upping the hydration you get from your day protocol.
Those with combination skin types will want to use different products on different parts of their skin. Use a hydrating serum on dry areas and products for oil balancing on those areas that get shiny.
Opt for serums made with natural ingredients. Using essential oils and pure botanical oils is ideal because our bodies can more easily put to use plant-based formulas than harsher synthetics.
Expert Tip: Change up your serums to reflect the time of the year and the current condition of the skin. What works in the winter may be too much in the summer. On the other hand, you may find that even though it's warm outside you are a little on the dry side.
Night Cream & Eye Care
Bring out the big guns! Save the more expensive, rich, luxurious creams for the evening.
You have a solid 8 hours (hopefully) for your skin to drink in their delicious textures and nutrients. These creams tend to feel too heavy for wear during the day, or to layer makeup on top. At night they feel as comfortable on the skin as a warm, fluffy blanket.
Expert Tip: To really reap the benefits of your products take a few extra minutes to give yourself a face massage. This stimulates blood flow for better absorption and kick starting cell renewal.
Finish out your nighttime program by gently patting on a silky cream-based eye cream. Use your ring finger to apply the cream and be careful not to rub the cream on. Pulling the delicate skin around the eyes can weaken it, paving the way for lines and wrinkles.
Now curl up, rest and wake up to beautifully pampered skin.
WEEKLY TREATMENTS
Exfoliation and masking may not be for every day but they are very important to maintaining the overall health of your skin. Think of these as mini at-home facials.
Exfoliation
The old saying says you can't have too much of a good thing. Well, that's not true about exfoliation. Too much exfoliation can irritate and weaken the skin. Not a good idea. On the other hand, proper exfoliation results in smooth, healthy-looking skin and is essential in the turnover of old skin cells. This is key to keeping the skin looking ageless.
Expert Tip: Most skin types do not need to be exfoliated more than once or twice a week. This is especially true for sensitive skin types. Use something easy to remember, like garbage day, to polish your skin. Think of it like ridding your skin of all the garbage that has built up.
Don't forget to factor in the season. Avoid chemical peels in the summer when you are exposed to more sun and never exfoliate broken or inflamed skin.
Masks
Depending on your skin type you may want to mask once a week, once every two weeks or even once a month.
Sunday is the perfect day for some self care, try making this your day to mask. Light some candles, take a bath, listen to your favorite music, lay back and relax while the mask goes to work.
HOW TO PROPERLY LAYER YOUR PRODUCTS
So, now you have all of these new products. In what order do you use them?
The Korean beauty trend introduced us to the notion of several products layered on in a specific order. Here is how to make that work with your skin care regimen.
There is an application protocol to achieve max benefits from all of your lovely products. Each of these products is designed to deliver specific results and you want them to be as effective as possible. The simplest way to remember a proper layering order is, beginning with clean skin, go from thinnest consistency to thickest, and in order of importance. In other words, a light serum is more effective when applied before a heavier facial oil or moisturizer. If your concern is treating acne, let's say, you would want your blemish control treatment closest to the skin, so layer that first.
Seasonal Tweaks
Like we talked about, your skin type doesn't change but the way your skin behaves can shift with the seasons.
For instance, someone with dry skin will likely need to up their moisturizer game in winter months to a richer cream or add in a protective balm. If you have oily skin, you may be surprised your foaming cleanser is increasing breakouts or causing flakiness in drier months. Even those with normal or dry skin types benefit from a lighter cleanser and moisturizer when weather is humid. One product that is a mainstay year-round is sunscreen.
Consistency
The most important part of achieving and maintaining healthy skin has nothing to do with the products you use and everything to do with a regular routine. Sticking with a skin care regimen will keep your complexion balanced, happy, and well behaved.
NOTE: This article is part of our "Creating Your Own Skin Care Routine" Downloadable eBook. Enjoy the free download today! 
---