Our Favorite Cooling Products for Summer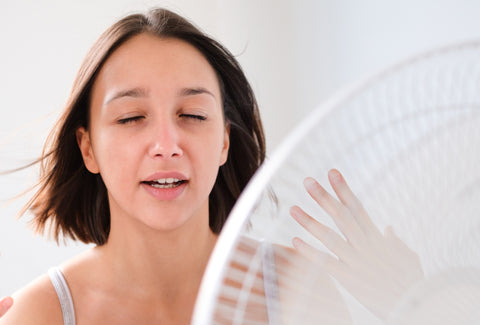 Keep You Cool and Look Good While You're Doing It
When it starts hitting triple digits in the summer, any activity that takes place outdoors starts to become less and less appealing. Without the comfort of our air conditioner, we turn to things like ice-cold lemonade, a chilly pool, or a yummy snow cone from the local stand to help make the heat tolerable.
But have you considered taking this same approach with your skin care routine? You can actually beat the heat with some of our coolest body and skin care products for summer.
Facial Care
We don't always have the luxury of cannonballing into a crisp, cool freshwater spring in our everyday life. Don't let that stop you from chilling out! Because your face is most easily accessible, it's the first place you should start when cooling off your skin in summer.
Offering a cool burst of skin superfoods, our Sea Tonic is the much chicer version of those silly spray pocket fans commonly seen at theme parks and outdoor sporting events. Simply spritz it on in the morning or at night after applying one of your serums, or keep one in your bag to feel refreshed on-the-go.
Skin Care Pro Tip: Have evening plans and no time to refresh your makeup after a long, hot day? Use Sea Tonic as a makeup re-charger. Simply sprtiz a little on the skin and lightly pat it in to revive the skin. 
After a long day out in the sun, your skin is likely begging you for a cool hit of soothing hydration. Face masks are a great way to re-nourish, calm, and take away the burn. Our Cool Mask is packed with summer skin favorites like Aloe Vera, algae extract, cucumber extract, and beneficial essential oils that work in tandem to calm and balance reddened skin.
Skin Care Pro Tip: Keep your facial creams, lotions, toners, and eye treatments in the refrigerator for an added cooling effect. Not only does this feel great, but it can help soothe morning puffiness by kickstarting circulation, bringing a healthy flush to the complexion.
Body Care
Feeling sunburned, overheated, or just plain sweaty? Our lineup of summer body care heroes will leave you feeling as cool as a cucumber.
Our Merecul MultiLotion feels like a miracle! Aloe Vera, natural menthol, red algae, and essential oils like Wintergreen and Peppermint make this an ideal body treatment on a hot day. Place about a dime to quarter sized amount of the MultiLotion on the back of your neck and in seconds you will start to feel a comforting, cooling effect. 
The benefits of Merecul don't stop at simply cooling. It also helps to reduce the discomfort associated with inflammation and fluid retention. You know how you feel after lugging the kids around Disney World all day? Yeah – this helps with that! Massage into tired feet and let Merecul go to work. 
While this delightful spray feels especially good after a grueling sweat session, its uses are truly endless. Formulated with Spearmint and Peppermint essential oils, this multipurpose spray can be used to sooth sore muscles, de-funk your gym bag, and help cool you off. Get creative with it - the only limits are your imagination!
We call our Algae & Aloe Cool Gel The "Sunburn Savior." Apply to inflamed, irritated, sunburned, windburned, and sun-damaged skin to feel immediate hydrating and soothing relief that is cooling on contact. Made with mineral-rich brown algae, moisturizing Aloe Vera, and a few key essential oils, it's like a green detox juice for your body.
Skin Care Pro Tip: Want to keep your tan looking great? Use Algae & Aloe Cool Gel to keep the skin hydrated and to avoid peeling and tightness for a healthy glow. 
Do you wake up feeling a little foggy in the summer? This body wash will add a little pep to your step. Thanks to minty Peppermint and Eucalyptus essential oils, you will feel revitalized and recharged. While we love using this in the morning, it's also a great pick-me-up after a long day or post-gym.
Follow up your Peppermint Body Wash with our Invigorating Body Oil for the ultimate wake-up call. Rosemary, cooling Peppermint, and other energetic oils team up to pack an aromatic punch, one that helps you stave off fatigue.
Starting to drag at the end of the day but already committed to evening plans? Massage this blend into your arms and chest to help catch your second wind.
We hope you stay cool this summer, wherever your adventures may take you. It will be all the easier with your new motto: "Keep Calm and Carry Sea Tonic!"
---