Introducing: Our Marigold Barrier Serum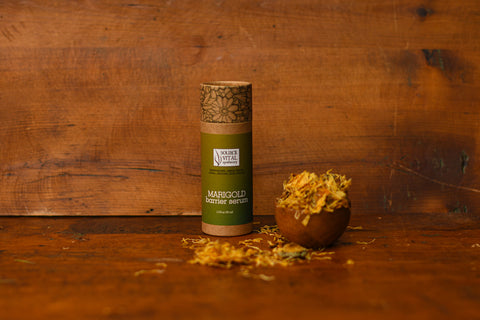 Have you ever wondered why some people seem to have effortlessly flawless, glowing skin, while others struggle with persistent breakouts and dryness? The secret may lie in the health of their skin barrier. This thin outer layer of skin serves as our first line of defense against environmental stressors, pollution, and harmful bacteria.
When the skin barrier is damaged or compromised, it can lead to a host of skin issues, such as dryness, irritation, and premature aging. To help fortify and protect the skin barrier, we're proud to introduce Source Vitál's latest innovation, our Marigold Barrier Serum.
What is Marigold Barrier Serum?
Our Marigold Barrier Serum is specially formulated to provide your skin with the care and protection it needs to look and feel its best. With a combination of botanicals, essential oils, and Nature's active ingredients, this moisturizing serum is designed to fortify and protect your skin's natural barrier. The star ingredient, Calendula Flower Extract, is known for reducing sensitivity, infusing the skin with antioxidants, and aiding in hydration. This powerful ingredient, part of the Marigold family, helps soothe and calm the skin while promoting a healthy, radiant glow.
You'll notice an immediate difference when you apply our Marigold Barrier Serum to your skin. The serum helps strengthen your skin's natural barrier function, improving its ability to retain moisture and prevent water loss. This, in turn, may lead to a more hydrated, plump, and radiant-looking complexion. Whether you're looking to soothe sensitive skin, protect against environmental stressors, or simply achieve a more youthful, glowing complexion, our Marigold Barrier Serum has got you covered.
What Should I Expect When Using Marigold Barrier Serum?
If you feel like your complexion is always feeling on the brink of irritation and sensitivity, it's time to introduce Marigold Barrier Serum into your routine. This powerful serum is designed to provide the ultimate barrier protection, thanks to its unique blend of both calming and strengthening ingredients.
Marigold Barrier Serum works to improve elasticity in the surface capillaries and vascular integrity of the skin, leading to a more resilient and protected complexion. When you use our Marigold Barrier Serum, you'll also notice an instant revival of your skin's vibrant appearance. This makes it a great choice for all skin types, including couperose and rosacea-prone skin.
If you have weakened skin that is in need of extra support and protection, our Marigold Barrier Serum is the perfect solution. Regular use will leave your complexion looking and feeling stronger, healthier, and more radiant than ever before.
How Do I Use Marigold Barrier Serum?
To experience the full benefits of our Marigold Barrier Serum, we recommend using it on a daily basis. It's incredibly easy to incorporate into your routine, simply apply 1-2 pumps of the serum to your face and neck after cleansing and toning.
After applying the serum, we recommend following up with your regular moisturizer and sunscreen for added protection and hydration throughout the day. This will help to seal in the benefits of the serum and ensure your skin stays nourished and protected throughout the day.
For those with oily skin, we recommend using the serum at night. This will allow your skin to fully absorb the serum's nourishing ingredients without the risk of excess oil production during the day.
With regular use, you'll notice a visible improvement in the health and appearance of your skin's barrier, leading to a more youthful, radiant complexion.
We can't wait for you to try Source Vitál's latest innovation. A healthy skin barrier is the key to flawless, glowing skin, and this powerful serum is specially formulated to fortify and protect it. Say goodbye to dryness, irritation, and premature aging, and hello to strong, healthy, beautiful skin with Marigold Barrier Serum!
---