New: Make Your Own Skin Care Kit Creator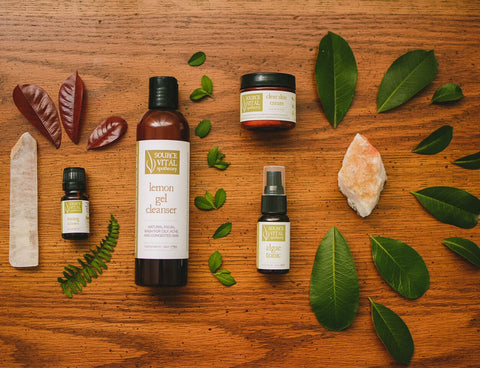 Curate Your Own Skin Care Routine
You deserve to feel confident in your skin. A major factor in achieving healthy, glowing skin is finding a consistent routine that works for you and your lifestyle – something you know you can do successfully every single day.
But even more important than that? Finding a skin care routine that's tailor-made to YOU, not some generic, one-size-fits-all 3-step program you can buy in bulk at a store.
So, in keeping with our commitment to fine products and expert service, Source Vitál is proud to introduce our brand-new Make Your Own Skin Care Kit! This innovation in skin care is all about giving you the power to curate your own customized skin care ritual, complete with high-quality, all-natural products that are good for the mind, body, and spirit.
What's in A Kit?
We know that choosing the right products for your skin can sometimes feel overwhelming. The aim of the Make Your Own Skin Care Kit is to offer you a solution that is simple, straight-forward, and completely tailored to get you the best results.
You have a choice between the 4-product "Basic" Kit or the 8-product "Complete" Kit. Your selection depends upon how streamlined or comprehensive of a routine you need. There's something for everyone, from simple and clean to an advanced nightly ritual that even the biggest Korean skin care devotees will appreciate.
Both kits come with your choice of:
Facial Cleanser
Facial Serum + our special Marine Hydration formula
Facial Moisturizer
The option to add specialized products for an additional cost
If you're in the beginning stages of building out a skin care routine or prefer a "less-is-more" approach, we recommend the quick and no-fuss four-piece basic kit.
The complete eight-piece kit includes everything that's included in the Basic Kit, and is everything a skin care junkie could need for an extensive skin care protocol from start to finish. In addition to the basics, it includes your choice of:
Facial Toner
Facial Exfoliant
Facial Mask
Eye Cream
How Do I Build My Kit?    
It's easy to make your selections with our step-by-step guide. Each section contains products specially formulated for specific skin types, and you just click your desired product. This is a helpful way to identify which products will work for you, though most of our products offer benefits for multiple skin types.
Sometimes your individual preference is what matters most. Do you prefer a creamy, milky cleanser or one with a gel-like texture? A creamier moisturizer or one with a light-weight feel? The choice is yours!
Included in each kit are instructions on how to use each product and in which order – because no matter how amazing a product is, it won't work if you don't use it properly.
Add-ons
Feel like something's missing? You can choose to add any of the following products to the 4-Product Make Your Own Skin Care Kit:
or 8-Product Kit:
Algae Deep Cleanse
Micellar Cleansing Water 
Night Repair Cream – offers lightweight but rich hydration overnight
Liposome Serum - improves the look of fine lines and wrinkles
Don't forget - if you ever feel like you don't know which products are perfect for you, we're here to help! Reach out via social media, send us an email, or give us a call, and our skin care experts will gladly walk you through the entire process.
Ultimately, skin care is an important part of your daily wellness regimen. Sure, you could simply lump it into grooming and hygiene, but keeping a consistent skin care routine makes you feel better about yourself, whether you're preparing for a restful night's sleep or seeking inspiration you to take on the day.
For more information on developing good skin habits, download our FREE e-book here for tips on determining your skin type, how to deal with specific skin issues, what ingredients to avoid, and more. We love to hear from our customers, so share your questions and stories about your skin care journey.
---