NEW: Make Your Own Customized Beard and Face Oil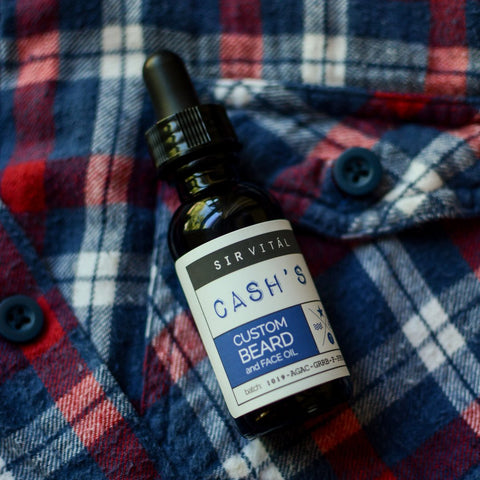 Custom Blend Your Perfect Beard Oil Blend with Sir Vitál
The best grooming products start with you in mind. Your face, your beard - that's the building blocks of the new Make Your Own Beard Oil by Sir Vital.
Natural. Effective. Made By You.
Face it, if you wear a beard. mustache or other type of facial hair you need to use a beard oil. It cares for the health of your hair, keeps your skin free from irritations and keeps you looking more dapper than disheveled.
Why buy off the shelf beard oils when you can customize and personalize your own?
Sir Vital allows you to make selections based on your beard goals, skin type, favorite scents and more.
The Benefits of Using a Custom Beard and Face Oil
Beards are just as unique as the faces they grow on. Each has their own unique texture, growth tendencies and special needs. Add that to the skin underneath and there are even more individual quirks to consider.
A custom blend can take all of these things into consideration, including lifestyle concerns such as climate, stress and personal style.
By making your own beard oil you won't have to fit anyone else's formula, you can discover your perfect blend.
Additionally, here are some other great reasons to make and use a beard and face oil:
Beards & Facial Hair
Improve your appearance with a well-groomed beard, mustache, goatee and facial hair
Prevent the discomfort from

 

razor burn and ingrown hairs
Control unruly facial hair
Strengthen and protect facial hair from breakage and becoming brittle
Prevent the look of flaky "beardruff"
Promote a healthy, shiny beard 
Skin Benefits
Hydrate and nourish the face, neck and chest
Protect the skin from pollutants and environmental damage
Fight the look of aging
Calm a host of skin irritations
 Improve the look of acne and breakouts
Lend a feeling of balance to oily skin
Promote a healthy look for the skin
How to Make Your Custom Beard Oil 
It's easy to make your custom beard oil recipe.
Using our 4-step creator guide you will first select your beard goals, then identify any skin issues you may be experiencing or want to improve, next choose your favorite all-natural scents and top off your blend with extra "shots" to further personalize your beard oil. 
There's an astounding more than 29,500 possible combinations. It should be easy to make your selections, but if you would like a little more help, here is a primer of the ingredients and aromatherapy scents available fr you.
Happy Mixing! 
Here is a primer to help you create your perfect formula.
STEP 1: WHAT ARE YOUR BEARD GOALS
What do you want your beard and facial hair to look and feel like? This is your chance to dream about the things that would make you the most happy with your beard and to identify any problems you want to address.
In this section you can choose two options. 
GROW - is for anyone who is after a lumberjack beard or has trouble getting a think beard.
This blend of Rice Bran, Seasame Seed and Pumpkin Seed oils will nourish and strengthen the hair and follicle to promote healthy growth, It will also prevent breakage.
SOFTEN - for those with rough, course facial hair and for beards that need hydration.
Our soften blend of oils such as Organic Hemp Seed, Safflower and Laminaria, hydrates facial hair for a softer, less sticky feel and works to also prevent the skin from dryness and irritation.
WHISKER CONTROL - the perfect choice for wirey, unruly beards. 
Go for the gentlemanly look and avoid looking like you've been lost in the wilderness for an undisclosed amount of time with this rich combination of Organic Argan and squalene oil.
RAZOR BURN - for those who fight post-shave irritation and redness.
This delicious oil blend calms the look and discomfort of razor burn for those with more sensitive skin types. Evening Primrose, Watermelon, Seabuckthorn, Marula oils round out this selection.
INGROWN HAIRS - if you tend to experience ingrown hairs select this now!
Say goodbye to the "ouch" of ingrown hairs and inflammation that comes with them. Coconut, Organic Hemp Seed and Grapeseed work to prevent the look and feel of ingrown hairs by keeping hair follicles clean and healthy.
BEARDRUFF - for those who fight the look of flakiness from their beard. 
Similar to dandruff in the hair, beardruff can lead to visible white flakes and dryness. Avocado, Apricot Kernel, and Meadowfoam work together to hydrate and promote overall good health for the beard, hair follicles and the skin.
STEP 2: CHOOSE YOUR SKIN TYPE OR CONCERNS
Even with a beard or facial hair it is important to take care of the skin underneath. It is not only hygienic but also will help your beard look and grow better too.
Everyone's skin is different. If you aren't used to identifying your "skin type" think of how your skin feels and try to match that with the descriptions below. You may find that you call in several categories - that's fine, you get to select two options here. 
And remember, this is not just a beard oil, it is a face oil too. Massage it into the hair, the skin beneath and give some love to the rest of the skin on your face, neck and chest too - but do try to avoid your eyes.
DRY SKIN - for those with dry, tight skin.
Does your skin feel like it needs a big drink of water? Do you get dry patches and flakes? Organic Avocado and Evening Primrose in this blend penetrates deep into the pores to plump, hydrate and soften the skin.
OILY SKIN - select this if your skin gets shiny and feels greasy only am hour or so after cleansing this skin.
Formulated specially for those with oilier skin types, this combination of Organic Grapeseed, Safflower and Hemp Seed oils, work to promote a look and feel of balance to the skin without any stickiness.
Yes, oil can help improve the appearance of your oily skin - as long as it is the light kinds of oils. In fact, trying to rid the skin of oil using harsh astringents can actually make your skin produce even more oil!
NORMAL SKIN - Congratulations, you've hot the skin lottery. Normal skin is actually non-problematic skin - meaning it's not too dry or oily and not susceptible to breakouts or sensitivity.
The idea here is to nourish, protect the skin from damage and keep it balanced. Squalene, Argan and Marula oils have been hand-selected for this infusion.
SENSITIVE SKIN - for all you guys with redness and irritations.
If it seems like every little thing you do to your skin causes it to react, you probably have sensitive skin. You are probably more likely to experience issues with razor burn or need to use products that aren't filled with heavy fragrances. Our combo of soothing Apricot Kernel and Organic Camellia oil and super-calming Organic Match is just what you need to restore a sense of comfort and ease to the skin.
COMBO SKIN - the choice for those who experience a little dryness here and oiliness there.
With combination skin you want to use ingredients that won't make either condition worse and promote a sense of harmony i the skin. Hemp Seed is known as the world's most balanced oil, so we had to use a healthy dose of it in this blend.
ACNE/BLEMISHES - for those with a tendency to breakout.
Unfortunately, even adults can experience blemishes and breakouts. If you are having active flare ups, this is the blend for you. Organic Hemp Seed Oil will promote the look and feel of healthy oil production while Copaiba Balsam will calm the discomfort of inflammation and improve the look of scarring.
AGING - worried about fine lines, wrinkles and the look of aging? This is for you!
Our antioxidant-rich blend contains Organic Rosehip Seed, Laminaria and Seabuckthorn to deeply nourish the skin and prevent free radical damage, while Japanees Shikon improves the look of dark spots for a younger, more even-looking complexion. 
STEP 3: CHOOSE YOUR SCENT
Take your custom blend to another level by choosing one of our all-natural aromatherapy scents. These are light and fragrant and will not overpower your beard and face oil. 
By adding powerful aromatherapy to your formula you will connect the skin and body to the mind and spirit.
For this part, think about, what smells do you love? Are you experiencing a lot of stress, do you need help waking up in the morning? These are the things you will want to consider in this section. 
Or, if you aren't adventurous you can skip a scent all together.
BLACK PEPPER PINE - Spicy and outdoorsy, black pepper soothes the nerves and lessens anxious feelings. (without any burn!)
CEDARWOOD VETIVER - This is the signature scent of our Sir Vitál line. We like to say it smells like the feeling of sitting a round a cozy fire in a mountain lodge.
CILANTRO CITRUS - Fresh and lively, this blend of oils is pure happiness.
CINNAMON ROSEMARY - Our combination of warm and spicy cinnamon mixed with lively and woody Rosemary is for those looking to heighten their mental clarity and sharpen focus. 
CYPRESS MINT - Like a crisp morning walk next to a stream in the forest. Just the thing you need to energize you in the morning.
GRAPEFRUIT - Another happy oil, grapefruit instantly enlivens the spirit. Grapefruit is also thought to reduce the urge to "comfort eat" during times of stress and is an oil that is beneficial for those with oily skin.
LAVENDER TANSY - One of our most popular essential oil blends, loved for it's lovely blue color, calming properties and amazing herbal, lavender scent. Don't worry, this isn't floral at all.
LIME SANDALWOOD - Exotic Sandalwood is lightened by the freshness of lime for a slightly musky, green and woody scent.
PATCHOULI LIME - Earth and bright, this is for all those former hippies.
PEPPERMINT TEA TREE - Feel the tingle. Peppermint is fresh and lively and tea tree is great for promoting healthy skin tissue.
STEP 4: SELECT YOUR SHOTS & ADD SOME EXTRA "OOMPH"!
Make your custom beard and face oil even more unique by adding two shots of extra ingredients that are suited to your skin and facial hair needs.
This step is purely about taking your oil a step further. The descriptions here give you all the info you need.
If there is a beard goal you are really passionate about, focus in on that or if there was a skin/facial hair issue you may have missed in ons of the other steps, add it in now - it's up to you!
ABBYSSINIAN OIL - for extra moisture and shine
ARGAN OIL - to soothe and calm
ALGAE ELIXIR - to give tired, aging skin a boost
COPAIBA BALSAM - to improve the appearance of acne-prone and scarred skin
JAPANESE SHIKON - for dull skin, in need of brightening

PRICKLY PEAR OIL - for improving the look of dark spots and large pores
PUMPKIN SEED OIL - to improve the look of thinning beards and facial hair
SWEET ALMON BLEND - for ultra moisture and to promote the look of a thicker beard 
So what are you waiting for? Make your Custom Beard and Face Oil today. Hint - these also make for wonderful personalized gifts. 
---