Reclaim Your Confidence With Natural Solutions for Acne Scarring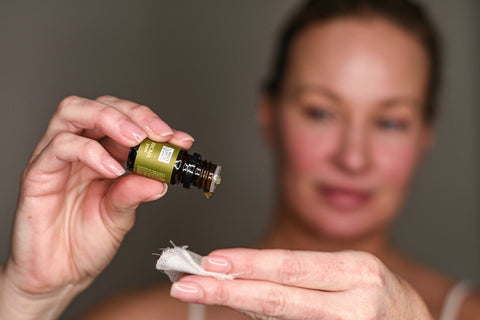 Acne, an all-too-common skin condition, affects millions of people worldwide, leaving behind a lasting reminder in the form of acne scars, dark spots, and hyperpigmentation. Unfortunately, these scars and dark spots may be a source of self-consciousness and frustration for many. They tend to not just impact our outward appearance but also can take a toll on us emotionally, and psychologically as well.
There are numerous treatments available to help fade acne scarring and hyperpigmentation, but many utilize harsh chemicals or require invasive procedures. The good news is there are many natural alternatives to help with the treatment of acne scarring as well, including several options from us, at Source Vitál Apothecary. 
Here's what you need to know about getting more radiant, even-toned, and smoother skin, naturally.
What is Acne Scarring?
Acne scarring occurs when severe or persistent acne leaves permanent marks or indentations on the skin. These scars can have different shapes, like smooth or defined edges, small punctures, or raised and thickened areas. The scars can be pink, red, brown, or dark brown in color. Common symptoms accompanying acne scarring include uneven texture, depressions or pits in the skin, hyperpigmentation, and sometimes even pain or itchiness. Acne scarring not only affects the skin's appearance but can also lead to emotional distress, impacting an individual's self-esteem and confidence. 
Natural Remedies for Acne Scarring
Prickly Pear Oil
Who knew that a cactus could be a beauty elixir? Beneath its spikes, this desert plant holds incredible benefits for your skin. We've combined organic Prickly Pear Oil with organic Grape Seed, Apricot Kernel, and Sunflower oils to create a powerful face oil. Regular use reveals a soft, smooth, and radiant complexion while reducing the look of dark spots and minimizing pores. Prickly Pear Oil is rich in Vitamin E, omega-6, and omega-9 fatty acids that deeply moisturize and support skin elasticity. It also contains betalains to boost collagen production and antioxidants to fight aging. With its ability to promote cell turnover, this oil improves skin texture, fades the appearance of hyperpigmentation, and suits all skin types.
We recommend using several drops on the skin as part of your morning and evening skincare routine to brighten and promote an even skin tone. One of our favorite ways to use this product is to combine a few drops with your favorite acne spot treatment. (We love Acne & Blemish Infusion.) Prickly Pear Oil is also effective as a spot treatment for the appearance of sunspots. 
Luminous Infusion
We've carefully selected a blend of potent ingredients, including organic Prickly Pear Oil, Carrot Seed Essential Oil, and our exquisite wildcrafted Frankincense Essential Oil. These ingredients are known for their effectiveness in improving the appearance of dark spots, making them a natural choice for our Luminous Infusion. This blend is made with active botanical oils that reduce the visibility of dark spots, hyperpigmentation, sun damage, and scarring. When applied regularly on the face, neck, and chest, it imparts a smooth and even-toned appearance, and your complexion will radiate a youthful glow.
Once you've completed your cleansing and toning steps, combine 4-7 drops of Luminous Infusion with 7 sprays of Sea Tonic and gently massage the mixture onto your face, neck, and chest. Be careful to avoid the eye area. To complete your skincare routine, apply your preferred Source Vitál face moisturizer and mineral sunscreen. It's important to note that this formula contains a significant amount of citrus essential oils, which may increase sensitivity to the sun. Therefore, take precautions and protect your skin from prolonged sun exposure.
Aroma Peel
Experience the natural alternative to harsh glycolic and chemical peels with our gentle yet effective exfoliant, designed to promote the qualities of healthy, youthful skin. Suitable for all skin types, this peel unveils a radiant and clear complexion through a concentrated blend of pure, undiluted essential oils. By eliminating dead skin cells and reducing congestion, it revitalizes lackluster skin, leaving it smoother and restored. With gentle and effective removal of dead, dry skin, the peel brightens the appearance, diminishes the look of scarring and fine lines, and protects against the appearance of skin irritations. 
Unlike other chemical peels, Aroma Peel delivers powerful results without requiring lengthy recovery time. This potent oil combination is free from harmful chemicals and ensures beautiful-looking skin for all skin types. Apply 15 drops to the face and neck area. Massage gently for 3 minutes. Rub vigorously with soft facial gauze or textured washcloth. This peel should be applied once a week for 6 weeks to start, then used once a quarter for maintenance. It's also important to avoid sun exposure after using this peel. 
Clear Skin Cream
Achieve a velvety soft finish while effectively hydrating and maintaining a balanced, mattifying effect all day long, even under the scorching summer heat, with our Clear Skin Cream. Every ingredient in this cream has been carefully chosen to improve the appearance of oily skin. Natural Willow Bark works to refine the look of large pores, while organic Hemp Seed and Watermelon Seed oils are absorbed quickly, aiding in keeping pores clean. Aloe Vera, Green Tea, and Turmeric further contribute by soothing the appearance of acne, and irritation, and preventing damage from free radicals. 
To address spots and scarring, Prickly Pear Oil and Carrot Seed Essential Oil are included in the formula, while Sea Buckthorn Essential Oil enhances the skin's natural healing abilities. We have also incorporated vegan Hyaluronic Acid, perfect for oily skin as it retains water moisture without leaving a greasy residue. Additionally, a natural prebiotic strengthens the skin's microbiome, promoting balance, which is crucial for oily skin. After cleansing, apply several pumps to the face, neck, and chest. Use it as the final step in your day and night skincare routines.
We're proud to offer natural remedies to improve the appearance of acne scarring and dark spots, allowing you to regain your confidence. You can achieve a radiant complexion without harsh chemicals. Embrace the power of nature and you'll be sure to love your skin with these gentle, yet effective, skincare solutions.
---