Get Yours! Make Your Own Natural Facial Cocktail for a Customized and Simplifed Skin Care Routine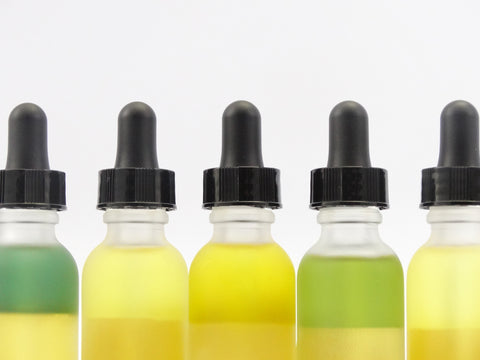 Have you ever wanted to completely customize your own skin care products? Are you tired of fitting your skin into someone else's box (or bottle)? Do you want to make a product that's formulated specifically for your skin type and the issues YOU face?
Now you can with Source Vitál Apothecary's customized facial cocktails.
These cocktail serums are our first foray into product customization that allows you, to not only make YOUR own unique face oil serum, but to it also helps to simplify your routine. This serum contains your toner, serum, skin protection and, if you choose, hydration - all in one bottle.
Here's how it works:
The first step is to select your cocktail base. The base combines our unique marine hydrating system formulated with active seaweed, soothing Aloe Vera and Cucumber extracts, Green Tea for antioxidant protection, and 100% pure essential oils. You choose the one that works best for your skin type.


Next, you'll select up to 2 face oil "infusions". There are seven in all and they're specifically formulated using essential oils and powerful botanicals to improve the appearance of different skin issues, such as aging skin, acne/blemish, dry skin, sensitive skin, oily skin and more.


Last, you can add some additional "oomph" to your cocktail with additional "shots". These shots are optional and each personalized cocktail can add up to two boosters. Looking for additional vitamins and nutrients, fatty acids or antioxidants, just choose the appropriate shots.
It's that simple. Make yours today.
P.S. Stay tuned for more ways for you to get custom programs and products from Source Vitál Apothecary in the coming weeks. It's ok to get excited...we are!
---