Love Your Feet This Spring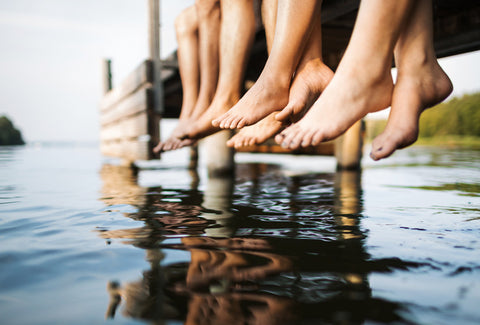 Springtime ushers in better weather and more opportunities to lose the layers and enjoy the outdoors. From beach vacations to more time on your yoga mat, your feet get to go free when the weather warms up.
And let's be honest. When is the last time you really took care of your feet? They're typically the part of our body that we tend to ignore, and we shouldn't. Taking care of your feet is important, and not just so they look good in your cute summer sandals. Your feet literally carry you through everything in life. They hold you up and are physically your foundation.
Keep these products and tips in mind to not only prepare your feet for warmer weather, but to give them some self-love, too.
Moisturize, Moisturize, Moisturize!
It's easy to forget about our feet during our moisturizing rituals, especially when we know we'll be stuffing our toes into socks and boots. As you strip the layers, bring your attention back to the basics.
Just as you moisturize your body, add your feet to your routine. We recommend our Lemongrass Body Milk (and Lemongrass Mani/Pedi Cream for post-pedicures) because of its non-greasy formula that keeps skin hydrated all day long.
Additionally, pure Lemongrass essential oil is a key ingredient in this body milk which helps combat the appearance of nail fungus and calluses.
For feet that experience calluses and heel cracking, add our Algae Extract mist to your moisturizing routine. It'll hydrate and soothe your heels so you can step out in your flip flops or bare feet with ease.
Deep Clean Your Feet
Add Tea Tree oil to your bath or foot soak. Tea Tree oil has powerful purifying properties which will deep clean even the dirtiest of feet. Gently massage your feet with a washcloth to get into all the nooks and crannys!
Bonus: Tea Tree oil is also known to be a natural relief aid for the discomfort of athlete's foot.
Bye, Bye Fungus
Stop cramming your sweaty feet into sneakers or flats during the summer because you're afraid of showing your toes. Address fungal infections directly and naturally using our Fungal Nail Oil.
Our infusion is a powerful blend of natural oils designed to inhibit the look and feel of fungal infections—on both skin and nail beds—and promote a more healthy appearance of the affected area. And with a great smell, you can say goodbye to fungus and smelly feet all at once!
Use after manicures and pedicures for extra protection of your hard-working extremities.
Go Natural
Nail polish can be pretty, and there's a time and a place. If you can't remember the last time your toes have been polish-free, give them a chance to breathe free.
Remove polish using a DIY concoction of vinegar and Lemon essential oil. Then, put a few drops of the Lemon oil on a cotton swab and rub onto nails with any discoloration to brighten them up!
Are you ready to step out in your bare feet this summer? Let us know how you care for your feet or any questions you have to improve the look and feel of them as you kick off those winter boots. Leave us a comment below or tag us in a photo on Instagram using #SourceVital.
---