Introducing SV23: How to Enjoy SV23 for Any Skin Type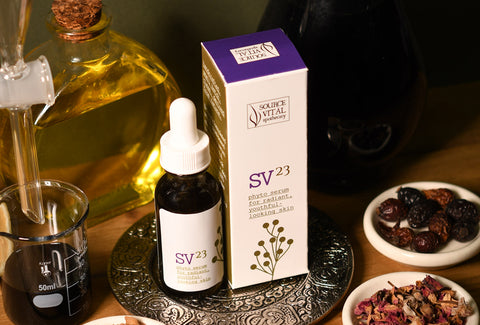 Active Phyto Serum for an Ageless Complexion
There's a new addition to the Source Vitál Apothecary family – SV23 our new plant-based facial serum brilliantly formulated with many of the best natural ingredients found on earth or sea.
We spared no expense in developing this amazing face oil. 100% clean and natural, SV23 is made without any parabens, harsh chemicals or any potentially-irritating synthetic fragrance or colorants. 
It is the culmination of nearly three decades of experience formulating effective skin care using essential oils and high-quality botanical oils.   
Nobody does oils like Source Vitál and with SV23 we've cranked it up a few notches to bring you a serum that protects from the signs of aging, improves the appearance of any existing fine lines or wrinkles and helps to revive the complexion, giving it a healthy, youthful glow.
And it's well suited for all skin types. No, we aren't kidding!
Ready to add to your cart? Click here and keep reading for tips on the best way to incorporate SV23 into your daily skin care ritual. 
What Makes SV23 Special?
The first thing you'll notice with SV23 is it's deep golden amber color. 
Once you twist off the top take a deep inhale of the delightful natural scent. SV23 has a rich and warm, slightly earthy scent, highlighted with herbal and floral notes. Reminiscent of walking through a garden on a warm and comforting spring day. 
Fresh, beautiful but not overpowering – good for the soul.
Next add a few drops to the back of your hand. Use your fingers to gently massage SV23 into the skin. Feel how the velvety texture of this formula effortlessly glides across the skin.
You'll notice there is no tacky greasy feel and almost immediately the skin begins to drink in SV23, leaving behind a soft, glowing finish and a very faint aromatherapeutic scent. SV23 wears on the skin like a "dry oil" which is why it's great for so many skin conditions. 
Luxurious Skin Performance 
Every ingredient in SV23 has a purpose and that is to fight the signs of aging, calm the look and feel of inflammation and revive and brighten the complexion. 
Gentle yet active – you will see and feel the benefits of this amazing serum from the first application.
In addition to the benefits already mentioned, SV23 hydrates and instantly softens dry and flaky skin; promotes a feeling of firmness for saggy skin; improves the appearance of dark spots, scars and discoloration; calms the look and discomfort of redness and inflammation, protects from pollution and environmental damage; and lends a feeling of harmony for oily complexions.
And this serum isn't just for women. It works well for men, promoting hydration, protecting against fine lines and wrinkles and keeps breads conditioned as well.
How to Use SV23 Face Oil Serum
SV23 is a one-stop shop face serum that can also be used alone or added to your existing skin care routine to enhance the benefits of your other face products.
Suitable for use during the day, SV23 can be worn under makeup, used as a night cream or after aggressive skin treatments to calm and restore harmony to the skin.
SV23 is a skin saver for those with dry, mature skin but it is also beneficial for all skin types. The active ingredients are skilled at helping to promote balance for oily and combination skin types, keep normal skin looking healthy, comfort inflamed skin and protect sensitive skin from further weakness.
The oils will not clog pores and feed the skin the vitamins and nutrients it needs to look its best.
If you love your skin care routine, keep it! SV23 is a great way to amp up your efforts to fight the signs of aging and give the skin a boost. Day-to-day, month-to-month, our skin can change, SV23 is great for those times when it needs some extra TLC.
Like it or not, we are all aging, SV23 will help improve the skin's appearance wherever you might be in your life journey.
 SV23 Routine for Dry Skin
SV23 is a dream for dry skin! Use 7-8 drops (or more if needed) morning and night to keep the skin hydrated and supple. Layer under moisturizer for ultra-hydration and to lock in moisture all day long. 
If you are using additional corrective skin care products, these can typically be layered on top of SV23, as this serum will help the other products to get more fully absorbed. 
Mature/Aging Skin Daily Ritual with SV23
Often mature skin tends to be on the drier side, so follow the same protocol for dry skin.
Use 7-8 drops of SV23 on the face, neck and chest every day and night to improve the look of fine lines, wrinkles and dark spots.
Layer under other corrective skin care products and face creams to encourage deeper penetration. SV23 is a great companion to our other aging skin products such as Restorative Infusion, Liposome Serum and Night Repair Cream. 
All of these products layer without feeling too heavy or greasy.
Tip: If you have issues with saggy skin, pair SV23 with our Toning Infusion formula to give the skin a look of tone and firmness.
Keep Normal Skin in Tip-Top Shape with SV23
Normal skin is generally skin that doesn't have any major issues. The idea for this skin type is "do no harm" and protect from the appearance of fine lines and wrinkles.
Use 2-5 drops of SV23, as needed to protect skin from premature aging and to hydrate. Increase to twice daily or add a few more drops during cold, winter months.
If you are looking for slightly less hydration and quick absorption, mix a few drops SV23 with a couple sprays of Sea Tonic. Layer SV23 under your daily moisturizer and any other anti-aging products you are using.
SV23 Guide to Promote Balance for Combination Skin 
Depending on the season and climate, combination skin types may need to do a little trial and error to figure out the right amount of SV23 to use. Once again, Sea Tonic will be extremely helpful in applying SV23 to the skin.
Use 1-2 drops SV23 with a few sprays of Sea Tonic (mix in the palm of your hand) and apply to the skin morning or night (or both), concentrating on areas that tend to get dry or are showing signs of aging.
Customize by season or skin condition by adding more drops or using straight from the bottle. Layer SV23 under our Oil Control Infusion in areas that tend to be a bit more dry. This will hydrate, soften and help the skin to naturally regulate oil production in that part of the skin. 
Yes, Even Those With Oily Skin Can Use SV23!
The key is to use SV23 in the right proportions! The oils should not clog pores or make the skin look excessively oily.
However, our suggestion is to save SV23 for your nightime routine if you have oily skin.
Use 1-2 drops SV23 with a few sprays of Sea Tonic at night before bed to hydrate the skin and promote the look and feel of balance to oily skin. Customize by season or skin condition by adding more drops or using straight from the bottle.
Tip: Be sure to exfoliate one to two times a week to keep pores open and clean from any excess dirt, oil or debris. 
Calm The Look and Feel of Inflammation in Acne-Prone Skin
Acne-prone skin tends to be a bit oily, so a similar protocol to the oily skin regimen will work. The real benefits of SV23 for those who struggle with breakouts is its ability to calm the look and feel of inflammation. Often problematic skin is overly irritated. The key her is to calm and restore the feel of balance.
Use a few drops of SV23 mixed with Sea Tonic and apply to the skin when experiencing active breakouts to soothe and calm the appearance of redness.
Daily use will help alleviate the look and feel of inflammation and provide a feel of balance to the skin. Spot treat breakouts with Acne & Blemish Infusion for daily acne maintenance. We find it is best to apply Acne & Blemish infusion to breakouts before layering SV23 on top.
Other Ways to Enjoy SV23
At-Home Facial Massage
Use with a facial roller 1-2 times a week for an at-home facial massage that stimulates blood flow, eliminates the look of fluid retention, allows your product to deeply penetrate the skin and keep the signs of aging at bay.
When using a jade roller. for best results avoid rolling back-n-forth, instead roll in long smooth strokes starting from the inner parts of the face, rolling out toward the hair line.
A great Sunday self-care ritual!
After a Spa Facial
Facials are a great way to care for the skin but sometimes, depending on the products used and type of facial, the skin can feel a bit out of whack.
Use SV23 as an at-home salve to battle any stress and coax your skin back into a feeling of calm. Especially good for use after a chemical peel or microdermabrasion.
Soothe Red, Itchy, Inflamed Skin
Used a new product that didn't agree with your skin, had a bad reaction from a skin treatment or the weather is wreaking havoc on your skin?
Use SV23 to fight the look and feel of inflammation, hydrate dry or flaky skin and promote a cool, comforting feel to burning skin.
We hope you enjoy SV23 as much as we enjoyed making it! Let us know about your experience in the comments section.
---