Introducing: Sir Vitál, Natural Grooming Products for Men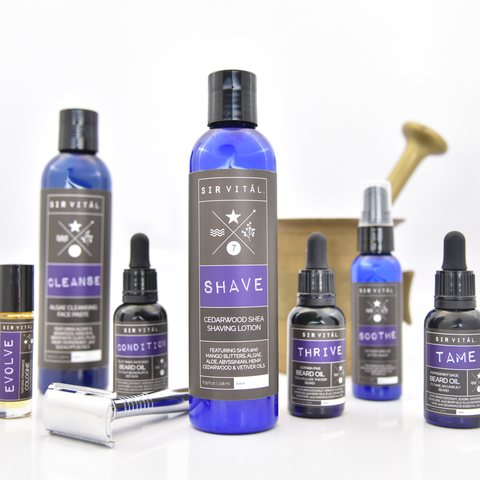 Sir Vitál is here!
After more than a year of testing and tweaking we are so excited to launch our collection of clean and natural grooming products for men.
Packed with high performing natural ingredients, Sir Vitál is a streamlined collection that is easy to use and always effective. 
The Sir Vitál Philosophy
Simply put, our goal is to enhance the daily grooming ritual into something that men can look forward to. There is an ease and quiet confidence you get from taking care of yourself that has the power to transform the connection with yourself and others. 
CLEANSE. SHAVE. SOOTHE. CONDITION. THRIVE. TAME. EVOLVE.
Men's skin goes through a lot. Daily shaving and exposure to environmental elements can take their toll. Sir Vitál looks to restore a sense of balance.
Made with nourishing marine algae extracts, natural botanicals like Organic Hemp Seed Oil, and 100% pure essential oils, every Sir Vitál product contains high concentrations of safe and natural ingredients.
Sir Vitál currently offers solutions to cleanse, shave and soothe the face, three specially-blended beard oils to hydrate, tame and promote a longer, fuller beard, and an essential oil cologne. 
Coming Soon: Sir Vitál Body - stay tuned!  
Meet the Sir Vitál Collection
CLEANSE: Algae Cleansing Face Paste
Rinses away dirt, oil and impurities with a cool, refreshing sensation. The only thing that's left is healthy skin, free from the impurities that can cause breakouts and the visible signs of age. 
Non-drying and highly nourishing, this cleanser is a great way to start the day. 
Made with a blend of nourishing and purifying marine algae, Kaolin Clay, Hemp Seed Oil and an invigorating blend of essential oils. 
SHAVE: Cedarwood Shea Shaving Lotion
 SHAVE boasts a high percentage of natural ingredients that nourish and protect the skin each and every time you shave. The hydrating properties soften facial hair and coat the skin in a silky smooth lather that makes shaving feel more like a treat than a chore. 
The result is smooth, healthy skin, free from the annoyance of razor burn, redness and other irritations.
SOOTHE: Vetiver Spruce After Shave
Never suffer from the sting of razor burn again.
Soothe and hydrate post-shave irritations (like ingrown hairs) with this lightweight yet effective after shave lotion.
Our alcohol-free formula is supercharged with Aloe Vera, Seaweed, Hemp Seed Oil and our special blend of essential oils such as Spruce, Cedarwood, Patchouli and Vetiver.
CONDITION: Blue Tansy Avocado Beard Oil
Banish the appearance of dry, brittle facial hair and the look of dreaded "beardruff" with a few drops of this hydrating and super nourishing beard oil.
100% natural and handcrafted. We carefully select Organic Avocado, Organic Hemp Seed and Coconut oils to hydrate and soften beards, while Clary Sage, Black Pepper, and Blue Tansy essential oils work to restore a feeling of balance to the skin and facial hair.
THRIVE: Copaiba Pine Beard Oil
Our special beard oil keeps facial hair hydrated and protected from breakage while it feeds hair follicles the essential nourishment they need to grow.
Handcrafted with 100% natural botanical oils such as Organic Hemp Seed, and a blend of hair-loving essential oils of Pine, Copaiba and Rosemary. Daily use will have you looking like a member of ZZ Top in no time.
TAME: Peppermint Sage Beard Oil

Take your beard from dilapidated to dapper with this 100% natural, hand crafted beard oil.
Made with top-quality botanical oils like Organic Avocado, Coconut, Organic Grape Seed, and Organic Hemp, and our minty-yet-refined blend of Sage, Peppermint, Cedarwood and Sandalwood essential oils, even the most disorderly beards will surrender.
EVOLVE: Natural Fragrance Cologne
This essential oil blend was created from the woods. It evokes the cozy, secure feeling of a relaxing in front of the fire in a mountain lodge.
Featuring an irresistible blend of Spruce, Patchouli, Cedarwood, Frankincense and Vetiver, along with our secret proprietary oils. Wear on pulse points to attract a deeper connection with yourself and others. 
Shop Sir Vitál and Follow Us on Instagram
Shop the full Sir Vitál collection by clicking here.
Join the Sir Vitál community by following us on Instagram @sirvital, where you'll get access to promotions, updates and new product launches. Happy grooming!
---