Introducing: Our Reformulated Custom Facial Cocktail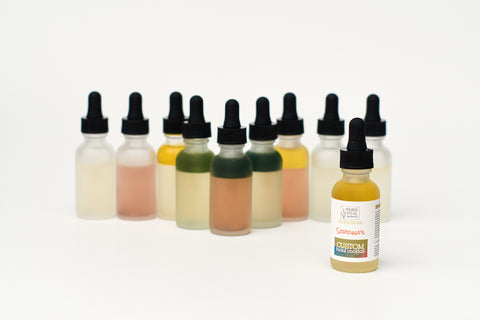 Hello, skincare enthusiasts! We're excited to share our latest upgrade: the all-new Custom Facial Cocktail from Source Vitál Apothecary. We're all about innovation and finding nature's best ingredients. We are constantly refining our formulas to give you top-notch skincare that combines tradition with modern science.
Our refreshed Custom Facial Cocktail is a prime example of this commitment. It's a blend of natural goodness and scientific progress, carefully blended to step up your skincare game.Let's explore this upgraded blend together – from its transformative ingredients to the proven benefits. At Source Vitál, change is our constant benefit, and this is our latest step toward amazing skincare.
What's New?
We have made some additions and revisions to our Custom Facial Cocktail to help increase the amount of actives and hydration. We have added a skin-loving ingredient of Kale Extract, a higher percentage of Hyaluronic Acid, and Prebiotics to our beloved formula.
Kale Extract is added to our Cocktail in order to provide more skin-boosting vitamins and anti-aging properties. We've increased the amount of Hyaluronic Acid to provide oil-free hydration and a plumping effect, for more youthful-looking skin. Prebiotics round out the changes, supporting our skin's microbiome. When our skin microbiome is balanced, it can help us better absorb essential nutrients and support our skin barrier's health. 
What Does This Mean for My Current Cocktail?
If you are a current Custom Facial Cocktail user, we have some suggestions on what your new selections for your cocktail should be.
Previously, in Step One, you were able to select a Cocktail base from either Neroli, Rose, or Jasmine. Now, you'll be able to select up to two options for your cocktail base: Oily Skin, Normal Skin, Sensitive Skin, and Dry Skin.
-Our Dry Skin Base contains aloe vera which helps to boosts moisture and soothes skin, while snow mushroom acts contains antioxidant properties.
-Our Normal Skin Base contains cucumber fruit extract, which boosts hydration and helps strengthen the skin and bilberry fruit, which helps to fortify the skin. 
-Our Oily Skin Base contains niacinamide to help minimize the appearance of enlarged pores and chamomile flower extract to soothes the look and feel of acne and associated redness.
-Our Sensitive Skin Base contains brown algae extract to help reduces the appearance of wrinkles and improves skin texture, as well as goldenseal root, which can help boost skin's healing. 
The rest of your Custom Facial Cocktail process (steps 2 and 3) will remain the same. 
With our newly improved Custom Facial Cocktail, we've merged the best of nature and science to bring you a skincare solution that truly stands out. As we continue this journey of innovation, we invite you to experience the transformative power of our upgraded formula. Embrace the change, explore the possibilities, and elevate your skincare routine with Source Vitál. Here's to healthier, more radiant skin – the Source Vitál way!
---