Introducing Our New Super-Charged Super-Clean Facial Mask Collection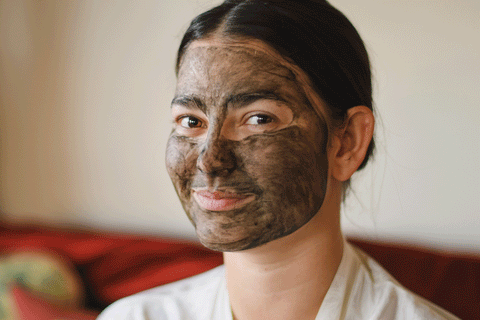 Nothing makes you feel like you're in full-on pamper mode like a facial mask. The thick luxurious textures, the feel of the mask on the skin, the opportunity for a great visual on your social media, and in only 15-20 minutes you get to enjoy the immediate results of your treatment.
But beyond these surface-level benefits, masking is an important part of your skin care routine. Packed with good-for-you nutrients and specially formulated for maximum absorption, facial masks can solve a slew of skin woes.
Clearing the look of breakouts, deep cleaning pores, stimulating blood flow to the face, eliminating redness caused by inflammation and quickly replenishing moisture for dehydrated skin, are just a few of the results you can achieve with the right mask for your skin.
New and Improved Facial Mask Collection
Here at Source Vitál Apothecary we recently revamped our entire line of facial masks. The new mask collection features 5 masks with amazing active ingredients and enhanced formulas that will improve the overall performance.
As we like to say, a product can only be as good as its components, so we've upped the percentage of active ingredients, introduced new botanical extracts, added in a healthy dose of Hyaluronic Acid, and made it a priority to source more sustainable ingredients to make these masks clean, green and more effective than ever.
The new masks are specially formulated to care for specific skin types, like oily skin and common skin problems, such as sensitivity or clogged pores. If you loved our previous masks, don't be alarmed! This new collection will compliment and exceed your expectations.
Replacing: Clay Mask
Skin Type: Formulated for Oily, Congested and Acne-Prone Skin
What's New: Activated Charcoal (coconut-derived), Hyaluronic Acid, Organic Avocado Oil, Carrot Oil, Copaiba Oil, Elder Flower, Cucumber and Green Tea Extracts
Specially formulated to improve the appearance of oily skin and problematic complexions prone to clogged pores and acne, Charcoal Clay Mask works like a vacuum to eliminate excess oil, dirt, grime and all the nasty stuff that can get trapped in pores and become visible on the surface of the skin as breakouts.
By deeply purifying the skin and promoting a balanced, harmonious foundation for the skin, the body will be able to better regulate its natural oil production. This means less of the junk that cause acne flare ups.
Unfortunately, for many products that means aggressive treatments that can strip the skin, leaving it dehydrated, fragile and susceptible to other irritations.
Not with this mask! We've carefully formulated this product to not only purify the skin but to feed it with the right ingredients you need for a clear, smooth even-looking complexion.
Made with a heaping dose of coconut-derived Activated Charcoal, Betonite and French Green Clay, skin-loving algae, Cucumber, Elderflower, Green Tea, and our special essential oil blend created specially to improve the look of congested, acne-prone skin.
Even better, we've added Hyaluronic Acid to this formula to hydrate without any greasy feel, your skin will never be left feeling dry or parched.
This mask means business. Anyone struggling with congestion will see an improvement with adding this to their daily skin care ritual.

Tip: For those lucky enough to only have the occasional spot, use Charcoal Clay mask as a spot treatment on the areas that get oily or congested, such as the chin and nose.
Replacing: Silt Mask
Skin Type: Normal, Aging and Dull-looking Skin
What's New: Betonite Clay, Hyaluronic Acid, Green Tea Extract, Organic Prickly Pear Oil, Activated Charcoal and Sea Buckthorn Oil
You know those times when your skin is looking a little dull and lackluster? This is the mask you need to dislodge dry skin, infuse the skin with nutrients and encourage healthy blood flow to restore the look of youthful, healthy, glowing skin to normal, dry, and mature skin.
The magic is all in the Colloidal Freshwater Silt. With naturally-occurring properties that smooth the skin's texture similar to traditional products containing Alpha Hydroxy Acids (AHA's) but without any harsh side effects.
Newly formulated with Hyaluronic Acid and enriched with skin superfoods like Betonite Clay, Green Tea, Cucumber, Sea Buckthorn Oil, Organic Prickly Pear Oil, Abyssinian Oil, Activated Charcoal, and a special blend of pure essential oils, Active Silt Mask visibly improves the appearance of the skin.
This facial mask will provide a powerful kick start to your skin care ritual, you will feel the tingle and love the refreshed, plumped appearance.
Tip: To get the most resurfacing benefits, place a damp compress over the skin after you have applied Active Silt Mask. This method mimics the feel of using a sheet mask, without any waste. Lay back and relax while the silt works to gently slough off dead skin. 
Replacing: Cool Mask
Skin Type: Dry, Sensitive and Inflamed Skin
What's New: Hyaluronic Acid, Elder Flower Extract, Ginseng Root Extract, Organic Marula Oil and Organic Matcha Powder
Matcha Cool Mask feels like a refreshing herbal compress. It immediately zaps the look of redness and the string from burning, inflamed skin. It also smells amazing and is a great way to refresh the mind and body after a long day or during times of extreme stress.
This revitalizing facial experience is made with skin-calming Organic Matcha, uber-nourishing algae extracts, Hyaluronic acids to lock-in essential moisture, and skin-loving botanicals such as Aloe Vera, Elder Flower, Ginseng and Organic Marula Oil. Our special blend of 100% pure essential oils like Lavender and Blue Tansy further comfort and rescue tender skin conditions.
It is a truly holistic experience that will not only improve the appearance of the skin but also soothe your spirit.
One of our favorite features of this new mask (besides the amazing botanical extracts) is that we've designed Matcha Cool Mask as a leave-on formula. No need to rinse off all those beneficial ingredients! After applying the product, it will completely melt into the skin, leaving behind no sticky residue, just super soft, supple skin.
Delicate, sensitive skin types will want to keep this handy to keep the skin nice and calm and for anytime a flareup occurs. Also, a great option to soothe sunburns, windburns or to use after an aggressive facial treatment to encourage a feeling of healing.
Tip: Try Matcha Cool Mask as a makeup primer. It absorbs quickly and leaves the skin with a velvety soft texture that is a great base for smooth makeup application.
Also, great to use at night as a sleeping mask. You will wake up with skin that looks plumped and revitalized.
Completely New Addition!
Skin Type: Dry and Aging/Mature Skin, Any Complexion Needing a Boost
Key Ingredients: Algae Extract, Aloe Vera Extract, Cucumber Extract, Ginseng Root Extract, Hyaluronic Acid, and 100% pure Essential Oils
Ageless Algae is a brand new addition to our collection of facial masks.
Inspired by advanced facials offered at some of the best day spas in the country, this amazing mask is intended to pack the skin full of topical vitamins and nutrients to feed the skin and awaken the body's natural regenerative efforts.
In 20 minutes, the result is smooth and supple skin that glows with restored youth. Gone is the look and feel of inflammation, the discomfort of dryness. Lines and wrinkles are visibly smoothed the complexion appears firmer and even-toned.
Cooling and tingling, Ageless Algae will awaken all of your senses.
Ageless Algae is made with nutrient-dense algae extracts, Hyaluronic Acid to lock-in essential moisture and a powerful combination of skin-loving botanicals like Aloe Vera, Ginseng, Cucumber, Chlorella Gold, Kaolin Clay, and pure essential oils.
It is designed for aging skin but can offer benefits for all skin types. Normal skin will enjoy the increased hydration and rosey glow, problematic skin will enjoy this mask's ability to calm irritations and diminish the appearance of blemishes that are in the healing stage. 
Tip: For multi-masking (a technique designed to care for multiple skin concerns by using different mask formulas on different parts of the skin) we love using Ageless Algae on the on the cheeks, jawline, neck, around the eyes and smile lines, and then using the Charcoal Clay mask on the chin, nose and forehead. It gives you a nice combination of nourishment and cleansing. This is especially helpful for those with combination skin looking to balance the look of oil and dryness.
Coming Soon: Chlorella Hydra-Facial Mask
Replacing
: Hydrating Mask
Skin Type
: Dry, Dehydrated Skin
We are still putting the finishing touches on our new Chlorella Hydra-Facial Mask. This will be a thick, creamy hydrating mask that will work to quickly replenish hydration to dry, parched skin while also offering a boost of vitamins, minerals and antioxidants to keep the skin healthy and looking ageless.
Chlorella Hydra-Facial Mask will debut soon. Keep in touch so you don't miss a thing.
Send us an email at sales@sourcevital.com, give us a call at 1.800.880.6457, or leave a note in the comments section below if you need any help choosing the right mask for your skin type.
---