Introducing 6 New Botanical Oils to Elevate Your Skin Care to the Next Level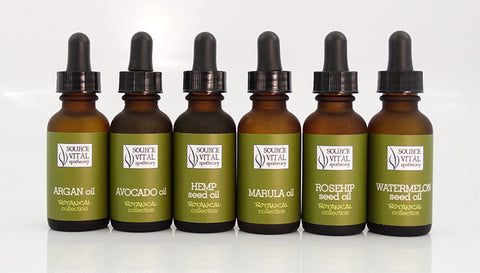 Take Your Skin Care Routine to the Next Level with Superior Plant-Based Face Oils 
Do you like your current skin care products, but wish you could tweak just one thing about your routine so that it goes from good to great? 
You're in luck, courtesy of our new Botanical Collection at Source Vital. With the introduction of six multi-purpose, plant-based face oils, this new product line empowers you to play Potion Master with your own skin care routine. 
From oily and acne-prone skin types to dry or aging, our Botanical Collection has something for all skin types, allowing you to enhance and personalize the products you already use. 
Argan Oil
Organic, virgin, cold-pressed; hydrating for dry, acne-prone, aging skin
Most commonly used as a moisturizer, the high concentration of vitamins A and E, antioxidants, omega-6 fatty acid, and linoleic acid in our Argan Oil, makes it ideal for giving your skin a natural boost of moisture. Easily absorbing, Argan is especially good for oily, acneic skin. This non-greasy oil is excellent for your face, body, and hair.
Recommended Use:
Smooth a few drops onto the skin as a full body moisturizer
Add 2-4 drops to your usual toner for an all-over glow
Massage a few drops into the scalp to help prevent dandruff 
Avocado Oil
Organic, unrefined, cold-pressed; antioxidant-rich, hydrating oil for dry, sensitive, and itchy skin
While we don't recommend our Avocado Oil if you have particularly oily skin, it's a powerful moisturizer if you suffer from itchy, chapped, dry, and damaged skin. Its richness makes it ideal for soothing and repairing skin that has been compromised by environmental factors like wind or excess sun. 
Recommended Use:
Mix with your usual moisturizer for added hydration and nutrients.
Massage a few drops directly into irritated, chapped skin for a soothing sensation.
Hemp Seed Oil
Organic, unrefined, cold-pressed; balancing, hydrating oil for tired, acne-prone, and oily skin
If you suffer from acne or have especially oily skin, our Hemp Seed Oil will become your new best friend. Thin and light in consistency, it's considered a "dry" oil, which makes it an excellent moisturizer if you have oily skin. And with it comedogenic rating of "0," it won't clog your pores.
Recommended Use:
Enrich your daily facial moisturizer by adding a couple drops to your hand and mixing before applying
Add to your daily toner to help minimize the appearance of pores and oil production
Marula Oil
Organic, virgin, cold-pressed; moisturizing facial oil for redness, fine lines, and skin elasticity
Suitable for all skin types, our Marula Oil is highly absorbent and is non-comedogenic. As one of the best anti-aging oils, it's full of essential nutrients like oleic acid, antioxidants, and vitamins C and E.
Recommended Use:
Smooth onto your skin to help reduce the appearance of old stretch marks and prevent new ones from forming.
Apply to dehydrated areas of your skin, such as the forehead or laugh lines, to hydrate and plump the appearance of the skin.
Apply to areas affected by rosacea to soothe the feel and appearance of redness
Rosehip Seed Oil
Organic, unrefined, cold-pressed; soothing, moisturizing facial oil for mature skin
Particularly known for its anti-aging benefits, our Rosehip Seed Oil packs a powerful antioxidant punch, as it's rich in vitamins C and E. Though light in texture, this oil penetrates deep into your skin to fight free radicals and external signs of aging. 
Recommended Use:
Apply a few drops directly to any scars and hyper-pigmentation you might have to even out the appearance of your skin tone.
Apply to your face at night after toning and before moisturizer for an added boost of hydration.
Watermelon Seed Oil
Organic, virgin, cold pressed; nurturing face oil for dry and aging skin types
Source Vitál Apothecary's Watermelon Seed Oil is fairly universal in its usefulness. It possesses high linoleic acid content that's great for sensitive, acne-prone skin types, while its high concentration of fatty acid helps to moisturize dry or aging skin.
Recommended Use:
Massage into your under-eye area to help reduce the appearance of dark circles.
Incorporate it into your facial massage routine to help flush toxins and reduce the appearance of puffiness.
Add to your morning moisturizer to reduce oil production throughout the day and protect against free radicals.
Whether you're looking to add something extra to your current faves, or simply find that you're sensitive to certain essential oils or fragrances, our new Botanical Collection gives you new ways to mix, match, and customize your skin care routine so that it suits YOU and your skin.
---