Inside the SVA Lab: Why We Use In-House Infusions to Promote Great Skin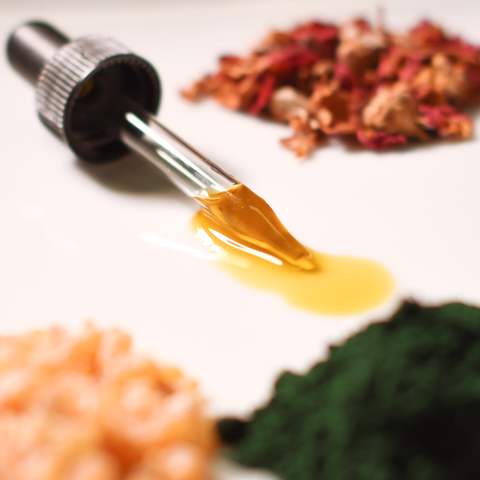 How We Get Big Benefits Out of All-Natural Ingredients
Picture this: You're drinking a steaming, hot mug of matcha green tea. You've read about all the health benefits for your body, but you wonder – how can I be sure I am getting all those great benefits of matcha for my skin?
You could create a paste, using matcha powder and water and apply it directly to your skin. But, there are several risk factors by taking this approach.
First, you risk the potential irritation of applying a concentrated version directly on the skin. Second, your skin is not likely to absorb all those matcha properties when used this way. And lastly, the mixture will probably Leave you with a bright green, sticky mess.
We've had the same thought: how do we get the maximum benefits out of an ingredient, and have it in a stable format which allows us to use it in making skin and body care products?
That's how the idea of creating our own in-house infusions was born.
What is an Infusion?
The definition of infusion is: a drink, remedy, or extract prepared by soaking the leaves of a plant or herb in liquid.
So, our brewing tea example is a pretty good explanation.
At Source Vitál Apothecary our line of concentrated face oils are called "Infusions". They are, in fact infusions of pure essential oils into a nourishing botanical oil base.
We created them to be a sort of remedy to improve the appearance of major skin issues such as dryness, oily skin, breakouts, fine lines, and lack of firmness.
For the purposes of this blog, we mean infusions to be a part of our formulation process, specifically for ingredients that come to us in a powder form.
The magic of creating effective, high-quality, shelf stable products is all about using the right ingredients in the correct consistency that can be blended into a useable formula.
What Ingredients do we infuse?
Some desirable ingredients have not been available to us in liquid form, which is ideal for formulating personal care products.
By infusing in-house, we can create a broth that allows us to unlock all the goodness within a powder version of the ingredient.
For our formulations we infuse micronized powders forms of:
Organic Matcha Extract (Green Tea)
Organic Cracked Cell Chlorella Extract (Green Algae)
Laminaria Digitata Extract (Kelp Brown Algae)
Organic Matcha Powder has properties that promote a feeling of calming and balance to the skin, can improve the appearance of skin clarity and is a rich source of antioxidants which have been shown to inhibit free radical damage to skin cells.
Organic Chlorella Powder, like other algae-based ingredients, is considered a superfood for the skin. It's packed with vitamins A, B, C and K, helps to protect the skin from free radical damage, and aids in improving the appearance of tired, aging skin.
Laminaria Algae Powder is a type of brown algae, rich in vitamins and minerals that nourish and re-mineralize the skin. It is known for supporting weakened skin tissue and is used to hydrate, purify, and reveal a healthy, plumped, more youthful complexion.
What it takes to Infuse?
In order to maintain maximum benefits from these superstar ingredients, we need to infuse them into a carrier oil.
Chemistry is really important here. Different oils are as unique as the skins we apply them to, and the truth is that not any old carrier oil or fat will do the trick.
When extracting, you want to ensure that the oils chemical makeup aligns with the certain compounds, acids, and phytochemicals that these lovely algae and teas have to offer, including, but not limited to: Chlorophyll, Alginic Acid, Flavonoids, and several minerals and vitamins.
Our carrier oil of choice for our infused ingredients is typically Organic Avocado oil due to its richness in complex omega fatty acids.
Avocado oil is full of antioxidants and is incredibly beneficial for most skin types. It has loads of nutritious mono-saturated fats, such as chlorophyll, oleic acids, and vitamins B, C, and E.
Additionally, avocado oil contains beneficial properties to help improve the appearance of lines, wrinkles, sun damage, and wounds.
Avocado is also an ideal oil to use in infusions because it does not have a distinct odor to interfere with the aromatic properties of the product.
In-house, we have two ways to brew our raw ingredient infusions – one involves heat and the other does not. The process can take anywhere from a few hours to several days (or more).
After each method, we perform a double filtration process to ensure clarity. Both techniques of infusion allow for the maximum absorption of the ingredient's properties into our carrier.
Where To Find These Infusions in Source Vitál Products?
We are constantly seeking out the best, most innovative, natural ingredients for our formulations, and our in-house infusions are no exception.
Currently, you can find our Chlorella-infused avocado oil in most of our body creams, such as the Lavender Body Cream, and several of our facial creams, such as Age Defying Day & Night Cream.
Our Laminaria-infused Avocado oil is primarily used in some of the selections available in our Make You Own Beard Oil custom product. You'll find it in the Aging Skin Blend, the Moisture/Soften beard goals blend, and in our Algae Elixir shot.
Our Matcha Infused-Avocado oil is also found in our custom beard oil bar, and is infused in our sensitive skin blend.
 ABOUT THE AUTHOR
Tr
acey Ellis is a beauty enthusiast with over a decade of experience in the beauty industry. You can find her in the lab, manufacturing Source Vitál Products. Tracey is a New Yorker living in Texas and spends her time cooking and spoiling her miniature husky, Tabasco.
---