Ingredient Spotlight: Hyaluronic Acid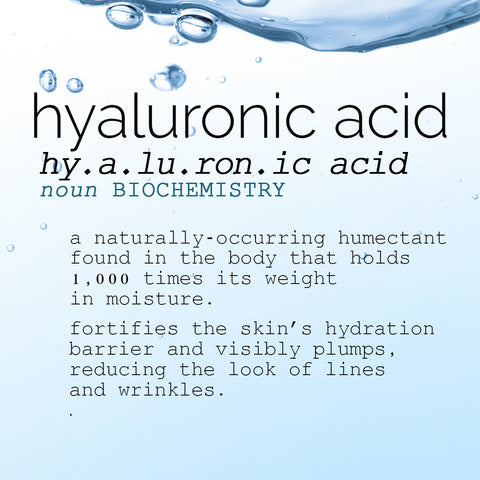 At first glance, Hyaluronic Acid looks like a scary-sounding ingredient, particularly if you are focused on the "acid" portion. It may take you back to chemistry class, or make you think of your favorite sour candy, covered in mouth-puckering citric acid. 
Hyaluronic Acid is becoming highly sought out, and no wonder, because it is incredibly beneficial to our skin. We'll break down this not-so-scary ingredient and talk about why it should become a staple in your beauty routine.
What is Hyaluronic Acid?
Hyaluronic Acid is surprisingly a molecule that is already present in the human body. It helps to lubricate our joints, eyes, nerve endings, hair, and our skin. It acts as a binder to help retain moisture and can actually draw moisture from the air and hold up to 1,000 times it's weight in water! 
Unfortunately, thanks to the aging process, and external factors, such as the environment, our natural Hyaluronic Acid can degrade over time, making our skin look tired, dull, and make lines and wrinkles appear deeper, more visible.
Many brands tout their skincare to contain high amounts of Hyaluronic Acid. Be cautious and check the ingredients listing. Hyaluronic Acid does not exist in a pure form, so what you are likely getting is a diluted version made up primarily of water. Additionally, any product that contains more than 4% Hyaluronic Acid, can actually dry your skin out! 
For this reason, we choose to use a 1% Hyaluronic Acid concentration paired with other skin-loving ingredients in our formulas, to provide all the benefits without any chance of irritation. You can also take comfort in knowing that the Hyaluronic Acid we source is completely vegan. 
Benefits of Hyaluronic Acid in Skin Care
1. Hydration, Hydration, Hydration
Hyaluronic Acid is known as a humectant, a substance used to reduce the loss of moisture. It acts as a magnet to attract moisture. 
When we apply it to the skin, it is not only hydrating our skin, but actually helps our skin cells hold moisture longer. That added hydration goes beyond just adding moisture, it can enhance skin's glow and even offer more of a plumped appearance to the skin.
For a quick boost of hydration, we recommend using our Chlorella Hydra-Facial Mask. Not only does this gentle mask contain Hyaluronic Acid, but also offers Mango Seed and Shea Butters, to offer more of a moisturized look and feel to the skin. 
2. Improve the Appearance of Lines & Wrinkles
Did you know that dehydrated skin is one of the main culprits that magnify the appearance of lines and wrinkles? 
Hyaluronic Acid can help replenish skin's lost moisture. It essentially fills in the skin with much-needed hydration, causing that "plumping" effect that can smooth out the look of deep wrinkles and fine lines, and giving the skin a more youthful appearance.
For the face, our Age Defying Day & Night Cream offers the hydration of a cream and nourishes the skin like a serum. Along with Hyaluronic Acid, you'll find Neroli and Rose Absolute oils, along with hydrating Rosehip Seed Oil. 
For brighter, smoother, younger-looking eyes, neck, and lip areas, check out our multi-purpose Jasmine Fine Line Cream, which is also formulated with our high-quality, vegan 1% Hyaluronic Acid. 
3. Suitable for All Skin Types
Even the most sensitive skin types should be able to use products that are formulated with Hyaluronic Acid. (if you are still wary, you can apply a small amount behind your earlobe to patch test.) 
Hyaluronic Acid is also fast-absorbing, and doesn't feel greasy on the skin, making it a great option for those that have oily or acne-prone skin. 
Our Algae Serums are an incredible option for those looking to incorporate Hyaluronic Acid into their skincare routine, but don't know where to start. 
Algae Serums are a longtime best-selling product that comes in three gorgeous scents. Rose is ideal for sensitive skin types, Neroli for congested skin, and Jasmine for adding luminosity to tired skin. These face oil serums are also packed with Aloe Vera, Green Tea and Cucumber extracts to further hydrate and soothe all skin types.
For those with sensitive skin, you can still reap the benefits of Hyaluronic Acid, combined with skin-soothing ingredients in our Face Cream Unscented. For non-oily hydration, our Clear Skin Cream will help to promote balance in the skin, without adding any additional shine. 
Are you ready to help reveal your plumpest, dewiest, most hydrated skin yet? 
 ABOUT THE AUTHOR
Tracey Ellis is a beauty enthusiast with over a decade of experience in the beauty industry. You can find her in the lab, manufacturing Source Vitál Products. Tracey is a New Yorker living in Texas and spends her time cooking and spoiling her miniature husky, Tabasco.
Shop Products with Hyaluronic Acid
---