Indie Beauty Expo New York Preview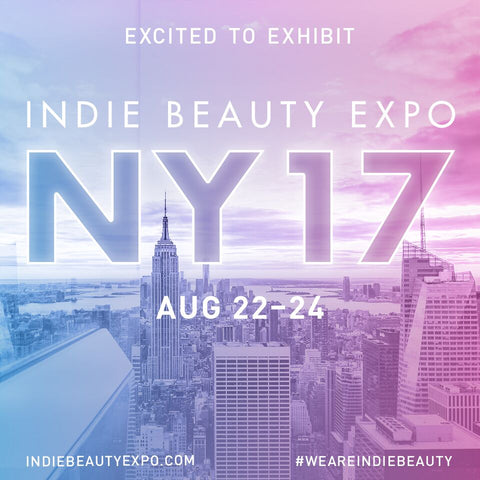 To many, New York City is the pinnacle of cool. It's a mecca for fashionistas, foodies and beauty enthusiasts alike. That's why we're thrilled to head to the Indie Beauty Expo (IBE) in New York on August 22 through 24.
IBE debuted in New York in the summer of 2015. It was founded with the purpose of supporting and promoting smaller, independent beauty brands - like ours. Placing an emphasis on natural, green skincare and beauty, IBE works to supply a platform for indie brands and highlight the entrepreneurs behind them. Since 2015, IBE has quickly become the leading exposition of indie wellness, beauty and lifestyle brands.
Named a "Buyer Favorite" at IBE Dallas, we can't wait to introduce our philosophy on personalized skin care in the Big Apple. Skin feeling thirsty? Our mixologists will stir up unique solutions at the Source Vitál Apothecary Customized Facial Cocktail Bar. Attendees will formulate their very own all-natural facial serum. Our skincare experts will help them select the right ingredients for their skin type and unique skin care concerns. The final product is a toner, serum and light hydrator - all in one bottle. All tailored to the individual.
We will also feature some of our other top-selling products, including our Deozein Natural Deodorant, in the new roll-on formula, Algae Deep Clease – a cult favorite among Source Vitál devotees, and our popular Micellar Cleansing Water.
Indie Beauty Expo New York runs from August 22 - 24, with more than 200 indie beauty professionals and leading lifestyle and wellness brands in attendance. The Expo's Shop Indie event opens at 5 pm on Wednesday, August 23, and will offer beauty lovers the chance to discover and shop beauty brands from all over the world, meet brand founders, network with other beauty enthusiasts and attend panels with experts who are leading the indie beauty industry.
We had so much fun at IBE Dallas, and we can't wait to bring Source Vitál Apothecary to a whole new audience. If you're in the area, this isn't an event you'll want to miss out on. We hope to see you there!
Click here for tickets and more information about the Indie Beauty Expo.
---