How To Increase Productivity and Focus While Working From Home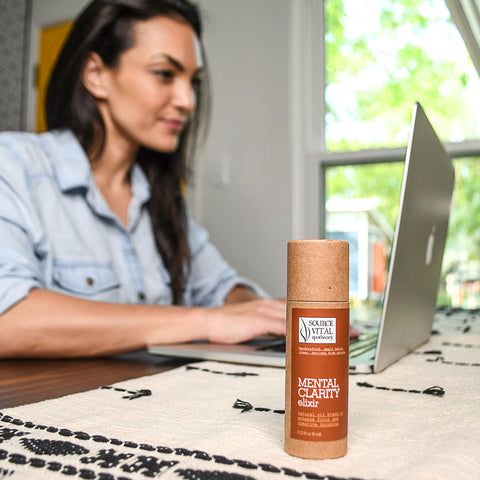 During this time of self-isolation, our homes are quickly becoming multi-use facilities. Our dining room tables are classrooms, our sofas are offices, and bedrooms are becoming home gyms. With this blended space blurring the lines of work, school, and home, it is important to stay focused throughout the day.
Here at Source Vital, we have some at-home remedies to help you and your family stay energized and motivated.
Develop a Morning Routine
Studies show that developing a daily routine can help combat the stay-at-home blues. Start off your day with a shower with Source Vital's Invigorating Body Wash. We love this energizing blend of Eucalyptus, Peppermint, Pine Scotch, and Rosemary essential oils. Combined with your favorite cup of coffee – you'll be ready to tackle the day.
Create Your Workspace
Find a place away from distraction and clutter to set up your computer and any other items to aid you in your workday. We also love the idea of setting up a diffuser with our favorite essential oils to help us stay focused and enliven the area around us.
We recommend utilizing our Citrus Essential Oil Blend - loaded with essential oils of Orange, Bergamot, and Neroli. Citrus essential oils are not only energizing, but also are a great mood-booster.
For those with super stressful jobs, opt for the special Stress Relief blend. It helps even the most type-A personalities let go of the things that can't be controlled.
Get "Zoom" Ready
The new "normal" for many working at home has become back-to-back video meetings with their coworkers and clients. Trouble shooting technology, navigating when to speak and keeping yourself checked in can be challenging – especially when it comes to making presentations.
To take the edge off the nerves and keep yourself feeling confident, try keeping one of our Euphoria Essential Oil Roll-Ons handy at your desk. Before that big meeting roll it onto you pulse points and on your upper chest so you can breathe in the scent of Lemon, Geranium, Vetiver, St. John's Wort and Valerian Root oils.
Another way to quickly refresh your skin and senses in between meetings is to keep a bottle of Sea Tonic or Aromatic Emulsion Balance at your desk – mist a few sprays onto your face and neck for a cooling treat. Plus, your skin will look fresh and dewy without the need of a video filter!
Take A Break
Working in focused, short bursts and carving out time for breaks can help your brain stay engaged and increase your productivity.
A midday break for a quick yoga session, lunch, or some fresh air can help you get through the remainder of the day. Only have a minute? Hit the reset button with our Mental Clarity Essential Oil Roll-On.
This specific blend can clear away foggy thinking, enhance concentration, and get your creative juices flowing once again. It's also perfect to share with your at-home student to help them concentrate on homework or a virtual lesson.
Our favorite way to use the Mental Clarity rollerball – roll on freshly cleansed palms, rub them together, cup over your nose, and inhale deeply. Click here for some of our favorite deep breathing exercises you can try!
End Your Workday On-Time
Once you get into your workflow, it may be difficult to stop. One danger of working remotely is overworking. Ensure you are planning what time you'll end your workday and stick to it.
One of our favorite ways to flip the switch from busy days to restful nights? A relaxing bath with our Serene Bath & Body Oil will gently lull you into a calm state of mind. Like having a nice glass of wine, this bath and body oil is a treat to unwind at the end of a long, busy day.
We know this time is stressful for all of us. We here at Source Vital hope that by following these tips, your time at home can be pleasant and productive. 
 ABOUT THE AUTHOR
Tr
acey Ellis is a beauty enthusiast with over a decade of experience in the beauty industry. You can find her in the lab, manufacturing Source Vitál Products. Tracey is a New Yorker living in Texas and spends her time cooking and spoiling her miniature husky, Tabasco.
Shop Products to Help You Work From Home
---