Get Ready For Fall: The Season's Best Skincare Trends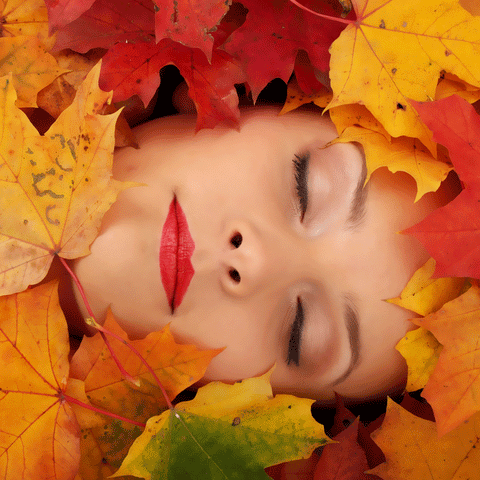 After a summer of unprecedented temperatures, it's safe to say that we're all ready to trade our shorts for sweaters. While you're shuffling your closet around, you should be taking a look inside your medicine and beauty cabinet as well. 
The changing of the seasons is always a great time to survey your skincare landscape, you may swap the lightweight formulas and explore new beauty trends.
Below are four our favorite skincare trends to ensure you put your best face forward for Fall.
All about Lips
Many beauty editors are touting the "return of the lip" after many months of masks covering our  lower half. While we're not yet ready to ditch the mask completely, there's no denying that our lips could use some serious TLC. 
For lips that feel soft and comforted, there are so many ways to pamper them besides slathering on heavy, petroleum-based treatments. Our
Chlorella Hydra Mask
can be used all over the face, including the lip area. This mask is packed with shea butter, mango butter, and rich botanical oils, giving you an instant-gratification boost of hydration. Apply on the lips for 15-20 minutes, then rinse or tissue off. Follow up with our multitasking
Jasmine Fine Line Cream
can be used around the eyes, lips, and on the decollate. Then polish with hydration with our
Organic Lip Balms
.
"Skinimalism"
"Skinimalism" was forecasted to be a trend late last year by Pinterest. It refers to a shift towards people embracing their skin texture, and gravitating towards more simple skincare routines. In the past, there has been a "more is more" philosophy, resulting in many people damaging their skin barriers and increasing irritation. 
At Source Vital, we've been embracing "Skinimalism" for a long time. We believe in offering custom solutions tailored to an individual's skincare needs, without the need for double-digit product counts. One way to minimize your skincare routine without sacrificing efficacy is with our
4-in-1 Custom Facial Cocktails
. We walk you through four simple steps to developing a personalized solution to your skincare goals and concerns. Our Facial Cocktail was designed to combine 4 steps in to 1 - including toning, light hydration, care, and serum.
Luxury Bath & Body Products
If there's anything the past few years have taught us, it's brought us closer to embracing the idea of self-care. Focusing on products that make us feel good can have some mood-boosting benefits, and temporarily give us a moment to breathe in our stressful day-to-day lives.
As many of our bathrooms have turned in to our private spas, so to have our showers and baths. Why not turn your time in the tub in to a sensorial bathing ritual? Our
Bath Salts & Bath & Body Oil Duo
 provides an ultimate aromatherapy hydrotherapy experience. Along with our 100% pure Dead Sea Salts, you have an opportunity to select from one of our five oils to target your specific symptoms like Stress Relief or concerns like Fluid Reduction. Our five Bath and Body Oils to choose from include: Analgesic, for tired muscles, Renew, to help purify and detox the mind and body, Fluid Reduction, to combat the look and feel of bloating and fluid retention, Serene, for calming and restful sleep, or Stress Relief, to take the edge off and rejuvenation.  
More of a shower person? Check out our liquid body wash collection
here.
Skin-Soothing Ingredients
Your skin may be experiencing more inflammation thanks to lifestyle factors such as pollution, poor diet, anxiety, and excessive sun exposure. Throw a pandemic in the mix, and you have a recipe for seriously stressed out skin. 
Inflammation can show up on the skin in the form of redness, irritation, breakouts (including the dreaded "maskne.") The solution? Reach for skincare that is designed to turn down the temperature with simple, calming ingredients. A no-brainer? Our
Soothing Cream
offers a cooling, calming sensation when applied to the skin. Additionally, thanks to skin-loving ingredients such as aloe vera, cocoa butter, and lavender & blue tansy essential oils, hydration and protection of the skin while easing irritation and redness. Another fan favorite is our leave-on
Matcha Cool Mask
. This amazing natural, light-weight gel mask calms and soothes irritated and sensitive skin. Just apply a thin layer to your clean, beautiful face and neck at night or whenever your skin needs some extra comfort. 
Which of our favorite skincare trends will you be trying this fall? Let us know in the comments!
---