FREE DOWNLOAD: Create Your Own Skin Care Routine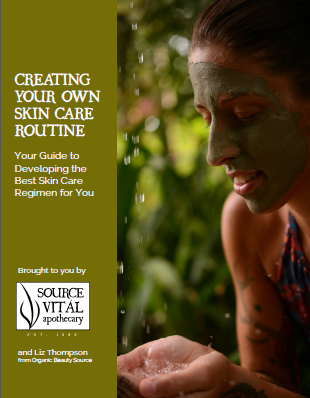 Your skin is unique. It shouldn't have to fit into any one else's box, bottle or pre-packaged skin care regimen. That's why building your own customized routine is your best chance at getting the complexion you've only dreamed about.
This free, comprehensive guide, brought to you by Source Vitál Apothecary and Organic Skin Care expert, Liz Thompson, will help you customize your skin care routine so that you can maximize the results from the products you use and the habits you create.
 In this downloadable book, you'll learn:
Why a customized plan is important for your skin
How to determine your skin type
How to tackle specific skin issues
What ingredients are beneficial for your skin type
What ingredients to avoid
How to care for the delicate skin around your eyes
What types of products you need
How to set up your morning & night time routines
Plus, expert tips for taking your skin care to the next level
The product of decades (and decades) of knowledge, wisdom, tips and tricks from our skin care, aromatherapy and holistic experts, we hope this manual can help you navigate the crowded beauty market.
With endless products, trends and advice it's our goal to arm you with the knowledge to make the best decisions for YOUR skin and YOUR lifestyle.  
Download Today!
So what are you waiting for? Download your free e-book now! Just enter your email address and we'll deliver the guide straight to your inbox. Don't forget to share with your friends. Great skin for all!
---