Five Ways to Use Lavender Essential Oil in the Time of COVID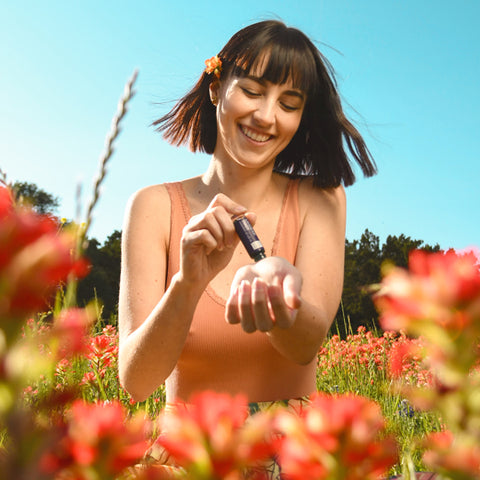 Relieve the Feeling of Stress, Sleep Better and Cope with the Effects of the Pandemic with Lavender Oil 
Undoubtedly one of the most recognizable oils in aromatherapy, Lavender Essential Oil is a go-to for many, thanks to its well-researched benefits at reducing stress and aiding in restful sleep. Lavender's popularity has increased dramatically as of late, for those seeking a natural remedy from the anxiety and uncertainty that's so common during this global pandemic.
The usage of Lavender is not a modern idea. In the 14th and 17th centuries, when most of Europe was ravaged by the plague, Lavender was sought after as a remedy to ward off the "Black death." Many hung crosses of Lavender above their doors, tied lavender around their wrists, and physicians even stuffed Lavender in their masks to disguise the odor of the plague.
For centuries, Lavender has been praised for its antiseptic and antibacterial properties. Combined with Lavender's ability to quiet the mind and help provide quality sleep, there is likely a place where lavender can find a home in your day-to-day.
Below are five of our favorite uses for Lavender oil:
Inhale, Exhale
As many of us are wearing facial coverings, we cannot exactly stuff bunches of lavender in our masks. However, there is a more convenient (and less messy) alternative.
A drop or two of high quality Lavender Essential Oil added to the inside of your mask is a great way to experience the benefits of Lavender while going about your day to day. Pure Lavender essential oil is safe enough to use directly on your skin, just ensure you test a small amount prior to application if you are sensitive.
And remember, essential oils are potent (in scent and on the skin) – start with a small amount (like one drop) and then add more if needed.
Relax & Unwind
A calming bath is a great way to provide self-care and receive the de-stressing benefits of lavender. Our Serene Bath Salts combined with our Serene Bath & Body Oil is the ultimate bath cocktail to help you drift off to dreamland. Lavender, combined with Sage and Petitgrain Bigarade essential oils promote a calming, soothing, and sedating feel to the mind and body.
For those who like a little DIY - create your own aromatic bathing oil by combining Lavender Essential Oil with other calming oils and a carrier oil. Try this stress-busting blend.
Stress Relieving Bath Blend
3 drops Lavender Essential Oil
3 drops Chamomile Essential Oil
3 drops Melissa Essential Oil
3 drops Cedarwood Essential Oil
3 drops Mandarin Essential Oil
1 teaspoon carrier oil like Safflower or Coconut
Add mixture to a warm bath and soak for 15-20 minutes, taking long deep breathes to enjoy the aroma and single the body to let go of tension. For an extra skin-loving treat, add in a half cup of Dead Sea Salts. 
Not a bath person? Try our Lavender Body Wash in the shower for a quick burst of relaxation.
Spray the Day Away
Promoting good sleep hygiene is crucial to a good night's sleep, as well as developing a bedtime routine.
One of our favorite ways to enhance your bedtime experience is to use our Tranquil Multispray. A few spritzes on your pillow, sheets, or even your pajamas will surely enhance your sleepy time regimen. Lavender, Chamomile, and Blue Tansy essential oils combine to instill a feeling of relaxation and calm.
Alternatively, you can place a few drops of our Tranquil Essential Oil Blend in your diffuser or AC air filter to make your entire room smell like a spa.
De-Stress On-The-Go
Needing more positive vibes but are in a hurry? Our Lavender Essential Oil Roll-On should be your go-to.
This convenient rollerball is the perfect way to calm yourself during a tense situation and uplift your spirit. Keep in your desk drawer, handbag, or nightstand and roll on to pulse points whenever you need a dose of calm.
Need something more intense? Our Lavender Tansy Essential Oil Roll-On combines two of our high-quality lavender essential oils with the soothing properties of blue tansy.
Heal your Hands
As hand washing more frequently becomes the norm, we are most certainly experiencing more dryness and cracking than usual. In just two simple steps, you can discover radiant, smooth, hands once again.
First, use our Lavender Body Scrub on dry hands. This creamy formula cleanses and comforts dry and inflamed skin. Our Lavender Tansy blend combined with volcanic-derived perlite and pumice can turn your sink in to a sanctuary. After massaging into the skin for a minute or two, rinse, and dry.
Follow up with by applying our Lavender Body Cream. Shea butter, hemp seed oil, and xylitol prebiotic marry to reveal smooth skin, as well as protection from future moisture loss. This quick regimen, used twice weekly, will surely restore your hands while calming the mind.
Whether it's a quick swipe of a roll-on, or a luxurious lavender bath, there are many ways lavender can be incorporated into your routine. What are your favorite ways to use lavender? Let us know in the comments below!
 ABOUT THE AUTHOR
Tr
acey Ellis is a beauty enthusiast with over a decade of experience in the beauty industry. You can find her in the lab, manufacturing Source Vitál Products. Tracey is a New Yorker living in Texas and spends her time cooking and spoiling her miniature husky, Tabasco.
Shop Lavender-Scented Products
---