Our Favorite Wintertime Skincare Tips for Men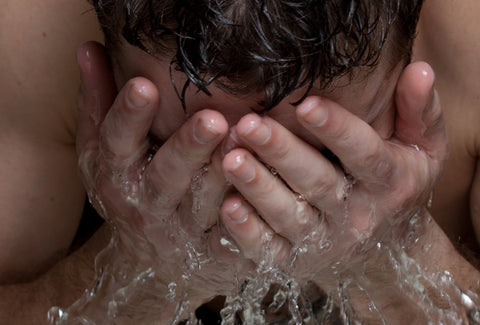 Winter is coming. You know what that means: colder temperatures, shorter days, and an increase in indoor heating. Even if you look forward to walking in a winter wonderland, you probably don't enjoy the impact that it can have on your skin. 
Many men already experience dry, irritated skin thanks to everyday tasks like shaving, and colder weather may exacerbate it even further. Here's the good news: you can counteract the harsh effects of frigid temps by ensuring you have a proper skincare routine. 

Here are a few of our favorite tips to get your skin winter-ready.

Prevention is Key

Being proactive with your skincare routine is the best way to keep winter dryness away. Take inventory of your skincare and shaving products, and ditch any that may be expired or you haven't used in a while. Swap lighter formulas for richer-textured creams and balms. And if you don't currently have a skincare routine, there's no better time to adopt one! 
If you are in need of total skincare overall, we suggest using our Sir Vitál Travel Kit. This 6-piece kit covers all you need to cleanse, shave, moisturize, keep facial hair in check, and smell good! 

Shower With Lukewarm Water

When the temperatures drop, we're all tempted to jump into a hot, steamy, shower. While it may feel great at the moment, it may actually do more harm than good. Excessively hot water can cause the stripping of natural oils from our, skin, essentially drying it out. Shorter, more lukewarm showers aren't just better for your skin, but better for the environment too. 
Reach for Gentle Formulas
When looking for products to add to your wintertime skincare routine, you'll want to ensure you're reaching for gentle formulations. Harsh, abrasive formulas can cause further harm to your skin, particularly in colder temperatures. 
Trade in that 2-in-1 formula body/face wash combination for a thick and creamy facial cleanser. Our Sir Vitál Cleanse effectively cuts through dirt and oil without drying out the skin. Its tingly, invigorating scent is a great way to wake up in the morning, and refresh the skin after a long day.

Rethink the Way You Shave

 Is your skin prone to razor burn or irritation? You may be shaving incorrectly, or using the wrong products. Post-cleansing, apply a soothing and hydrating shaving cream such as our Sir Vitál Shave. The hydrating properties soften facial hair and coat the skin in a comforting lather that makes shaving feel more like a treat than a chore. The result is smooth, healthy skin, free from the annoyance of razor burn, redness, and other irritations.
After rinsing off your shaving cream, apply a lightweight, yet hydrating aftershave. An aftershave can help to moisturize the skin and soothe feelings of irritation while leaving skin feeling comfortable, and never tight. Our Sir Vitál Soothe can protect the skin post-shave, and may also be applied to the skin on non-shaving days. , too.

Don't Forget Your Lips 

Cold, windy temperatures mean dry, cracked, lips. Keep a lip balm on hand to provide your lips with much-needed moisture. This simple habit can go a long way in helping to fend off dryness! Try our Organic Lip Balm, which is made with high-quality oils and botanical extracts, and leaves a matte, never glossy, finish. They're also available in three great flavors: coconut, peppermint, and vanilla. 
Opt for (Shaving) Oils

Whether you have a little scruff or are sporting a full, bushy, beard, using a beard oil can offer your skin some serious hydration and help to tame unruly facial hair. As a bonus, it will also to care for the skin underneath your facial hair too!
In our Sir Vitál collection, we offer three pre-formulated blends. Thrive, for a fuller, thicker, beard, Tame, for unruly beards, and Condition, to help fight "beardruff" and dry skin. For an even more personalized approach to beard oil, check out our Make Your Own Beard Oil. In just a few simple steps, you can easily customize a beard oil to your specific needs.

---