Facial Toners 101: What You Need to Know to Get Glowing Skin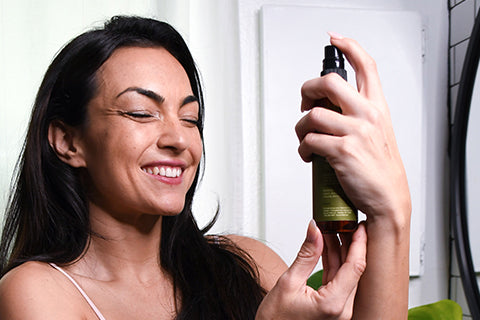 Facial toners are an important part of your skincare routine. They can help remove any lingering impurities and grime after you've cleansed your face. A facial toner can also help tighten pores and improve the appearance of your skin.
There are many types of toners on the market, so it might feel overwhelming trying to find one that suits your skin. And with all the information out there, it may be hard to filter through the content and determine how best to use a toner.
Luckily for you, we cover everything you need to know about facial toners in this blog!
Which Facial Toners Should You Use?
No matter your skin type, a facial toner can elevate your skincare regime. But it's important to use a toner that complements your skin type.
Oily Skin
If you have oily skin, you might think that a toner won't help at all. But incorporating the right toner into your routine can help balance the oils in your skin. Opt for products that include ingredients such as witch hazel or apple cider vinegar, such as the Pure Toning Essence from Source Vitál Apothecary.
Dry Skin
Ingredients such as rose water and lavender oils can help increase moisture for those with dry skin. If you have dry skin, you should avoid alcohol-based products, as the harsh properties can cause additional dryness. Toners such as the Rose Toning Essence have a number of ingredients that help increase hydration and plump your skin.
Sensitive Skin
If you are experiencing sensitive skin, there are plenty of good facial toners out there for you, too! Ensure that your toner contains no alcohol so you're avoiding irritation. Look for ingredients that help soothe your skin. Choose a toner that includes ingredients such as blue tansy and lavender oils, like our Blue Tansy Toning Essence.
All-Rounder Facial Toner
Looking for an all-rounder facial toner? Then look for antioxidants, such as Vitamin C, as they are excellent for all skin types. Additionally, you may use a facial mist as an on-the-go toner, such as our Sea Tonic, a natural hydrating and remineralizing facial mist.
How Do You Use Facial Toners?
Now that you've selected a toner, it's time to incorporate it into your skincare routine. When using a facial toner, it should be applied after you cleanse your face. Pat dry your skin with a towel. From there, apply your toner to a cotton ball or pad and gently wipe it on your face in an upward direction. You may also apply the toner directly to your hands and apply it in the same way. Make sure your hands are clean first! If you are applying a spray instead, then spray directly onto your face. Do not forget your neck! Before you apply other serums and moisturizers, allow your toner to dry.
How Often Should You Use Toners?
Your skincare routine and skin type will shape how you use your facial toner. For instance, if you have oily skin, you might use your toner twice a day after cleansing. But for those prone to dry skin, then using your toner once a day is enough.
When in doubt about how often you should use a toner, ask a skin care professional, such as a licensed esthetician. They'll be equipped with the knowledge you need to help work out how best to incorporate a facial toner into your regimen.
What Ingredients Should You Avoid in Facial Toners?
When looking for a facial toner, it's important to consider the ingredients in the product and what they may do to your skin. There are some ingredients that are best avoided, especially if you have sensitive or irritated skin. Here are some ingredients that are commonly found in toners and should be avoided:


Alcohol: Alcohol can be drying to the skin and can cause irritation and redness. Avoid toners that contain high amounts of alcohol, especially if you have dry or sensitive skin.
Synthetic Fragrance: Synthetic fragrances can be irritating to the skin, and some people may be allergic to certain fragrances. If you have sensitive skin, look for toners that are fragrance-free or that contain only natural fragrances.
Benzoyl peroxide: Benzoyl peroxide is a common ingredient in acne-fighting products, but it can also be drying and irritating to the skin. Avoid toners that contain this ingredient if you have sensitive or dry skin.
Salicylic acid: Salicylic acid is another ingredient that can be drying to the skin, and it may cause redness and irritation. Avoid toners that contain high amounts of salicylic acid, especially if you have sensitive skin.
Elevate Your Skincare Routine
No matter your skincare routine, adding a toner can help keep your skin looking fresh and healthy.
You can pair your toner with a range of organic skin care products to get the best results possible from your skincare routine.
From cleansers to moisturizers, Source Vitál Apothecary has a range of products to suit all types of skin. Shop today.
---