Give Your Eyes Some TLC This Month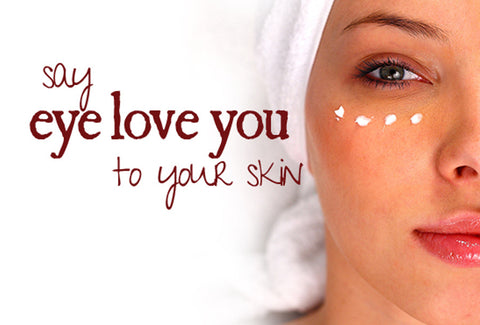 Keep Your Eyes Up!
The eyes, they are the mirror to the soul, doorway to your heart…we know all the clichés. While we care about the condition of your soul, when it comes to the eyes we are more concerned with what's on the outside.
Protecting that delicate tissue from the signs of aging. Along with the hands, the eyes can be one of the areas that first show lines, wrinkles, puffiness and discoloration.
By taking proper care of the eyes you can keep your complexion looking youthful longer. That's why the very first products formulated by our founders were eye creams!
This month we want to help your eyes looking lovely with 15% off our luxurious eyes creams, eye makeup remover and Citrus Peel – one of the only products we know of that's gentle enough to exfoliate the area around the eyes. Remember, exfoliation smooths rough textures, eliminates toxins and kick starts the skin's own natural regenerative efforts.
Shop our entire Eye Love You Collection and use promo code: eyeloveyou at checkout.
Source Vitál Apothecary DIY Eye Care Protocol
So here's how you can put all the eye products on sale this month to work. The results is smooth, hydrated and healthy-looking eyes that seem to defy age and neglect.
Products needed:
Micellar Cleansing Water - To cleanse and remove makeup (this product is also a great multitasker, use it anytime you need a quick & easy face cleanser)
Citrus Peel - To exfoliate eye area
Eye Cream of Choice -

To moisturize & care for the eye area
Cucumber Eye Cream - to improve the appearance of fine lines, wrinkles, puffiness & dark circles
Chamomile Eye Balm - Ultra-rich, soothing balm to hydrate & improve the appearance of fine lines & wrinkles
Jasmine Eye Balm - Ultra-rich, luxurious eye cream hydrates eye area to look brighter, less puffy, more youthful
Face Towel
Cotton rounds or pads
Steps:
Apply Micellar Cleansing Water to cotton pad or cotton round.
Gently moisten eye area with the saturated cotton pad.
Caution: Do not rub to remove makeup. Gently wipe in a downward motion, taking care not to pull at the skin or eyelashes.

If wearing heavy eye makeup, you may need more than one cleansing.
Apply small amount of Citrus Peel to tips of fingers.
Spread a thin layer under the eye and all the way around.
Don't forget to include the top of the eye lid. Allow to dry for about 1 minute.
Using slightly damp fingertips (not wet, just a tad bit moist...like when your hands are almost dry) start to gently exfoliate the area where you applied the Citrus Peel.
Tip: It is important to use very little pressure! Rub in an upward motion until you start see/feel small peelings. Do not rub hard or pull the thin, delicate skin too tightly. If you find that you are applying a lot of pressure, your finger tips are too dry.
Once you will see little white peels it's time to stop. You don't have to get all of it off! Rinse with cold water and pat dry the face.


Finish with your choice of Eye Cream or Balm.
Or use Cucumber Eye Cream on the inner corners and under the eye and focus Jasmine or Chamomile Eye Balm on the outer corner (crow's feet area) of the eye. This gives the maximum de-puffing and moisturizing benefits.
Professional Eye Care Tips:
Keep a jar handy with cotton rounds or cotton balls premoistened with Micellar Cleansing Water!
You only need a Jar with Lid, Cotton Rounds or Pads and Micellar Cleansing Water. Put Cotton in jar. Pour in just enough Micellar Cleansing Water to moisten all pads, close the lid tightly and enjoy saving yourself a little extra time!


Keep Cucumber Eye Cream in the refrigerator and use it cold. It feels amazing when eyes are super puffy and helps to further decrease the look of any puffiness. Especially great after a late night out or when dealing with allergies.


Jasmine and Chamomile Eye Balms are thick and may need to be warmed up between your fingers so you can easily pat them onto the eye area.
---