End of Summer Sale – 33% Off Skin Care, Body Care, Personal Care, & Aromatherapy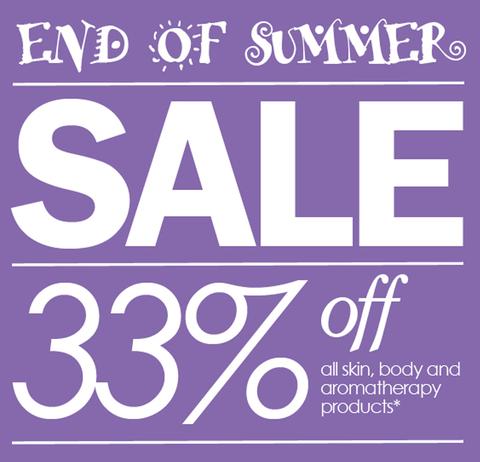 Got end of summer blues? We've got the solution! Now through Monday, September 18th you'll be able to get 33% off our entire line of natural skin care, body care and aromatherapy products.
We all know the transition between seasons can send our skin into a panic. Changes in temperature, weather, sleep schedules, allergies and stress all hit at once. Now is the perfect time to stock up on your favorite products to keep your skin in great shape for the holidays.
Just like summer, this sale won't last forever, so shop today and get everything you'll need for healthy, hydrated skin and restored spirit.
There are three easy ways to take advantage of this limited promotion:
Shop with us online at sourcevital.com use discount code summer17 at checkout.
Give us a call at 1.800.880.6457 or 713.622.2190 (Houston-area calls).
Stop by our beautiful showroom located at 1291 N. Post Oak Road, Suite 125 in Houston. Call ahead and we'll have your order ready to go. Who said takeout was just for dinner?
Remember, you can only get 33% off for the next 4 days – until Sept. 18, so shop now…and don't forget to share with your friends and family.
*Diffusers, accessories, equipment and gift cards not available for discount.  
---