Easy Scalp Self-Care to Try Now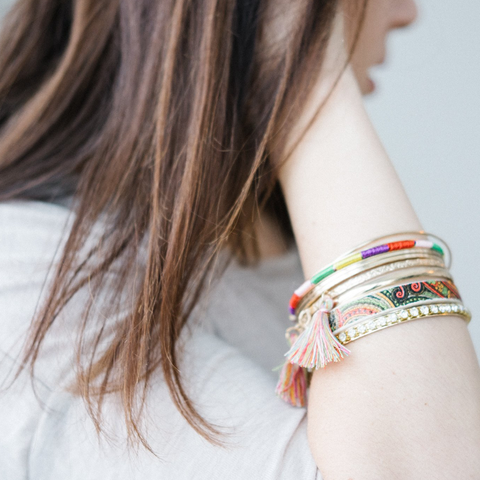 Self-care. This idea has been popularized over the past few years and has become a rallying cry for beauty novices and experts alike. When we think of self-care, images of indulging in body care, such as a relaxing bath, or investing in a skincare routine that makes your complexion glow come to mind.
 One area that tends to get overlooked: the scalp. Our scalp is skin, and much like the skin on our face and body, it should be taken care of as such. The good news: taking good care of your scalp reaps many benefits and won't add a ton of time to your #selfcare routine.
Here's some tips to keep your scalp healthy and locks looking luscious.
Exfoliate
Exfoliating our face and bodies has become second nature to many, but did you know, you can also exfoliate your scalp?
Shampooing is a part of most people's hair cleansing routine. However, shampooing may not be enough for some. While shampoo is effective at removing excess dirt and oil it can also leave behind residue and product buildup that can lead to a dry, flaky, or irritated scalp.  
Our best-selling Algae Deep Cleanse is loved for its ability to deep cleanse the face, but it is truly a multitasking product that offers great benefits for the scalp.
Not only does Algae Deep Cleanse provide a refreshing and luxurious cleanse for the face, but also is an excellent product to use to nourish, exfoliate and deep cleansing the scalp.
The high percentage of red and brown algae extracts, and a combo of kaolin and bentonite clay help to provide a detoxifying feel. Peppermint and Lavender Essential Oils help to provide a stimulating sensation and also soothe.
Prior to showering, we recommend brushing your hair while it is dry, to help remove surface buildup and grime. Once your hair is wet, the goal is to try to get your product as close to the scalp as possible.
Apply a generous amount to the pads of your fingertips and then massage in circular motions for about thirty seconds, then rinse clean.
Hair & Scalp Mask
Take the first step further by using the Algae Deep Cleanse as a scalp mask. It will provide even more of the benefits described above.
It makes for a super easy DIY recipe because it only contains only 2 ingredients – Algae Deep Cleanse and water!
Note: This treatment works best at night or days when you have the time to leave the mask on for at least 20 minutes and rinse it clean without having to shampoo and style the hair.
Algae Deep Cleanse Hair & Scalp Mask
Step 1: Mix 1 tablespoon of Algae Deep Cleanse with 1 tablespoon of water.
Step 2: Massage it into your scalp and wrap your head in a shower cap, plastic bag or wrap.
Step 3: Cover your head with a towel warmed in the dryer.
Step 4: Relax for 20 minutes
Step 5: Rinse well—do NOT shampoo until the next morning.
Oil Treatment
After all that much needed cleansing, it's time to replenish your scalp with nutrients needed to help soothe, add shine and support stronger hair follicles.
Our Hair & Scalp Elixir is formulated with high quality essential oils and botanical oils that are packed with vitamins and minerals to keep the scalp healthy, provide a comforting tingle and prevent the appearance of dandruff, brittle hair and breakage.
This special elixir comes in a convenient bottle, complete with dropper to allow for a more targeted application.
For thicker hair, use 2-5 drops of the oil blend added to your conditioner and apply from mid lengths to hair ends.
For thick curly hair, follow the steps above, then after cleansing hair use a few drops at the ends and comb through to control frizzies.
For thin to normal hair types, you can use it during cleansing, but when styling hair avoid applying the oil too close to the scalp as it an weigh hair down and give it a greasy appearance.
This elixir can also be sparingly dropped into your favorite shampoo, or applied prior to bedtime, to help promote healthy hair while you sleep.
Scalp Massage
Another great use of the Hair & Elixir Oil is to give yourself a relaxing and tension-busting head massage.

This is a great self-care treatment to practice in the shower or a great pairing with a tranquil aromatherapy bath.
When you are in the bath add a generous amount of the Hair & Scalp Oil to the hair and scalp and a few drops in the palm of the hand and fingertips. Keep hair loose so you don't pull it.
Start by running your hands through your hair from the front of the forehead to the back of the scalp. Use the fingertips to provide pressure to the scalp.
Then using a good amount of pressure massage the scalp using circular motions, again going from the front to the back.
Once you've used these two techniques reverse them, starting from the back of the skull moving toward the hairline.
Finish your scalp massage by cupping the head and providing gentle pressure and gently tugging on the hair like you are trying to put it into t ponytail.
And don't forget massaging the back of the neck and back of the ears while you are at it. These areas can get really tight and uncomfortable.
Next time you treat yourself to self-care try starting from the very top of the head. It's not only relaxing but your scalp will feel cleansed and healthy, and your hair will look get a good boost too. 
 ABOUT THE AUTHOR
Tracey Ellis is a beauty enthusiast with over a decade of experience in the beauty industry. You can find her in the lab, manufacturing Source Vitál Products. Tracey is a New Yorker living in Texas and spends her time cooking and spoiling her miniature husky, Tabasco.
---