Earth Day Flash Sale - 22% Off + We'll Plant a Tree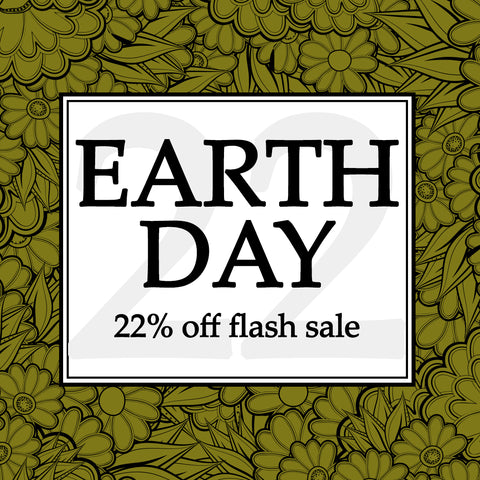 Flash Sale - Monday, April 22 Only!
Earth Day is every day at Source Vitál. We are so thankful for the abundant gifts from the land and the sea that help enhance health and wellness for everyone on this planet. 
To celebrate "Mother Earth" we pledge to plant a tree for every order made on April 22. To sweeten the deal we're also offering 22% off* our natural product collections on Earth Day. 
Use promo code earthday2019 at check out to enjoy these savings. And remember, the sale ends at 11:59 P.M. on Earth Day, so mark your calendars and don't miss out. Check back Monday morning to start shopping. 
Earth Day Favorites
Here's a look at 7 great products for you to stock up on during our Earth Day Flash Sale.
Made with 23 of some of the most effective botanical ingredients on the planet, SV23 will bring a more youthful, radiant look to your skin. 
Here's what Jennifer R. has to say abut SV23:
"It is worth the money. My skin tone all around looks better. I feel like I have had a facial every day"
Debra R. is also in love with the results from your SV23 Phyto Serum:
"This product makes my skin feel soft and improves the look of my 64 year old wrinkles."
A best-seller for more than two decades, Deozein Natural Deodorant really works. Made with natural mineral salts, algae extracts and essential oils, Deozein inhibits the development of B-O without interfering with your body's ability to expel toxins and regulate temperature.
It is available in a spray and roll-on formula and three natural scents. Plus, it works for the whole family!
Take it from Kimberlee M.:
"I love Deozein, I have been using it for 18 years. It is the best to combat body odor. And now I have my son using it and he loves it."
Another fan favorite, Algae Deep Cleanse is our invigorating facial cleanser packed with active algae extracts, purifying clay, nourishing botanical oils such as Hemp Seed and Abyssinian, and our high-quality essential oils. 
From the first use, your skin will look revitalized and healthy.
Enjoy this customer testimony from Felicity W.:
"Algae Deep Cleanse is a wonderful product. Cleans all the sunscreen and pollutants off your skin and makes your skin feel fresh and smooth. I have been using these products exclusively for over 20 years and cannot say enough great things about them. Great quality, safe, and environmentally conscious with the refill bottles etc."
Turn your home into a spa oasis with a custom bath soak made just for you and your needs. Our easy 3-step process lets you choose your favorite scents and functions like stress relief or soothing sore muscles.
These bath salts make for great, unique gifts. 
Sir Vitál features clean, natural, handmade skin care and grooming products made from high-quality botanicals, hemp seed oil, seaweed, and pure essential oils. Formulated specifically for men's skin. Stock up now!
Don't Miss Out - Earth Day Flash Sale - April 22 ONLY
Shop now for 22% off and enter promo code earthday2019 at checkout. Share your appreciation for the Earth's gifts and share this offer with friends and family.
Remember this promotion ends today! Accessories, aromatherapy diffusers and starter kits are not included in this sale.
Here are a few more reasons to shop with us on Earth Day (or any day):
Source Vitál Apothecary is completely cruelty free, we never test products on animals and in-fact many of our products are safe for use on pets.
We do not use any synthetic fragrances, scents or colorants and our products do not contain any GMOs or harsh chemicals.
Plus, you can feel good knowing we always use environmental-friendly packaging that is accepted by most curb-side recycling pick-ups or bottled in glass containers that can easily be reused at home.
---