Empowering Women's Wellness: Celebrating International Women's Day with Essential Oils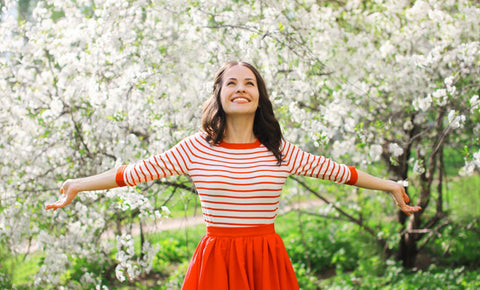 International Women's Day (March 8th) is a time to celebrate the achievements and progress of women around the world. As we reflect on the accomplishments of women, it's important to acknowledge the unique health and wellness concerns that women face.
Essential oils have been used for centuries to promote health and well-being, and they offer a natural and effective way to
support
many of the wellness issues that women may experience. From helping to balance hormones
,
to reducing stress and improving sleep quality, essential oils can be a valuable tool for women looking to enhance their overall health and wellness.
Here are a few essential oils that may be used to support and empower women on International Women's Day and beyond. 
How Do I Use Essential Oils to Support Women's Wellness?
The beauty of essential oils is that they can be used in a variety of different ways to provide various therapeutic effects on the body and mind. 
Take Time to Bathe
Taking a bath is a great way to soak up the benefits of essential oils. Try preparing yourself a warm (not hot), soothing, bath and adding several drops of essential oil of your choice, mixed with a carrier oil. Baths can be especially beneficial if you're experiencing cramping or anxious feelings. Don't have time to take a bath? Add a few drops of your desired essential oils to your shower, and let the steam aroma help ease your mind. When essential oils are blended with a carrier, they may be applied and massaged into the skin. Try this before stepping into the shower or bath. This is a more direct application of the oils than sprinkling them into your bath water. 
Apply Topically
When ailments such as menstrual cramps, back pain, or general soreness arrive, you have the option to apply essential oils to the skin. Rather than apply directly, you'll want to ensure you are mixing your desired oil with a carrier oil of your choice. For menstrual cramping, apply the mixture to the lower abdomen, in a clockwise motion. This will promote circulation, and provide a comforting and soothing effect. We have several Bath & Body Oils that may be applied directly to the skin and certain areas of the body. Try Fluid Reduction Bath & Body Oil for cramps and bloating. Analgesic Bath & Body Oil is blended especially for sore muscles and arthritis. Stress Relief and Serene Bath & Body Oils are favorites to calm and soothe the body and spirit. 
Diffusion
Are you looking for an easy, everyday way to use essential oils? True essential oil diffusers, such as our Source Vitál Electric Aromatherapy Diffuser, literally diffuse the oil molecularly into the air, for the best way to diffuse. Other popular "water well" diffusers allow you to add a few drops of concentrated essential oil to water, ultimately releasing it into the air for an extended period of time. An aromatherapy diffuser is a great way to enhance your mood while being rather low-maintenance. They are also a fantastic way to experiment with different essential oils to find combinations you enjoy. 
Massage
If it's within your budget, treat yourself to an aromatherapy-based massage from a licensed professional. Many spas and wellness centers offer a variety of essential oils. Ask your therapist for a recommendation depending on how you are feeling, or want to feel at the end of your treatment. 
Best Essential Oils For Women's Wellness
Clary Sage
Clary Sage Essential Oil is often a popular choice when it comes to women's wellness. It is often sought after for its ability to offer support in balancing hormones, may help reduce pain associated with menstrual cramping, and may help promote more restful sleep. Clary Sage  Essential Oil is also known for its calming and mood-lifting properties, making it helpful for reducing stress and anxiety. 
Lavender 
Lavender Essential Oil has been used for centuries for many different ailments, and its versatility lends itself to being one of the best essential oils for women. Lavender is well-known to promote relaxation and help lull you to sleep. It's also beneficial in helping to reduce feelings of anxiety and worry while improving mood. It's also a great oil when it comes to skin health, such as acne, which tends to pop up during the menstrual cycle, menopause, and pregnancy. 
Geranium
Geranium Essential Oil possesses many benefits that promote a sense of focus and calm during times of stress and anxiety. Geranium Essential Oil is often looked to for its ability to support hormonal imbalances and ease symptoms associated with the menstrual cycle, such as cramps, bloating, and mood swings. 
Rose
Rose Essential Oil possesses many of the same qualities as Geranium Essential Oil. It can help offer soothing qualities that may support women's mental and emotional well-being. By promoting a greater sense of relaxation and balance, Rose helps those who may experience symptoms of fatigue, anxiety, restlessness, or tension.
This International Women's Day is the perfect time to celebrate women's achievements and acknowledge some of the wellness issues that women deal with daily.  Whether you're a woman looking to help balance hormones, seek relief from menstrual cramps, reduce stress and anxiety, improve skin health, or gain more restful sleep, there are a variety of essential oils that can support your well-being. There is more than one way to give women roses! 
---