4 Ways to Celebrate Social Wellness Month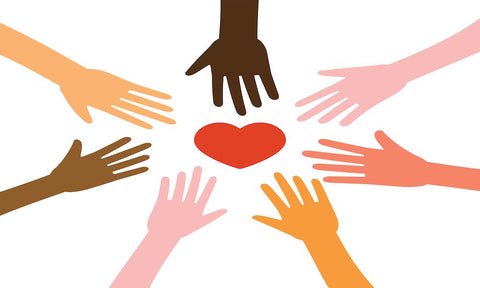 We're always looking for new ways to better take care of ourselves and improve our overall health. For most of us, that could mean focusing on our physical health by ensuring we're getting enough exercise and eating right. For some of us, it can mean putting our mental health front and center, meaning we go to therapy, or practice daily deep breathing. 
Taking care of ourselves physically and mentally is great, but have you taken a step back and looked at your social wellness? July is Social Wellness Month and encourages us to nurture ourselves as well as those we have relationships with. Here are 5 ways you can celebrate Social Wellness Month this July.
What is Social Wellness?
Simply put, social wellness refers to the giving and receiving of social support to nurture the relationship with yourself, and others. This can extend to the relationships with your friends, family, co-workers, and even those you may interact with on a daily basis, such as your favorite barista at your local coffee shop. Think of this as your in-person social network.
Your social network is there for you, and that support shows up for you in many different ways. Emotional support, physical support, and mental support are just a few of the ways you can show up for your network, and how they can show up for you. 
Studies have shown that those that have strong bonds within their social network live longer lives, may have a healthier endocrine system, may respond to stress better, and may have a stronger immune system. All great reasons to ensure you're taking good care of your social wellness too!
How You Can Nurture Social Wellness
Practice Self-Care
If you've been on an airplane, you've likely heard the flight safety announcement state "place your oxygen mask on before helping others." The same applies when it comes to taking care of yourself. You're better able to take care of others when you're well taken care of! July 24th is International Self-Care Day, but you can practice self-care year-round by getting enough sleep, journaling, or taking time to do something you love. 
Volunteer
If you have some extra time on your hands, find an organization or charity you feel passionate about supporting. According to the Mayo Clinic, volunteering can reduce stress and increase positive, relaxed feelings by releasing dopamine, which is known as the "happy hormone." In addition to your mood boost, you may have the opportunity to connect with like-minded individuals, expanding your social network.
Connect With A Four-Legged Friend
If you've ever had the chance to cuddle a kitten or snuggle with a pup, you likely already know the benefits to spend time with animals. Spending time with your four-legged friend may help to decrease the feeling of loneliness, ease anxiety, and may even lower blood pressure and heart rate. Don't have an animal of your own? Spend some time with a friend's animal, or find a comforting video online- even just watching cuddly animal videos can have a positive effect. 
Catch Up 
With technology constantly changing, we're more apt to send a text or an email versus picking up the phone to make a call. Connecting via voice-based media can increase the strength of the bonds within your social network, and may even come as a welcome surprise to the receiver. Our voices have the power to convey emotions, which helps us understand one another better and feel more empathic towards each other. 
How do you plan on celebrating Social Wellness Month? Let us know in the comments!
---