Boost Performance and Avoid Injuries With This Holistic Post-Run Recovery Plan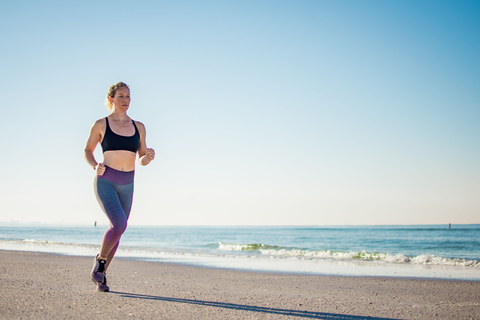 Guest Blogger Lindsay McClelland Breaks Down Her All-Natural Post-Run Recovery Ritual 
When I first started running, I put all my focus on maximizing distance and speed. You know, the hard stuff. A few years and many miles later, I started noticing a couple things — I wasn't improving and a few injuries started popping up. As I learned more about my body and the importance of recovery, I developed some post-run rituals that have become a huge part of my training. 
In my experience, the time spent on recovery is just as important as the time I spend on the road or the track. Whether you're just starting out your fitness routine or have been looking for a breakthrough, creating a recovery ritual is something that will level up your mental and physical game.
My post-run recovery ritual usually includes a combination of the following tools and activities. I don't always have time to do them all, but I try to add in at least one after each run and a combination on the weekends when my schedule is more open.
Yoga + Stretching
You don't need a full 60-minute yoga class to recognize the benefits of stretching after a challenging workout. Identify the areas where you need to focus on and take 10 - 15 minutes to do poses that will increase mobility in those spots.
For runners, I always recommend hip and hamstring mobility poses like Half Splits, Lizard, and Supine Pigeon. Downward Facing Dog is always a great reset and can provide an awesome calf stretch! Finish up your routine with a 5-10 minute Savasana (final resting pose) with your legs up the wall.
Sports Balm
Yes, Source Vital's Sports Balm is so magical it gets a section all to itself! This product has been a staple in my athletic routine for awhile and isn't going anywhere.
Perfect for sore muscles and relieving tension, this analgesic balm just makes me feel better! I love the roll on for quick and easy application on the go. It smells great and is free of synthetic ingredients so I never worry about overusing it or having icky skin reactions.
Massage
If I could afford deep tissue massages every week, trust me I'd do it. But the reality is, I can't always make it to the spa. I try to prioritize my treatments after big races, but during training I need to give my body some love too. That's why I've added self-massage tools into my routine.
I use a combination of foam rolling, a massage therapy gun, and for trickier spots like my glutes will sit and roll out on a lacrosse ball!  
TIP: Apply Sports Balm before your self-massage to warm and loosen up muscles for a super-effective recovery treatment.
Active Recovery
After a race or a really hard workout, I try to keep my body moving. Taking a short walk (always with my pup) keeps the circulation moving which I've found helps with soreness the next day. If I'm feeling especially beat up, I'll wear compression sleeves or socks on my walk! 
I also use post-run active recovery as a chance to add in some of my physical therapy strength movements. A few of my favorites for hip and glute stability include lateral band walks, clamshells, and single leg bridges.
Aromatherapy is also a great way to refresh the mind and body after a grueling workout. A few mists of the After Workout Spray, made with essentials oils like Spearmint and Peppermint is instantly cooling  and can help give you a second wind when you are really pooped. 
Recovery Bath
This has become a weekend ritual I cherish. After a long run, I draw up a warm bath filled with my favorite bath salts. I love the customizable option on Source Vital's website. My combination of choice is Analgesic with an Epsom Salts booster to ease my muscles. In addition to my recovery bath feeling great on my body, it's also a time for me to reflect and do some mindful meditation.
Bonus points: To make your bath a mini-spa retreat, diffuse some Serene Essential Oil Blend, put on a Face Mask, and sip some herbal tea (or wine…).
Refuel
Fueling your body is just as important to recovery as everything else! I always make sure I drink plenty of water post-workout and eat a well-balanced meal. If I'm unable to do anything else in my post-run routine, I make 100% sure that this is NOT the one I skip!
For those long runs or when you've sweated out a lot of nutrients, a whole food supplement can help to replenish trace minerals and vitamins like potassium, calcium, magnesium, zinc, and vitamins C, K, and B6.
It's really easy to get caught up in the work and continually strive for progress, but it's just as important to remember balance. Our bodies and minds need time to reset and recover so we can get back out there and go for our goals!
ABOUT THE AUTHOR
Lindsay McClelland is a content and social media contributor for Source Vitál Apothecary. Lindsay is a marathon runner, RYT- 200 yoga teacher and former collegiate swimmer, so naturally she's bringing you write-ups on staying healthy inside and out, leading an active lifestyle, nutrition and overall holistic health.
---