Best-Selling Deozein Natural Deodorant Now Available in Easy-to-Use Roll-On Formula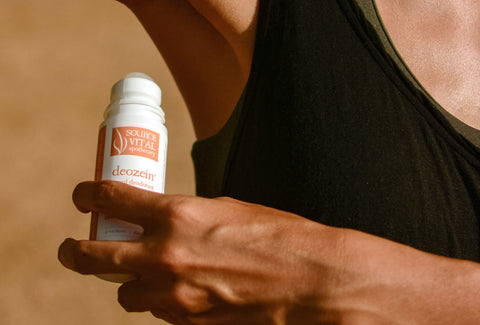 There are a lot of excuses out there for not switching to a natural deodorant. 
I don't like the way it feels!
It doesn't work for me!
I don't like the formula! (spray, crystal, paste, etc.)
Well, we've got you covered in all of these areas!

This summer we launched the new roll-on version of our best-selling Deozein Natural Deodorant. It uses the same powerful blend of natural mineral salts, algae extract and 100% pure essential oils to prevent bacterial-causing odor from developing.

The new gel-like roll-on is easy to use and effective. It's important to have complete confidence in your deodorant– if it doesn't work, everyone knows it!
Our Powerful Blend of Natural Ingredients
Deozein is free from dangerous aluminums, parabens and other potentially harmful ingredients and won't artificially clog pores like traditional antiperspirants.
We've gotten so used to those chemical-heavy drug store formulas that we've forgotten that sweating is actually a good thing! It's how our body stays cool and gets rid of harmful toxins. These pollutants need to regularly be expelled from our body to keep our cells healthy and functioning at their optimal levels.
How it works
Our unique formula actively works with your body to purify and protect – without interrupting the natural detoxification process of sweating. 
And it's effective for both men and women – even in the hot, humid summer or after a hard workout. We developed Deozein in Houston, Texas. If it can stand up to Houston's climate, that says a lot. In fact, It's been our number one seller since it launched approximately 20 years ago.
Customer Reviews
Don't take our word for it, here's what some of our natural deodorant fans have to say:
BEST EVER
From Carey C.
"I have used this for about 10 years. It is 100% body odor neutralizing for me and I get compliments everywhere I go when I smell like it :-) of course I still sweat but at least I don't smell like I do!! So grateful for this natural product!!!"

I'M A HEAVY "SWEATER" AND I NEVER STINK ANYMORE
From Lorrie M.
"Ever since I was a little girl I have sweat profusely...no "glowing" for this girl. So when I started working out, my clothes were drenched and they smelled. I couldn't even put them in the same laundry with my regular clothes. But since I've been using Source Vitál I don't have that problem. I NEVER thought I could go without store-bought deodorant but this smells soooo good and works. I prefer the original scent to the citrus personally because I get compliments on my "perfume"...it has a very clean smell. Also it's healthier for you because the chemicals in anti-perspirants and deodorants can cause cancer. Highly recommend."

GREAT PRODUCT
From Jim S.
"I have used this product for over 4 years and just love it!!!"

HOW IS THIS STUFF EVEN POSSIBLE!
From Veronica B.
"It's Texas. It's HOT. You sweat thinking about going outside. But no joke, I was just at the pool holding my baby for two hours in the heat, and I don't stink. HOW IS THAT POSSIBLE I've never used any pit product (pore clogging, chemical, natural, etc.) that has performed even half this well. It's legit."

A MUST HAVE!
From Darla G.
"This is one of my most important products. I cannot go without it. I love it. Fresh and clean."

For more reviews visit our Deozein and Deozein Zest product pages.




When you switch to a natural deodorant you will notice the different right away. Not only will your body breathe better, but your body odor may also begin to fade. Those yellow stains on your clothing? They're not caused by sweat they're created from the aluminum in antiperspirants.
Deozein comes in two great scents, original, which is herbal and woodsy and Zest, which has a bright citrus-mint smell. It is also available in a roll-on or easy-to-use liquid spray formula. No sticky pastes here!

Visit us at sourcevital.com to make the switch to a natural deodorant today. Your body will thank you!
---