Beat the Heat with Our Summer Cool Down Collection - 10% Off in July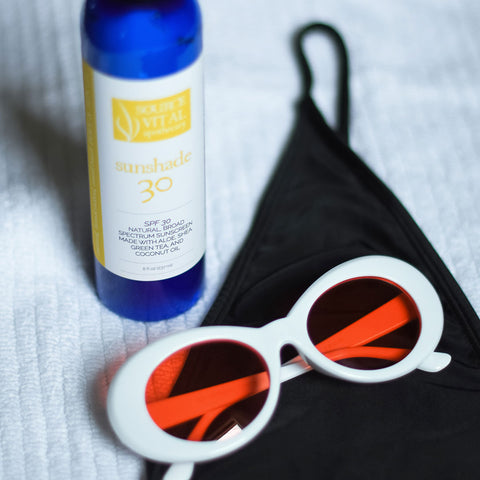 Enjoy 10% Off Our Summer Collection
When the heat gets to be too much, we've curated a great selection of natural products to keep you cool and refreshed from head to toe.
Even better, take 10% off through July 31, by entering discount code SUMMER10 at checkout.
Here's a sneak peek at some of our favorite summer products to keep you happy and healthy all season long.
Sun Protection
Sunshade 30
The best way to prevent premature aging is to load up on the sunscreen each and every day, and especially when you plan to be out in the sun.
For the body, you'll want to check out our all-natural mineral sunscreen, Sunshade 30. It features non-nano (that means it creates a physical barrier on top of the skin and isn't absorbed into the bloodstream) Zinc Oxide and Titanium Dioxide, She Butter, Aloe Vera and Coconut Oil.
A safe alternative for the whole family, plus we love that it is also water resistant, won't harm coral reefs or sea life, is animal-friendly and biodegradable. 
Beauty By Earth Facial Sunscreen
For the face, give Beauty By Earth's mineral facial sunscreens a try. Made with safe and effective ingredients, and none of the bad stuff, this sunscreen is super easy and lightweight for daily wear and comes in convenient tinted formulas too. 
Protect your skin against UV rays, premature aging and skin cancer with this summer staple.
Products to Cool
First Aid Spray & Cream
For those times you do get a bit too much sun, First Aid Spray and Cream are what you need.
Made with all-natural skin soothers like Aloe Vera, Green Tea and Immortelle Essential Oil, this natural elixir immediately begins to take out the fire and the strong from a sunburn.
Take along with you in your beach bag and at the first sign of redness mist the skin. It is also great at reducing the discomfort of bug bites, skin chaffing and other summer time bothers. 
Also included in the Summer Collection, our new Matcha Cool Mask and Algae & Aloe Cool Gel. The perfect post-sun pairing for face and body to remineralize, soothe the look and feel of inflammation and re-hydrate.
Merecul MultiLotion
One of our best summer hacks comes from an "off-label" use of Merecul MultiLotion. Originally developed to improve the look and feel of fluid retention and swelling, Merecul is also a quick and easy way to cool you down. 
Made with natural menthol and cooling essential oils, on hot days we love to massage a bit of Merecul on the back of our necks after coming in from outside. The cooling sensation gives you a refreshed, invigorated feeling even on the hottest of days. 
Peppermint and Invigorating Products
This is also the time of year to consider switching out your body wash to something with a cooling kick. Peppermint Body Wash is stimulating for the skin and senses. Use anytime you need a pick-me up.
Or, consider going for an Invigorating duo. Take a refreshing shower with Invigorating Body Wash, then after toweling off, massage Invigorating Body Oil into your shoulders and chest. The cooling sensation is just what you need to fight an afternoon slump.
When you're on-the-go don't forget to bring along Peppermint or Invigorating Essential Oil Roll-On or our After Workout Spray. Refreshing and cooling, when you need it most.
Sweat Don't Stink
You can also save 10% on our full line of Deozein Natural Deodorant. Available in three scents and two convenient formulas, Deozein is safe and effective for men and women.
Made without any potentially dangerous aluminums or irritating baking soda, Deozein won't inhibit your body's natural ability to flush out toxins or regulate body temperature.
It has been a best-seller for more than 20 years because it actually works!  
It may be an "Endless Summer" but this promotion ends July 31. Stock up on your summer must-haves today. Click here to shop now and don't forget to enter SUMMER10 at checkout.
---