Introducing Men's Natural Shaving Products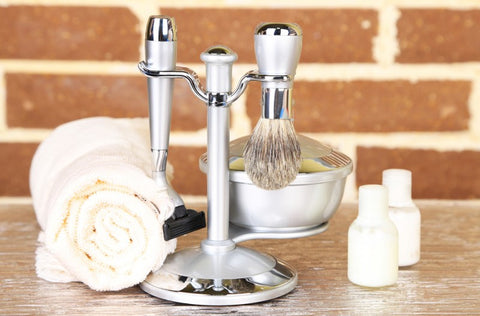 Gentlemen, it's time to up your grooming game. We've just launched our new shave products, exclusively for men. Toss the chemical creams and impress your significant other with your smooth (not to mention great smelling) skin, just in time for the holidays!
Creating a daily skin care routine is just as important for men, especially when shaving is in the picture. Start with our Orangemint Natural Shaving Cream, a gentle lathering cream that'll give you a close and conditioning shave. Don't worry about breaking out in dreaded acne with this cream, our natural formulation is designed to reduce breakouts and ingrown hairs. After shaving, moisturize with our Natural After Shave Lotion, featuring essential oils, seaweed extract, and aloe vera. Consider using this lotion on as a moisturizer on non-shave days, too!
So, go on! Up your grooming game with our new line of shaving products.
---