Four Tips to Make Back to School a Breeze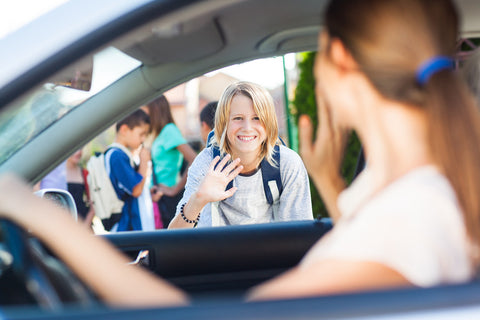 Some love it, others dread it– the season of grocery aisles stocked with colorful notebooks, children laying out their first-day-of-school outfits on the floor of their bedrooms, and upcoming junior high students scribbling their locker combinations on the backs of their hands. However, even the most emphatic optimist would say that the changes brought by the start of school can cause anxiety and confusion. Here are a few simple ways to make the transition from summer to school easier for children, young adults and parents!
Set the tone. Take 5-10 minutes as a student or with your children to sit down and celebrate a new chapter of life. Write down the aspects you find exciting about the coming year. Reframe possible challenges as obstacles you will enjoy overcoming. Acknowledging the difficulty of change and approaching the year as a gift rather than a burden will put you in a productive, optimistic mindset for the first day!
Pack it up. Place all necessary items in a backpack or bag the night before, so no one has to rush around in the morning. Also, put nutritious lunches in containers and store them in the fridge; having everything ready to grab on your way out of the door will make the morning less hectic. You can even prepare a simple breakfast in advance, like a grapefruit or a spinach frittata.
Take care of your skin. School can cause stress and stress can cause breakouts. Even if you're pressed for time, don't neglect your skincare regimen. Find products that fit your unique needs, so that you can be strategic and make the most of your time. For example, our Combination Skin Kit Complete is designed to care for complex skin that feels oily and dry, while our Sensitive Skin Kit Complete is formulated to gently exfoliate and protect against inflammation.
Clear your head. Breathe. At the end of the day, reward yourself with a warm bath and a book or a glass of warm tea. Knowing you will have this time later will help you be present in the chaos of back to school and enable you to direct more attention toward your studies or your children. If you need help winding down, try our Stress Relief Essential Oil Blend or our Stress Relief Bath Salts. You deserve this mental "reset," and it well help you maintain peace as your environment and responsibilities shift.
If you have any questions or comments, we would love to hear from you on Twitter at @SourceVital. You've got this, and happy first day!
---