Summer Aromatherapy Tips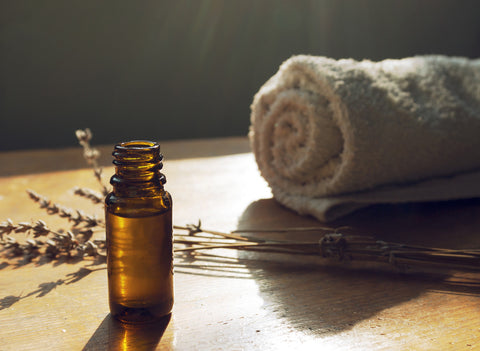 Summer is a time to balance exciting adventures with relaxation. In order to achieve harmony and protect yourself against potentially negative reactions to seasonal changes, consider aromatherapy. Nature offers a diverse and powerful array of essential oils, many of which benefit the body as a whole. We have searched the world for the finest, most effective oils. Here is our list of aromatherapeutic products particularly relevant during the summer months!
This fresh and floral oil is know for its ability to promote healing and soothe the body. It can calm sunburn, insect bites and allergies, making it a staple for a tranquil summer. In addition, lavender is able to lessen stress on the mind caused by travelling or an environmental adjustment. Try soaking a towel in cold water, adding a few drops of lavender oil and using it to cool down after yoga practice or other exercise!
Summer colds are common and can be frustratingly persistent. The woody Ravensara leaf, from Madagascar, provides an oil lauded for its alleviation of such problems. This detoxifying extract has been known to address not only colds, but also the flu, bronchitis, cold sores, measles, muscular pain and viral infections. Place one or two drops over your heart and massage slowly while inhaling to receive the benefits of Ravensara leaf oil.
Sometimes it's difficult to maintain a positive attitude as you work on a beautiful day or spend time waiting to board a flight at the airport. Our Euphoria Blend is designed to reduce stress and ease the mind, and it will help you maintain serenity in any circumstance. Apply drops to pulse points and breathe deeply to begin enjoying the capabilities of traditional essential oils, like sunflower seed, jasmine and St. John's wort.
Our essential oil and diffusion blends create the perfect unity of many essential oils, so that you don't have to do the adjusting on your own. The Fresh Diffusion Blend mixes lavender, rosemary, lemon, and other purifying oils to revitalize the mind and body.
Simply use it in your electronic diffuser to create your ideal summer space. If you're still searching for an electronic diffuser, try ours. We hope that these aromatherapy products help you achieve holistic wellness during the summer months. If you have any comments or questions, we would love to be of service at @SourceVital.
---