Natural Skincare FAQs: Part Two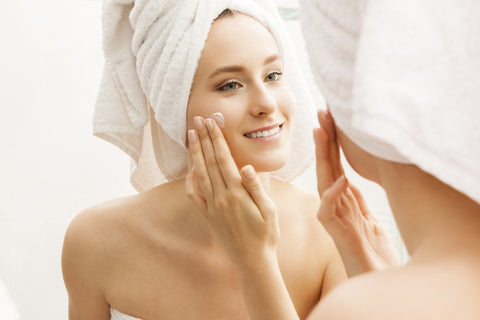 Skincare can be a tough topic to navigate, especially when trying to incorporate holistic methods into your routine. We caught up with Fran Higgins, our director of education, to answer your natural skincare FAQs.
Are there any foods that contribute to acne?
Processed foods and refined grains are quickly broken down into sugar, which doesn't treat skin well. Dairy also has a tendency to make you more acne prone. Teenagers are typically more susceptible to acne in general as well as people with gluten and dairy allergies.
 What are the best ways to get rid of blackheads?
Professional extractions from your esthetician are the best way to remove blackheads. Trying to extract them on your own is tempting, but it can worsen your skin instead of improving it. I'd also recommend our Algae Deep Cleanse, our deep pore cleanser for a daily cleansing routine. Start with a clean slate, so when you use good products on your skin they can actually work!
Best ways to treat dry skin?
One of the primary skincare fundamentals is to create a daily (twice a day) skincare program. Incorporate products that bring extra moisture into your skin and drink plenty of water. However, it's also important to use products that contain minerals so your skin can hold hydration. What you do every day at home will really make the difference.
How bad is makeup for your skin?
I believe that the majority of people use too much. Mineral makeup is a better choice. It's still not 100 percent natural, but it's a step in the right direction. Make sure that taking it off at night and cleaning your face properly is part of your routine. At the end of the day, a good healthy skin is the best makeup you can have.
How do I know which oils are right for my skin and my particular concerns? Educate yourself and have a professional assess your skin. Nobody knows how your skin acts and reacts better than you, but a professional will help guide you. Reading and learning about what you see with your skin can also help; there really isn't a "normal" skin type anymore. If you have oily skin, for example, try to find out why that is caused. Stress is actually a major aggravater for many skin issues.
What skincare questions do you have? To ask Fran a question, just send a Tweet to @SourceVital!
---