DIY Pumpkin Facial Peel!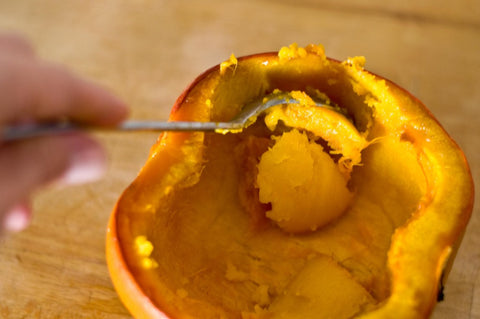 The best way to enjoy Pumpkin Spice Latte Season? Make a facial peel!
Pumpkin isn't only good when added - with a little spice - in your latte, or of course in pumpkin pie, it also has beneficial nutrients, vitamins, and enzymes that nourish and exfoliate the skin.
Pumpkin contains a ton of antioxidants including Vitamin A, C, E, and Zinc. These vitamins work together to help your skin recover from damage, soothe, smooth, fight acne, and moisturize. The natural enzymes in pumpkin dissolve dry dead skin cells too! Try this simple recipe at home. Prep Time: 10 Minutes Ingredients:
1/2 cup fresh pumpkin or canned pumpkin puree (make sure not to get pumpkin pie filling, which contains sugar)
2 eggs (serves as a binder)
2 teaspoon almond milk (for dry or combo skin - not necessary for oily)
1 teaspoon honey (for dry skin - natural humectant)
2 teaspoon apple cider vinegar or cranberry juice (if you have oily skin, use only the cranberry juice if you have really sensitive skin)
Directions:
Puree fresh pumpkin in a food processor or blender until it is a thick paste
Add egg
Add almond milk and honey for dry skin
OR
Add cider vinegar and cranberry juice for oily skin
Mix well
Apply on skin for 15-20 minutes
Rinse skin thoroughly and moisturize your skin with good facial cream for your skin type.
References: http://fitvillains.tumblr.com, http://www.livestrong.com/
Photo credit: domesticfits.com
---