7 Products to Stock Up on Amazon Prime Day – Starts July 16!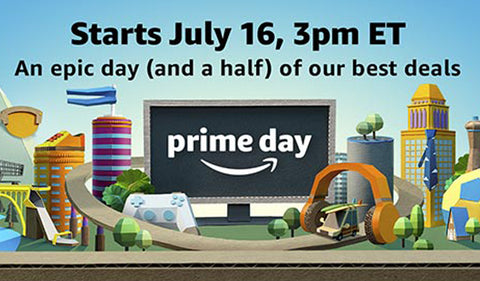 Enjoy 25% off Your Skin, Body, and Personal Care Favorites
Watch out Black Friday, Amazon Prime Day is almost here! We're excited to offer 25% off our entire catalog of products on Amazon, plus our full line* of skin, body, personal care and aromatherapy products available at sourcevital.com. So, keep an eye out for our promo code, which will be revealed at 2 p.m. (CST) on July 16.
This is one of our biggest events outside Black Friday and Cyber Monday, and a great opportunity to stock up on your main staple products or snag those big-ticket items you've been eyeballing at a substantial discount. 
Not sure what you should stock up on? We've got some ideas for you!
Must-Have Products
Now is the time to re-stock all your skin, body, and personal care favorites! You already know you're going to use them, so you might as well take advantage of the discount! 
Deozein is our best-selling product for a reason. It works! This well-loved, all-natural deodorant, free from potentially-dangerous aluminums, will keep you smelling and feeling fresh, even in the summer or after a tough work out. Deozein is available in three scents: Original, Zest, and Fresh, and comes in a spray or roll-on formula. 
There's just something so satisfying about swiping away dirt and grime at the end of the day. While our Micellar Cleansing Water makes for an excellent all-in-one, rinse-free makeup remover, it also serves as a gentle cleanser for all skin types. Keep one in your makeup bag, your gym bag, or in your travel bag. A great multi-use product for men and women! 
A medicine cabinet essential, our First Aid Spray cools, cleanses, and calms skin irritations. Use to sooth sunburns, rashes, insect bites, burns, bruises, minor cuts, and scrapes. Stock up for the rest of the year, or grab an extra to keep with you on-the-go. 

Kits and Bundles
With 25% off, you have no excuse not to treat yourself to one of our amazing kits! Our sets are selected to make it easy to care for your skin, body and soul, and make for amazing gifts.
Take customization to the next level with our Make Your Own Skin Care Kit. Build the skin care routine that's right for your skin type and unique skin care concerns by choosing your cleanser, exfoliant, toner, corrective infusion, moisturizer, eye cream, and mask. Why not splurge a little? Add up to four additional selections to create a routine that is truly unique to you!
Curious about using aromatherapy in the home, but feel overwhelmed by all the options out there? Our Healthy Home Kit is a great starting point for the budding aromatherapist. The ten-piece kit includes ready-made elixirs and ingredients to concoct your own home remedies and safe, natural home cleansers. Including four of our most popular essential oils and natural elixir blends, you'll have everything you need to enjoy the benefits of essential oils throughout your home. 
Whether you're new to the practice of chakra balancing, or you've been incorporating it into your wellness routine for years, our Chakra Oil Kit can help elevate your practice and holistic health. The kit includes seven blends, each specially formulated to balance its corresponding chakra. The blends are formulated with 100% pure essential oils and carrier oils, and are free of synthetic fragrances. 
Taking a hot bath in the summer may not sound too appealing but come fall and winter you'll wish you had our Bath Salts + Complete Bath & Body Oil set on-hand! The set includes 100% Dead Sea salts as well as six of our popular bath and body oils. Use the Dead Sea salts as a base and pair with one our oils to create a luxurious, therapeutic bath to suit your mood and needs. Or us the Bath & Body oils on their own to nourish the skin and provide amazing aromatherapy benefits. This makes an excellent gift for athletes in your life, the over stressed or for anyone who could use a little more "me" time. 
Whether you're looking to simply restock, try something new, or splurge on some self-care goodies, we hope you join us in celebrating Amazon Prime Day this year. Treat yourself -  you deserve it!
*Discount not available on accessories, diffusers or starter sets.
---