5 Reasons to Stock Up During Our End of Summer Sale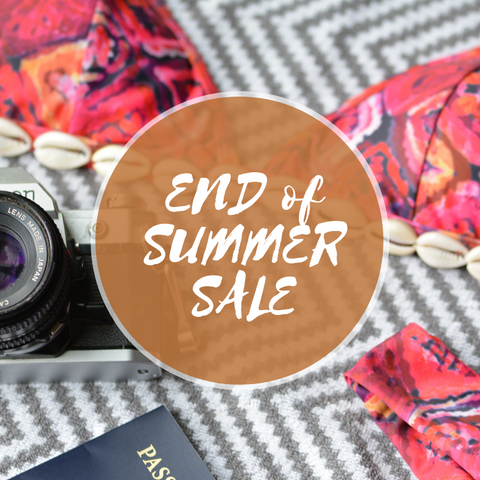 Enjoy 33% Off All Your Favorites & Get Fall Ready
Summer's not that great, right? It's hot, humid ... there's mosquitos! Haha, yeah we know none of that matters.
To make the end of summer something to celebrate, we thought we'd help with offering 33% off your favorite skin care, body care, personal care and wellness, and aromatherapy products. Plus, free shipping on all orders over $25, it's the perfect time to get your mind, body and spirit ready for fall.
(Don't forget to use discount code Summer2018 while you shop!)
Here's our guide of the best ways to get the most our of our End of Summer Sale.
1. Change Up Your Customized Facial Cocktail for Fall/Winter
Customized skin care isn't just great because it's made to fit your unique skin care needs, it's also an efficient way to make small tweaks to your routine to get your skin ready for seasonal changes. What works during the dog days of summer may not be quite as effective when the temps start to drop. 
How to Change Up Your Face Serum for Fall
A general rule for changing up your skin care from summer to the fall and winter months is to up the the hydration factor. We also think it's a good idea to think about strengthening the skin as well. Seasonal allergies along with weather changes can weaken the skin's natural protections and make it more susceptible to inflammation.
Hydration
For a hydration boost think about making a Customized Facial Cocktail that includes the Hydrating Infusion or Restorative Infusion. Both of these are made with lovely essential oils and botanical oils that keep the skin feeling soft and moisturized. Hydrating is also a great choice for those with combination skin that are looking for a bit more balance. 
Also consider adding a "shot" of velvety-soft Abyssinian oil or Jojoba Gold to make your serum even more comforting. 
Fighting Irritation
To get your skin through constant weather changes and allergies, Fortifying Infusion is a great choice. This amazing serum can get overlooked but it was designed to provide a strong foundation to help "fortify" the skin from redness and irritation. Think of it like your daily workout routine. You exercise to keep you strong and active, that's Fortifying Infusion!
For a booster, Apricot Kernel or Argan oil are great options.
2. Stock Up!
For those who already have a tried and tested Customized Facial Cocktail, the End of Summer Sale is your chance to stock up with our new four-month supply bottle. Four times larger than the original size, you won't have to worry about running out for quite some time.  
3. Fall is for Exfoliation
Now that you are spending less time outdoors in the bright sun, go to work smoothing out your skin and buffing away any sun damage.
Silt Scrub is one of our most popular products because it provides both a manual and chemical exfoliant. Made with colloidal freshwater silt, jojoba seed powder, aloe vera and pure essential oils this gentle face scrub removes dead skin cells, improves the look of discoloration and will help your skin drink up your other skin care products so they work even better. 
There's also a Silt Scrub specially formulated for the body. Sandal season can wreak havoc on your feet, keep a bottle of Silt Body Scrub in your shower so you can easily use to exfoliate rough calluses and remove any dull, dry skin.
4. Cozy Up Your Environment
The fall can be super busy with school, work, football and social activities. So, when you are at home make it an oasis to recharge your mental and spiritual batteries. Two sure fire ways to relax and recuperate - essential oils + soothing bath.
Aromatherapy
Whatever you mood you are trying to set, there's an essential oil for that. Get your aromatherapy collection started with the Essential Oil 6 Pack Starter Kit, with 6 of the most popular and versatile oils or check out one of our proprietary essential oil blends. These blends are great to use in an essential oil diffuser, mix in with your favorite carrier oil for lotion or added to a DIY room freshener. 
We love the Seasons blend for the fall and winter. Think of it as our take on a Pumpkin Spice Latte. Or try Serene for a quiet night at home with a book and a cozy blanket. It soothes and warms like a glass of delicious red wine.
Bathing
For the ultimate at-home spa night you need a luxurious bath customized just for you. Our newest customized product allows you to elevate your bath to a truly healing and therapeutic experience. Choose the scents, ingredients and solutions that best fit your needs.
Make Your Own Bath Salts takes self-care and pampering to a whole new level. Light a candle, draw your bath, add in your custom salts and soak away any concerns.   
5. A Complete Overhaul
There's something about the end of summer, going back to school and the start of fall that makes it a great time to create new healthy habits. If you're feeling in a rut and looking to up your self-care game, there's nothing quite as satisfying as getting a beautiful new set of skin care. 
It's not about vanity, it's about taking the time to care for yourself and make your wellness a priority.
Make Your Own Skin Care Kit
Use our easy custom kit creator to Make Your Own Skin Care Kit with either 4 products or the all-inclusive 8-product kit. You get to choose the products that best fit your skin type and lifestyle. It's a fun way to DIY your daily routine and get what you really want and need.
The set comes with instructions on how to use the products and has your name printed on the box - the perfect way to refresh your skin care game!
End of Summer Sale Ends Soon!
Our End of Summer Sale ends Monday, September 17. You don't want to miss out. Shop now by clicking here and don't forget to use promo code Summer2018 at checkout. Need more recommendations? Give us a call at 1.800.880.6457.
---