4 DIY Essential Oil Blends That Will Put a "Spring" in In Your Step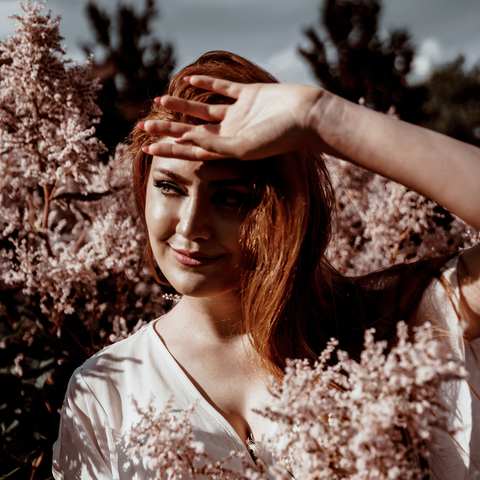 Spring is finally here and we couldn't be happier!
It's that time of year when you're ready to shed the winter layers and renew the mind and spirit. One of the ways we love to celebrate the arrival of spring is with essential oils blends that smell lovely and fill you with nothing but good vibes.
Use at home or in the office to help you reconnect with nature, as you nurture your inner soul.
As always, take care when using oils. They are potent and powerful gifts from Mother Earth. Always dilute before using topically on the skin or in a bath and keep out of reach of children.
Spring Garden Essential Oil Blend
Capture the essence of walking through a blooming garden or a field full of wildflowers. A lovely blend to diffuse before a spring garden party or to use for a lovely aromatherapy bath.
3 drops Jasmine Essential Oil
3 drops Geranium Essential Oil
3 drops Lavender Essential Oil
2 drops Ylang Ylang Essential Oil
2 drops Vetiver Essential Oil
Spring Awakening Essential Oil Blend
Stuck inside at your desk all day? Use this bright and energetic blend to uplift the spirits.
5 drops Basil Essential Oil
3 drops Grapefruit Pink Essential Oil
3 drops Rosemary Essential Oil
2 drops Peppermint Essential Oil
Spring Clean Essential Oil Blend
It's time to get out those happy citrus oils. This blend is great to get rid of any musty smells and freshen up any room. It is also a great combo to use in making a natural DIY surface cleanser.
Mix the blend below in a glass spray bottle with a ½ cup white vinegar and about 1 ¼ cup water. It will smell great and cleanse the home without any aggressive chemicals. A general rule of thumb for making a surface cleaner is to use 3-6 drops of essential oils for every 2 cups of liquid. You can play around with your formula to find what works best for your home.
4 drops Lemon Essential Oil
3 drops Tangerine Essential Oil
2 drops Orange Essential Oil
2 drops Bergamot Essential Oil
Sweet Spring Air Essential Oil Blend
Unfortunately, with so many fresh blooms, many suffer with spring allergies. Diffuse this blend to encourage deep breathing and take your mind off your runny nose and scratchy throat.
8 drops Eucalyptus Essential Oil
5 drops Lemon Essential Oil
5 drops Lavender Essential Oil
2 Peppermint Essential Oil
Remember, the fun part of aromatherapy is experimenting with your oils to discover blends that you love. Use these recipes as a starting point but feel free to give them your own unique spin.
If you don't have the time or interest in making your own blends, we have 13 proprietary essential oil blends already mixed and ready for use in your aromatherapy diffuser. Click here to shop our collection of essential oil blends today.
---