Gift Certificates Available Now, Just in Time for Valentines's Day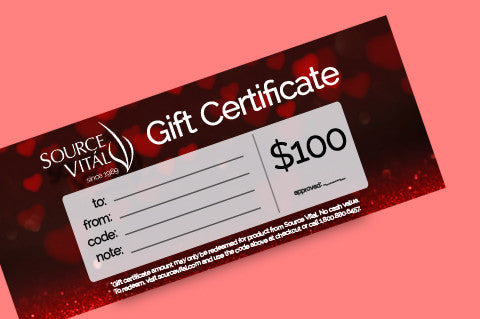 It's a well-known fact that the toll of stress on your mind and body is no good. Headaches, muscle pain, fatigue, insomnia, who wants to deal with that?
At Source Vitál we love sharing expert tips and tricks, usually of the aromatherapy kind, to help you alleviate stress from your daily life. Now we've got another, easy way to remove stress from your life and pay it forward with our new Source Vitál Gift Certificates.     
Don't worry about finding the right size or color, our gift certificates are a perfect fit for any occasion (like Valentine's Day... hint, hint!), budget or recipient. Plus, you don't have to sit in traffic or wait in any lines to purchase.
How to purchase
#1 Get started here.
#2 Select your amount from the dropdown menu
(Source Vital gift certificates come in the following amounts: $25, $50, $75, $100, $150, $200 and $250. If you need a different amount just mix and match and we'll make you a single gift card)
#3 Chose your occasion
(Valentine's Day/Love, Happy Birthday, Anniversary/Celebration, or Any Occasion for a generic SV product/spa scene)
#4 Pick your quantity
#5 Add the gift certificate to your cart and checkout.
We can mail the gift certificate directly to your recipient. Just leave a note in the special instructions section on the checkout page. Gift certificates can be redeemed by calling 1.800.880.6457, visiting us online at sourcevital.com or in person at our Houston showroom.
Valentine's Day is just around the corner. Let us help you treat your sweet today!
---