Essential Oil Spotlight: Lavender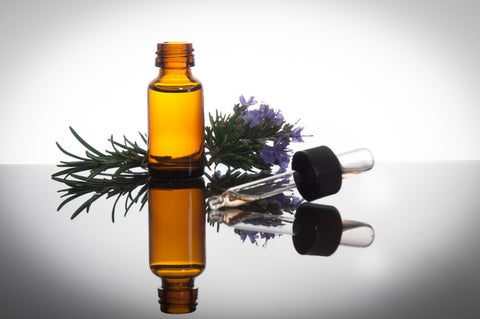 Known as a "universal" oil due to its wide range of uses, lavender is desired for its fresh, sweet and herbaceous scent. Calming and soothing for the body and mind, this essential oil has been a folk remedy in many cultures for generations. If you're looking for something extra special, lavender has been known to blend well with orange, geranium, cedar wood, and patchouli.
Lavender essential oil comes in more than a single variety! We sell three main types of lavender essential oils, each boasting its own unique qualities.
Lavender Official:
Steam distilled, this essential oil is colorless to pale yellow. Highly recommended by essential oil pros because of its high linalool content and sweet and herbaceous scent.
Lavender Absolute:
Deep blue to green in color, this oil uses a solvent to extract and capture color fragments from these French flowers, making this lavender oil more unusual than most! Fresh, soft and floral, this oil is the perfect addition to any aromatherapist's collection.
Lavender Extra:
Lavenders with a high linalool content are more desirable and are overall better quality. The lavender for this oil is grown high in the mountains of France, resulting in a higher linalool content. This oil is also steam distilled from fresh flowering tops. 
In addition to smelling great, lavender has many benefits and uses. Here are a few of our favorites:
Battle Bugs
Apply to skin to repel bugs and relieve bug bites.
Skin Care
Apply directly or mix with a carrier oil. Consider mixing the oil with an unscented natural skin cream to calm and soothe skin.
Burns and Scrapes
To soothe cuts, scrapes and burns, apply directly to the skin.
Sleep
Add a few drops of oil onto your pillow or massage under your nose and chest to help you fall sound asleep!
Sore Muscles
To relieve tense muscles, apply directly to painful areas.
Anxiety and Stress
To relax, simply inhale the uplifting aroma or apply under the nose to relieve stress.
Precautions
Do not ingest. If you are pregnant or breastfeeding, consult an aromatherapist or physician. Keep out of reach of children. If applying lavender directly to your skin, apply a small amount to test your sensitivity to the oil.
For more essential oil spotlights and helpful, holistic suggestions, continue to follow our blog and be sure to follow us on Twitter and Instagram and like us on Facebook!
Also, check out our Lavender infographic.
---