10 Reasons To Add A Toning Essence to Your Beauty Routine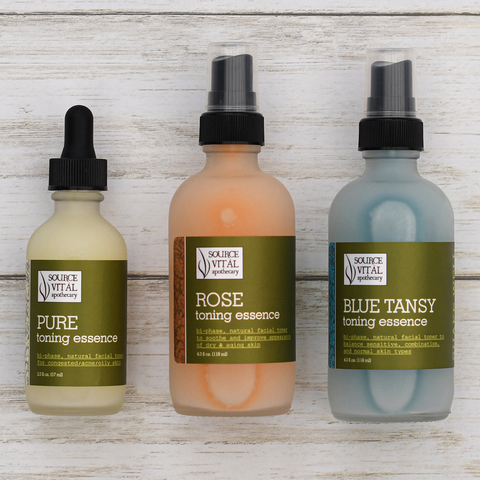 Toners Versus Facial Essences
You've likely heard of a toner, or perhaps you currently use one. The essence part may be less familiar to you. Toners and Essences provide your skin different benefits, and by combining both, your skin will receive maximum benefits. 
Toners get a bad rap for being an unnecessary part of your daily beauty routine, but the truth is, toners may be an essential element of skin care – especially when they are formulated with the right ingredients!
First, toners can help to remove any residue left over from cleansing and swipe away any remaining dirt and grime left over from the day. 
Secondly, cleansing can be a bit disruptive to the skin. Harsh cleansers and surfactants – that you won't find in any Source Vitál cleansers – as well as water quality can temporarily alter the skin's delicate pH balance. Toners help to calm and promote a sense of balance to the skin after cleansing, restoring the skin's pH balance – a must for healthy skin.
Lastly, by cleansing and calming the skin, toners prep the skin for next steps in your skincare routine. 
Please note, the toners we are talking about here are not the stinging, harsh astringents of years past. Today's toners are gentle formulas that leave skin feeling more fresh and dewy, than dry and tight. 
Facial essences may seem similar to toners, but they provide different benefits. Essences are designed to soothe and hydrate the skin, provide a smoother appearance, and typically are made with a higher percentage of active ingredients. 
The purpose of an essence is to feed the skin vital nutrients and feel luxurious on the skin. Essences are also formulated to go a step beyond toners in prepping the skin. Those expensive serums, moisturizers and night creams – a good essence can actually promote deeper penetration and absorption of all those good ingredients you pay extra for.
What's A Toning Essence?
Simply, a Toning Essence merges the best of toners and facial essences, combining two steps into one product.
At Source Vital, we are constantly seeking out new advancements to upgrade our products, using more sustainable formulations, adding in better, cleaner ingredients, and rethinking our skin care routines to make them easier to integrate into your daily lives. 
Though we have more than three decades of experience creating skin care, bath and body, and wellness protocols, it is important for us to continue to innovate how we deliver great experiences for our customers. 
Our latest reformulation gives a facelift to our previous collection of toners, called Aromatic Emulsions. 
With over a year of research, including internal testing, professional trials from some top-notch estheticians, and feedback from longtime customers, we are proud to introduce our new Toning Essences. These bi-phase Toning Essences will replace our existing Aromatic Emulsion formulas, giving you (and your skin) the benefits of more natural ingredients, without sacrificing results. 
Differences Between Aromatic Emulsions and Toning Essences
Cleaner, more sustainable formulation
Packed with more botanical extracts and skin-loving ingredients (vegan-based Hyaluronic Acid and probiotics)
Bi-phase formula is not emulsified – shake vigorously before using to thoroughly combine
Added benefits combines two skin care products into one step
Two new scents: Blue Tansy and Rose
Upgraded packaging features recyclable glass bottles, finer misters and an easy to use dropper
Which Toning Essence do I choose?
Similar to the previous Aromatic Emulsions, the new Toning Essences come in three different formulas, each designed with a particular skin type in mind.
Pure Toning Essence: (Formally Aromatic Emulsion Pure)
For congested, oily, and acne-prone skin types (Perfect for those suffering from Mask-ne!)
Rose Toning Essence: (Formally Aromatic Emulsion Dry/Sensitive)
For dry, mature, or dehydrated skin
Blue Tansy Toning Essence: (Formally Aromatic Emulsion Balance)
For all skin types, specifically sensitive and non-problematic skin
How Do I Use A Toning Essence?
Our Blue Tansy and Rose Toning Essences offer the convenience of a sprayer, allowing you to spritz on the skin, and massage in if desired. The more concentrated Pure Toning Essence is dispensed using a dropper, allowing you to drop a few drops into your hands or on a cotton pad, then apply to the face. 
Use Toning Essences after cleansing to calm and promote a feeling of balance for the skin or mist your skin throughout the day for a refreshing pick-me-up for the mind and body. 
Before using Pure, Blue Tansy or Rose Toning Essence, SHAKE vigorously for several seconds to fully combine both phases. When the color intensifies and takes on a milky tone you are good to go! 
Tip: for Pure Toning Essence, first pinch the top of the dropper and keep squeezing while you shake.
Why Use A Toning Essence?
1. Help Take the Day Off
Using a Toning Essence after cleansing will help to remove residue leftover from the cleansing process, along with other pollutants and impurities you may have come in to contact with during the day. 
Cocoa Extract, an antioxidant, protects against environmental damage, supports the allows skin's ability to repair itself and improves the look of existing skin damage. 
2. Restore Skin's pH
Skin is a delicate organ, and it performs at it's best when it's pH is regulated. When skin falls below or above the ideal 5.5 pH, it can trigger inflammation, such as acne, or rosacea. 
Apple Cider Vinegar helps to keep skin in an ideal balance, leading to healthy skin.
3. Set Makeup 
Toning Essences can multitask – they make a great makeup setting spray. Not only will it help your makeup last longer, but it will also provide a glowing, more natural-looking finish to the skin. 
4. Help Other Skincare Products Work More Efficiently
Applying a Toning Essence prior to other skincare products in your routine, such as serums and moisturizers, boosts the efficacy of those products, thanks to the active ingredients found in the Toning Essence.
Think of it as the primer for your skincare products! 
5. Smooth Skin's Appearance 
Toning Essences are very nourishing for the skin and can boost the body's ability to efficiently speed up cell turnover, essential in revealing a smoother skin texture. 
Depending on what Toning Essence you choose, can help target specific concerns, like the appearance of large pores (Pure), redness (Blue Tansy), dullness, aging skin (Rose), and hydration. 
6. Promote Healthy Skin
Our Toning Essences contain a powerful pre-biotic, called Xylitol, which helps to reveal your healthiest skin by preserving the skin's natural microbiomes and keeping the skin barrier in-tact. A healthy skin barrier means skin the is hydrated, resists irritation and looks more radiant. 
Our special formula make the Toning Essences powerhouses keep the surface of the skin in harmony while combatting redness and dryness – all signs of weakened skin. 
7. Enhance Skin's Glow
Healthy skin equals more luminous skin. Applying a Toning Essence a few times a day will give you that instant gratification of an Instagram filter. 
Dewy, natural, skin continues to be a trend, so embrace it!
8. Reduce the Appearance of Large Pores
Each Toning Essence contains Babassu Oil, a tropical oil, native to South America from the Babassu Palm. 
Babassu oil is highly cleansing, reduces the look and feel of inflammation, and helps promote healthy skin. This oil is also extremely lightweight and will not clog pores. These benefits combine to keep pores clean and protected against excess oil, dirt and grime that can clog pores, causing breakouts and large, visible pores.
9. Hydrate & Plump the Skin
Another buzz-worthy ingredient we've added to our Toning Essences is Hyaluronic Acid. 
Every skin type can benefit from hydration, and hyaluronic acid provides a lightweight, oil-free option to provide just that. Hyaluronic acid is also revered for its ability to plump the skin, which helps to smooth the look of fine lines and wrinkles, providing a more youthful appearance to skin.
10. Refresh the Skin
Toning Essences can be applied throughout the day, after a sweaty yoga session, before going out to happy hour (whenever that happens again!) or whenever you need an energy boost. 
If you loved the smell of our Aromatic Emulsions (hint, it's one of the things we are known for) do not worry, Pure still has the same Fresh Essential Oil Blend and our Blue Tansy will also have a familiar connection to the old uplifting and calming Balance formula. 
Rose Toning Essence is a bit different, featuring a lively Rosewater scent, lending some lovely aromatherapy for those who appreciate more floral scents. 
There is really no way to go wrong with the new collection of Toning Essences. If you need recommendations about how to add these essential products into your skin care routine, DM us @Source_Vital on Instagram or email us at sales@sourcevital.com.
 ABOUT THE AUTHOR
Tr
acey Ellis is a beauty enthusiast with over a decade of experience in the beauty industry. You can find her in the lab, manufacturing Source Vitál Products. Tracey is a New Yorker living in Texas and spends her time cooking and spoiling her miniature husky, Tabasco.
Shop Facial Toners Now
---