Your Black Friday & Cyber Monday 2022 Shopping Guide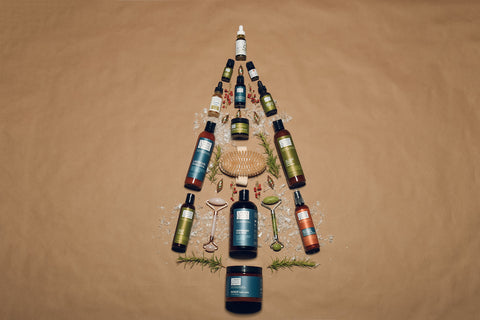 Ready or not, the holiday season is upon us! It's time to start checking off those seemingly endless gift lists, and we're here to help! There's no better time to stock up on holiday gifts for everyone on your list than our annual Black Friday/Cyber Sale. 
This year we are EXTENDING our biggest sale of the year. Starting November 21st through November 28th, we're offering 33% off* our entire Source Vitál and Sir Vitál collection of skincare, bath and body, aromatherapy, and personal wellness products. 

To enjoy 33% off* enter discount code: CYBER2022 at checkout. Click here to start shopping now.

Here are a few things that should be on your radar for gifting this year:

Personalize It!

The newest member of our customized family of products, our Custom Body Cocktail should be at the top of everyone's gift list, particularly with temperatures dropping and drier skin abound! To top it all off, you're able to customize the label with their name. How special is that?
Our Custom Body Cocktail allows you to create a formula that is specific to your skin's needs. This blend of 100% natural botanical oils can help you to address all of your intentions and concerns in one bottle. To add a scent and aromatic experience, select from some of our favorite essential oils blends. Simply follow the order form below online, or visit us in our showroom to create in-person! 

Check out our whole assortment of customized products here. 

Don't Forget the Hostesses, Teachers, Secretaries

Rather than gifting your host (yet another) bottle of wine, think outside the box! Made with safe, natural, high-quality essential oils, our MultiSprays are the perfect replacement for those conventional, heavily-scented air fresheners. Throw out those plug-ins and start misting your home or office with ingredients that are good for the mind, body, and spirit. Our MultiSpray 6-Pack ensures that there's something for everyone, including Breathe (for better breathing) and Tranquil (for better sleep!)
Another great gift for the teachers/secretaries in your life is our Holiday Scents Gift Set. Aromatherapy can make a big difference in our lives, especially during the holidays! Studies have shown that the aromatic properties of essential oils can have positive impacts on the body, mind, and soul. This kit contains our Evergreen Essential Oil Blend, Magi Essential Oil Blend, Seasons Essential Oil Blend, and Peppermint Essential Oil.

For some tips on how to use this kit, check out our blog here.

Who, Who, and YOU!

Whew. You've got everyone taken care of on your list. But, a successful holiday shopping trip isn't complete without getting yourself a little something, right? Our Black Friday/Cyber Monday sale is a great time to stock up on your favorites, or the perfect opportunity to try something you've always wanted to try. 
For an ultra-luxurious holiday, give yourself the gift of youthful skin. Our SV23 Phyto Serum protects against the signs of aging, improves the appearance of any existing fine lines or wrinkles, and helps to revive the complexion, giving it a healthy, youthful glow. 

In addition to the benefits already mentioned, SV23 hydrates and instantly softens dry and flaky skin; promotes a feeling of firmness for saggy skin; improves the appearance of dark spots, scars, and discoloration; calms the look and discomfort of redness and inflammation, protects from pollution and environmental damage; and lends a feeling of harmony for oily complexions.

Happy Shopping! The Cyber Sale ends November 28th at 11:59 p.m. 

*Sale discount not available on equipment (diffusers), accessories, holiday gift kits (already discounted), starter kits (already discounted), or gift certificates. Discount is only available for retail purchases and does not include wholesale or professional sales. 

---